Saturday, March 30, 2013 | Posted by kara-karina@Nocturnal Book Reviews
When I first heard of this book, dear readers, I knew I had to read it. It's about Renaissance (which I love) and powerful women in its history (subject I can not resist), so I begged Harper Collins to allow me to spotlight the book and its heroines in exchange for a giveaway.
Unfortunately the giveaway is only limited to US because the hardback is heavy and expensive, but it also has some gorgeous illustrations that is a must for a fan of the era.
Allow me to briefly introduce you to The Deadly Sisterhood...
Lucrezia Tornabuoni
In Florence, a city where there was no princely court to provide titles of authority to women and at a time when women were frequently kept from the public sphere of men, Lucrezia Tornabuoni (b. 1425–d. 1482) exercised an impressive influence over the politics and culture around her. Her parents were members of two of the oldest and most powerful Florentine families, the Tornabuoni and Guicciardini, and with her marriage to the eldest son of Cosimo de' Medici, she was destined to become the prima donna of the city. Her family network would, in fact, serve as her source of influence: she was sister to the banker Giovanni Tornabuoni, wife of Piero de' Medici, the de facto head of the Republic, mother of Lorenzo "the Magnificent," and grandmother of future popes Leo X and Clement VII. Lucrezia would act as close advisor to her brother, husband, and children as well as overseeing the education of many of her grandchildren. Her influence extended beyond expected roles of domestic management, and in Tornabuoni's case specifically, her activities would include that of landowner, business woman, patron, political emissary, and poet.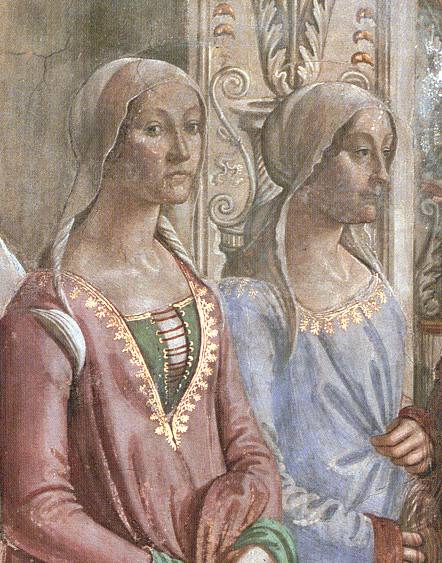 Clarice Orsini was the daughter of Jacopo Orsini, Lord of Monterotondo and Bracciano, and his wife and cousin Maddalena Orsini. Born in the Papal States, she is most known as the wife of Lorenzo de' Medici, de facto ruler of the Florentine Republic.
Clarice married Lorenzo by proxy when she was 16. The marriage was arranged by Lorenzo's mother, who wanted her eldest son to marry a woman from a noble family, in order to enhance the social status of the Medicis. Clarice was not initially popular in Florence because her strict religious personality was in deep contrast with the humanist ideals of the age.
Despite the initial circumstances of their marriage, Clarice quickly proves herself to be much more than a political pawn. Sharp, patient, and deeply committed to Lorenzo, she's a valuable advisor to her husband.
Beatrice d'Este
(29 June 1475 – 3 January 1497), duchess of Bari and later of
Milan
, was the wife of the Milanese ruler
Ludovico Sforza
(known as "il Moro"). She was one of the most beautiful and accomplished princesses of the Italian
Renaissance
. A member of the
Este
family, she was the younger daughter of
Ercole I d'Este
and the sister of
Isabella d'Este
and
Alfonso d'Este
. Along with her sister, Beatrice was noted for her excellent taste in fashion and for having invented new clothing styles.
Beatrice belonged to the best class of Renaissance women, and was one of the cultural influences of the age; to a great extent, her patronage and good taste are responsible for the splendour of the
Castello Sforzesco
in Milan, the Certosa of
Pavia
, and many other famous buildings in Lombardy. A
fresco
with her portrait faces da Vinci's
Last Supper
in the refectory of
Santa Maria delle Grazie
in
Milan
.
Caterina Sforza
,
Countess of Forlì
(early 1463 – 28 May 1509) was an Italian noblewoman, the illegitimate daughter of
Galeazzo Maria Sforza
, Duke of
Milan
and
Lucrezia Landriani
, the wife of the courtier Gian Piero Landriani, a close friend of the Duke. Raised in the refined Milanese court, Caterina later held the titles of Lady of
Imola
and Countess of
Forlì
, by her marriage to
Girolamo Riario
. She was also the Regent for her first-born son, Ottaviano. The descendant of a dynasty of noted
condottieri
, Caterina, from an early age, distinguished herself by her bold and impetuous actions taken to safeguard her possessions from possible usurpers, and to defend her dominions from attack, when they were involved in political intrigues that were a distinguishing feature of 15th century Italy.
In her private life Caterina was devoted to various activities, among which were experiments in
alchemy
and a love of hunting and dancing. She had a large number of children, of whom only the youngest, Captain
Giovanni dalle Bande Nere
, inherited the forceful, militant character of his mother.
Isabella D'Este
Isabella d'Este
(18 May 1474 – 13 February 1539) was
Marchesa
of
Mantua
and one of the leading women of the
Italian
Renaissance
as a major cultural and political figure. She was a patron of the arts as well as a leader of fashion, whose innovative style of dressing was copied by women throughout Italy and at the French court. The poet Ariosto lauded her as the "liberal and magnanimous Isabella",
while author Matteo Bandello described her as having been "supreme among women". Diplomat
Niccolò da Correggio
went even further by hailing her as "The First Lady of the world".
She served as the
regent
of Mantua during the absence of her husband,
Francesco II Gonzaga, Marquess of Mantua
and the minority of her son,
Federico, Duke of Mantua
. In 1500 she met King
Louis XII of France
in
Milan
on a diplomatic mission to persuade him not to send his troops against Mantua.
She was a prolific letter-writer, and maintained a lifelong correspondence with her sister-in-law
Elisabetta Gonzaga
.
Lucrezia Borgia
was another sister-in-law; she later became the mistress of Isabella's husband.
source
Guilia Farnese
Giulia Farnese
(1474 – 23 March 1524) was mistress to
Pope Alexander VI
. She was known as
Giulia la bella,
meaning "Julia the beautiful" in Italian.
Lorenzo Pucci
described her as "most lovely to behold."
Cesare Borgia
, son of Alexander VI, described her as having "dark colouring, black eyes, round face and a particular ardor."
source
Isabella D'Aragona
or Isabella of Naples
(2 October 1470 – February 11, 1524) was the daughter of
King Alphonse II of Naples
by his wife,
Ippolita Maria Sforza
. From 1489 to 1494, she was the
Duchess consort of Milan
, and from 1499 to 1524 the Duchess of
Bari
and Princess of
Rossano
. After her brother
Ferdinand II's
death, she was the heir of the
Brienne claim
to the title
King of Jerusalem
.
She married her first cousin,
Gian Galeazzo Sforza
, who at the time was the
Duke of Milan
. However, his uncle
Ludovico Sforza
was the
de facto
ruler.
source
Internet is rife with rumours that Isabella is the face behind Mona Lisa's portrait...
Lucrezia Borgia
Lucrezia Borgia
(18 April 1480 – 24 June 1519) was the daughter of
Pope Alexander VI
, and
Vannozza dei Cattanei
. Her brothers included
Cesare Borgia
,
Giovanni Borgia
, and
Gioffre Borgia
.
Lucrezia's family later came to epitomize the ruthless
Machiavellian
politics and sexual corruption alleged to be characteristic of the Renaissance Papacy. Lucrezia was cast as a
femme fatale
, a role she has been portrayed as in many artworks, novels, and films.
source
Wouldn't you want to know more about these fascinating women?
UK cover US cover

Summary
The book is one of drama on a grand scale, a Renaissance epic, as Christendom emerged from the shadows of the calamitous 14th century. The sweeping tale involves inspired and corrupt monarchs, the finest thinkers, the most brilliant artists, and the greatest beauties in Christendom.

Here is the story of eight of its most remarkable women, who are all joined by birth, marriage and friendship and who ruled for a time in place of their men-folk: Lucrezia Turnabuoni (Queen Mother of Florence, the power behind the Medici throne), Clarice Orsini (Roman princess, feudal wife), Beatrice d'Este (Golden Girl of the Renaissance), Caterina Sforza (Lioness of the Romagna), Isabella d'Este (the Acquisitive Marchesa), Giulia Farnese ('la bella', the family asset), Isabella d'Aragona (the Weeping Duchess) and Lucrezia Borgia (the Virtuous Fury). The men play a secondary role in this grand saga; whenever possible the action will be seen through the eyes our eight heroines.

These eight women experienced great riches, power and the warm smile of fortune, but they also knew banishment, poverty, the death of a husband or the loss of one or more of their children. As each of the chosen heroines comes to the fore in her turn, she is handed the baton by her 'sister' and Leonie Frieda recounts the role each woman played in the hundred-year drama that is THE DEADLY SISTERHOOD.
Release date: April 2nd 2013
Swedish by birth, but educated in Britain, Germany and France, Leonie Frieda speaks five languages. Her researches on Catherine de Medici has taken her to Paris, Florence and Rome, as well as the châteaux of the Loire. Her next book is a biography of the Great War soldier and letter-writer Edward Horner. She lives in London with her daughter Elisabeth and son Jake.
a Rafflecopter giveaway
Tags:
giveaways
,
historical fiction
,
renaissance
,
исторический роман
,
контест
,
эпоха возрождения
|
12 comments
Facebook Page

BLOG ARCHIVE

KARINA IS READING

In case of zombie apocalypse
Hey, guys! I feel like I should say this just in case :)
If you'd like to sponsor a fellow book addict who sometimes can't sleep at night worrying that she won't have enough books to read if internet goes down in the event of zombie apocalypse (I'm convinced it's one of the top five ways to go for human race) you can donate through Paypal to
olivesandacorns at gmail dot com
or buy a book through any of the links provided with my reviews which will send me a small percentage from the sale. All proceeds will go towards my enormous TBR. I will also shelter you on the remote farm in Portugal when zombie apocalypse starts provided you survive getting there. There will be books, yay?
Thank you! Love you all


Blog Stats since May 2011
Noteworthy Blogs