Tuesday, September 10, 2019 | Posted by kara-karina@Nocturnal Book Reviews
Sapphire Flames by Ilona Andrews (Hidden Legacy #4)
bought
Synopsis from Goodreads
From #1 New York Times bestselling author Ilona Andrews comes an enthralling new trilogy set in the Hidden Legacy world, where magic means power, and family bloodlines are the new currency of society…

In a world where magic is the key to power and wealth, Catalina Baylor is a Prime, the highest rank of magic user, and the Head of her House. Catalina has always been afraid to use her unique powers, but when her friend's mother and sister are murdered, Catalina risks her reputation and safety to unravel the mystery.

But behind the scenes powerful forces are at work, and one of them is Alessandro Sagredo, the Italian Prime who was once Catalina's teenage crush. Dangerous and unpredictable, Alessandro's true motives are unclear, but he's drawn to Catalina like a moth to a flame.

To help her friend, Catalina must test the limits of her extraordinary powers, but doing so may cost her both her House–and her heart.
Amazon kindle US/UK | The Book Depository
9/10
 Y

ou know what happened to me after finishing Sapphire Flames, folks? Like any other self-respecting fan of Ilona Andrews, I went back and re-read the whole series! Tell me, you somehow had the willpower not to do the same? *grinning*
Tags:
9/10
,
ilona andrews
,
top reads
,
urban fantasy
,
городское фэнтези
,
илона эндрюс
,
лучшие книги
|
0 comments
Tuesday, September 03, 2019 | Posted by kara-karina@Nocturnal Book Reviews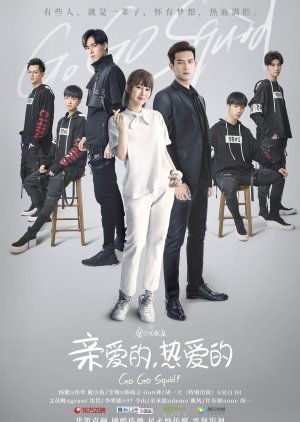 Go Go Squid (2019)
Episodes: 41
Status: Completed
Synopsis from MyDramaList
A cute romance between an adorable singer who develops a crush on a guy that she is too scared to approach, he is a genius in the field of computer engineering and a legend in the world of professional gaming.
It is late evening when Han Shang Yan walks into an internet cafe. While helping her cousin watch the shop, Tong Nian catches a glimpse of Han Shang Yan and immediately falls for him. She is usually brave, outgoing and has tens of thousands of followers from singing covers online, but she fumbles whenever she encounters him.
She is used to interviews, but can't even utter a word when speaking to him. He is cold, hard to reach and not the type of guy to be interested in girls, but Tong Nian's unique personality and her persistent ways to get close to him begin to catch his attention.
9/10
T

his was an absolute cuteness overload for me, peeps! The closest I can compare it with is Penny Reid's Elements of Chemistry series. It's geeky and adorable and very addictive.
Tags:
9/10
,
Chinese
,
cute
,
drama
,
romantic comedy
,
китай
,
комедия
,
роман
,
тв драма
|
0 comments