Friday, February 08, 2019 | Posted by kara-karina@Nocturnal Book Reviews
Kissing Tolstoy by Penny Reid (Dear Professor #1)
bought
Synopsis from Goodreads
Proceeds for the month of release go to hurricane relief efforts.

What do you do when you discover that your super-hot blind date from months ago is now your super-hot Russian Lit professor?

You overthink everything and pray for a swift end to your misery, of course!
'Kissing Tolstoy' is the first book in the Dear Professor series, is 46k words, and can be read as a standalone. A shorter version of this story (28k words) was entitled 'Nobody Looks Good in Leather Pants' and was available via Penny Reid's newsletter over the course of 2017.
Amazon kindle US/UK | Book Depository
8/10
This was an absolutely delightful read and Penny Reid at her finest. Also, I loved the joke on the cover. It says: "Kissing Tolstoy", but the actual picture is of Pushkin. I found it really funny. Being Russian myself and all that. Honestly, great romantic comedy. Read it.
Ну, милейшая книга! Пенни в своем неподражаемом стиле. Особенно порадовала обложка с ее шуточкой. Ведь на ней написано "Целуя Толстого", а изображен Пушкин! Я конечно посмеялась. Короче, замечательная романтическая комедия. Умная и шутливая. Читайте.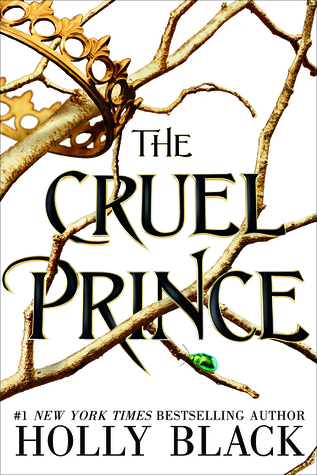 The Cruel Prince by Holly Black (The Folk of The Air #1)
bought
Synopsis from Goodreads
Of course I want to be like them. They're beautiful as blades forged in some divine fire. They will live forever.

And Cardan is even more beautiful than the rest. I hate him more than all the others. I hate him so much that sometimes when I look at him, I can hardly breathe.

Jude was seven when her parents were murdered and she and her two sisters were stolen away to live in the treacherous High Court of Faerie. Ten years later, Jude wants nothing more than to belong there, despite her mortality. But many of the fey despise humans. Especially Prince Cardan, the youngest and wickedest son of the High King.

To win a place at the Court, she must defy him–and face the consequences.

As Jude becomes more deeply embroiled in palace intrigues and deceptions, she discovers her own capacity for trickery and bloodshed. But as betrayal threatens to drown the Courts of Faerie in violence, Jude will need to risk her life in a dangerous alliance to save her sisters, and Faerie itself.
Audible US/UK | Amazon kindle US/UK | Book Depository
9/10
This was one of the best books I read last year. I always enjoyed Holly Black's depictions of Fae. They are dark, vicious, very alluring and incredibly complex, so this was dark chocolate ice cream: rich and intense and yummy. Great characters, I would even say, epic. Read it, you would not be disappointed.
Одна из лучших книг прошлого года для меня и для многих других читателей. Мне всегда нравились описания фэйри от Холли Блак. Темные, яростные, чарующие и неверояно сложные, прям как мороженое из темного шоколада: богатые по вкусу и очень насыщенные. Прекрасные, даже скажу, эпичные характеры. Читайте, не пожалеете.
One True Pairing by Cathy Yardley (Fandom Hearts #2)
ecopy courtesy of the author
Synopsis from Goodreads
They couldn't be more opposite, the Hollywood actor and the hometown girl, but all they need is a little convention magic to become the perfect ship in Cathy Yardley's One True Pairing.

Jake Reese needs a decoy girlfriend. Fast. The lead actor of the popular TV show, Mystics, is tired of losing his shirt to overeager fans. Literally. Which is why a chance meeting with gothabilly bookworm-slash-barista Hailey Frost seems almost too perfect to be true. Hailey is not impressed with his TV fame and is desperate to save her family's bookstore. It's a match made in Hollywood, but as the two pretend to date, fan fiction becomes reality. Can this OTP become canon?
Audible US/UK | Amazon kindle US/UK
7/10
* * *
Cute, entertaining and very easy to read romantic comedy. I already mentioned in reviews of book#1 and book #3 how much I like this series. It's geeky and light and really quick to read, so you don't feel like you are committing. Jake is endearing, and Hailey is as bristly as a hedgehog, but their story is lovely and the secondary plotlines are just as interesting. Go for this series when you crave a comfort read.
Милая, развлекательная и очень легкая романтическая комедия. Я уже упоминала в рецензиях на книгу первую и третью, насколько мне нравится эта серия. Она гиковская, простенькая и читается быстро, особенно когда не хочется тратить время на тяжелые тома. Джейк - очаровашка, Хэйли щетинится как морской еж, но история их симпатичная, да и второстепенные сюжетные линии интересны. Читайте, особенно когда хочется чего-то комфортного.

Tags:
7/10
,
8/10
,
9/10
,
cathy yardley
,
friday mini reviews
,
holly black
,
penny reid
,
кэйти ярдли
,
мини ревью
,
пенни рид
,
холли блак
|
0 comments
Facebook Page

BLOG ARCHIVE

KARINA IS READING

In case of zombie apocalypse
Hey, guys! I feel like I should say this just in case :)
If you'd like to sponsor a fellow book addict who sometimes can't sleep at night worrying that she won't have enough books to read if internet goes down in the event of zombie apocalypse (I'm convinced it's one of the top five ways to go for human race) you can donate through Paypal to
olivesandacorns at gmail dot com
or buy a book through any of the links provided with my reviews which will send me a small percentage from the sale. All proceeds will go towards my enormous TBR. I will also shelter you on the remote farm in Portugal when zombie apocalypse starts provided you survive getting there. There will be books, yay?
Thank you! Love you all


Blog Stats since May 2011
Noteworthy Blogs