Friday, September 30, 2016 | Posted by kara-karina@Nocturnal Book Reviews
The Rogue Not Taken by Sarah MacLean (Scandal & Scoundrel #1)
bought
Synopsis from Goodreads
LADY SOPHIE'S SOCIETY SPLASH

The youngest of the infamous Talbot sisters scandalized society at the Liverpool Summer Soiree, striking her sister's notoriously philandering husband and landing him backside-first in a goldfish pond. And we thought Sophie was the quiet one…

When she finds herself the target of very public aristocratic scorn, Sophie Talbot does what she must to escape the city and its judgment—she flees on the back of a carriage, vowing never to return to London…or to society. But the carriage isn't saving her from ruin. It's filled with it.


ROYAL ROGUE'S REIGN OF RAVISHMENT!

The Marquess of Eversley was espied descending a rose trellis—escaping an irate Earl and his once-future countess. No lady is safe from Eversley's Engagement Ending Escapades!

Kingscote, the Marquess of Eversley, has never met a woman he couldn't charm, a quality that results in a reputation far worse than the truth, a furious summons home, and a long, boring trip to the Scottish border. When King discovers stowaway Sophie, however, the trip becomes anything but boring.

WAR? OR MORE?

He thinks she's trying to trick him into marriage. She wouldn't have him if he were the last man on earth. But carriages bring close quarters, dark secrets, and unbearable temptation, and suddenly opposites are altogether too attractive…
Audible US/UK | Amazon US/UK | Amazon kindle US/UK | The Book Depository
A fantastic read, one of MacLean's strongest! It was funny, sweet and full of gorgeous banter. A case of wrong assumptions which was resolved well, a very plucky heroine and a decent, refreshing hero.Honestly, a lovely book, I just inhaled it.
* * *
Фантастическая книга, одна из лучших от МакЛин. Смешная, милая и полная прекрасных, острых и занимательных диалогов. Ждите сюжетной линии ошибочных выводов, повышенной гордыни, которая привела к отчуждению отца и сына на многие годы, смекалистой, смелой героини и очень хорошего изобретателя героя. Ну просто мило было! Читала с большим удовольствием.
Ritual in Death by J.D. Robb (In Death #27.5)
Dragged to a glamorous, high-society ball with billionaire husband Roarke, homicide Lieutenant Eve Dallas is almost relieved when a naked, knife-wielding, blood-drenched man crashes in - a man who thinks he has killed someone.



Tracing bloody footprints, Eve finds a hotel room filled with signs of a ritual murder, but the man remembers nothing. Determined to help, Roarke consults an ex-lover who practices witchcraft. But Eve knows there is nothing supernatural about a deadly lust for power . . .
Audible US/UK | Amazon kindle US/UK | The Book Depository
This short story resolved way too easily. Still, I like how all J.D. Robb's shorts have paranormal elements. It's just a little bit different from her full novels. It's funny though that when Roarke and Eve go to some fancy do, it always ends up with murder! *grins*
Как обычно, расследование в одной из повестей автора разрешилось слишком уж быстро и удобно. Всё-же мне нравится, что она вносит элемент паранормального во все свои короткие истории, да и смешно просто, что каждый раз когда Роарк и Ив выходят на расфуфыренную вечеринку, та всегда заканчивается убийством!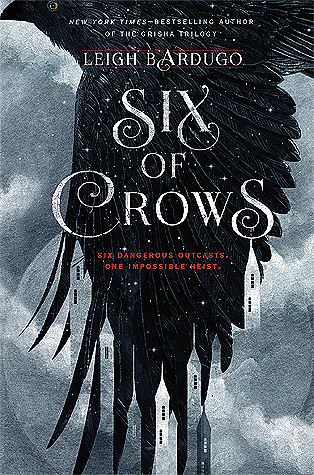 Six of Crows by Leigh Bardugo (Six of Crows #1)
Ketterdam: a bustling hub of international trade where anything can be had for the right price—and no one knows that better than criminal prodigy Kaz Brekker. Kaz is offered a chance at a deadly heist that could make him rich beyond his wildest dreams. But he can't pull it off alone...

A convict with a thirst for revenge.

A sharpshooter who can't walk away from a wager.

A runaway with a privileged past.

A spy known as the Wraith.

A Heartrender using her magic to survive the slums.

A thief with a gift for unlikely escapes.

Kaz's crew are the only ones who might stand between the world and destruction—if they don't kill each other first.
Really enjoyed this one! Well crafted characters with layers upon layers which are slowly revealed to the reader, an intriguing and almost impossible heist, and of course an explosive ending. Reminded me of The Lies of Locke Lamora by Scott Lynch but with much less bawdiness and violence. Highly recommended, super entertaining!
Очень мне понравилась эта книга, дамы и господа! Прекрасно выписанные характеры с многочисленными слоями характера и опыта, которые постепенно раскрываются читателю, интригующая и почти невозможная афёра, и конечно же, взрывная концовка. Напомнила мне Обманы Локки Ламоры от Скотта Линча минус мат и графическое насилие. В общем, очень рекомендую, жду продолжения, которое вышло пару дней назад!

Tags:
7.5/10
,
8.5/10
,
9/10
,
friday mini reviews
,
j.d. robb
,
leigh bardugo
,
sarah maclean
,
джей ди робб
,
ли бардуго
,
мини ревью
,
сара маклин