Monday, September 26, 2016 | Posted by kara-karina@Nocturnal Book Reviews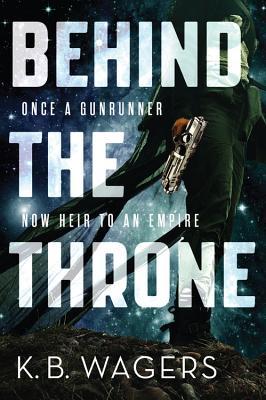 Behind The Throne by K.B. Wagers (The Indranan War #1)
bought
Synopsis from Goodreads
Meet Hail: Captain. Gunrunner. Fugitive.

Quick, sarcastic, and lethal, Hailimi Bristol doesn't suffer fools gladly. She has made a name for herself in the galaxy for everything except what she was born to do: rule the Indranan Empire. That is, until two Trackers drag her back to her home planet to take her rightful place as the only remaining heir.

But trading her ship for a palace has more dangers than Hail could have anticipated. Caught in a web of plots and assassination attempts, Hail can't do the one thing she did twenty years ago: run away. She'll have to figure out who murdered her sisters if she wants to survive.

A gun smuggler inherits the throne in this Star Wars-style science fiction adventure from debut author K. B. Wagers. Full of action-packed space opera exploits and courtly conspiracy - not to mention an all-out galactic war - Behind the Throne will please fans of James S. A Corey, Becky Chambers and Lois McMaster Bujold, or anyone who wonders what would happen if a rogue like Han Solo were handed the keys to an empire . . .
Audio US | Amazon US/UK | Amazon kindle US/UK | The Book Depository
9/10
T

his book was so much fun, ladies and gents! A delightful space opera the likes of Paradox series by Rachel Bach with a sassy, tough, gorgeous badass of a heroine who is like Kate Daniels of sci-fi genre.
Hail is a smuggler with a very dangerous reputation, but what the majority of people don't know is that she is a runaway princess, the youngest in succession to the throne of Indranan Empire. Then someone tries to betray and slaughter her on her own ship and her mother's Royal guards finally catch up to her with horrible news - her sisters are killed, her mother is terminally ill, and she is the heir to the throne.
There is just so much juiciness to this book. Hail herself is the heroine I always pine for - ruthless, quick-witted, sarcastic, cynical, self-assured, cocky and with a theatrical flair.
Then there is the Empire itself. It's rooted in Indian caste culture and mythology, with matriarchy and women ruling in every aspect of life. Most of its rebels are men who want more equal representation. It's rich, provocative and adds to a a very interesting world-building.
At last, there is a barrage of complex secondary characters, both heroes and villains. The first book is just the tip of the iceberg which sets the parameters of the narration and it's done with precision, with lack of infodumping and interspersed with much action.
Overall, a fantastic, quick read, highly recommended!
К

ак же мне было весело читать эту книгу, дамы и господа! Она напомнила мне серию Парадокс от Рэйчел Бах с крутой, саркастичной, безжалостной героиней наподобие Кейт Даниэлс, только в космосе.
Хэйл - контрабандистка с очень опасной репутацией, однако практически никто не знает, что она сбежавшая принцесса, младшая наследница трона Индрананской империи. Когда кто-то предаёт её на её собственном корабле и устраивает бойню, чтобы её прикончить, нагнавшие её Королевские Гвардейцы наконец-то передают ей вести из дома: её сестры убиты, её мать смертельно больна, и она - единственная наследница престола, оставшаяся в живых. Ей нужно вернуться домой.
В этой книге так много сочных моментов! Во первых, сама Хэйл - героиня, которую я всегда ищу. Циничная, хладнокровная, безжалостная, с острым чувством юмора и склонностью к театрализации когда ситуация того так и просит.
Во вторых, Индрананская империя основана на матриархии. Женщины правят во всех областях жизни, пока мужики играют вторую скрипку. Кстати, мятежники империи сражаются за равную презентацию полов во всех областях жизни. Корни империи в индийской культуре, мифологии, религии и кастовой системе, и от этого она получается яркой, уникальной и провокационной.
В третьих, книга построена с военной чёткостью. Всё обрисовано кратко, ясно и без огромного количества ненужной информации. Второстепенные персонажи сложны и интересны, как герои так и злодеи, и построение мира разбросано между стремительными сценами экшна, характерными для сюжета.
В общем, читается на лету, очень интересно, рекомендую!
Tags:
9/10
,
indian mythology
,
k.b.wagers
,
sci-fi
,
space opera
,
империя
,
индия
,
к.б. уэджерс
,
мифология
,
научная фантастика
,
пираты