Friday, September 23, 2016 | Posted by kara-karina@Nocturnal Book Reviews
Salvation in Death by J.D. Robb (In Death #27)
borrowed on audio
Synopsis from Goodreads
In the year 2060, sophisticated investigative tools can help catch a killer. But there are some questions even the most advanced technologies cannot answer.

Ridley Pearson has praised J. D. Robb's suspense as "taut" and "nerve-jangling." Her latest thriller sets a new standard for suspense, as the priest at a Catholic funeral mass brings the chalice to his lips--and falls over dead.

When Detective Lieutenant Eve Dallas confirms that the consecrated wine contained potassium cyanide, she's determined to solve the murder of Father Miguel Flores, despite her discomfort with her surroundings. It's not the bodegas and pawnshops of East Harlem that bother her, though the neighborhood is a long way from the stone mansion she shares with her billionaire husband, Roarke. It's all that holiness flying around at St. Christobal's that makes her uneasy.

A search of the victim's sparsely furnished room reveals little-- except for a carefully hidden religious medal with a mysterious inscription, and a couple of underlined Bible passages. The autopsy reveals more: faint scars of knife wounds, a removed tattoo--and evidence of plastic surgery, suggesting that "Father Flores" may not have been the man his parishioners had thought. Now, as Eve pieces together clues that hint at gang connections and a deeply personal act of revenge, she believes she's making progress on the case. Until a second murder--in front of an even larger crowd of worshippers--knocks the whole investigation sideways. And Eve is left to figure out who committed these unholy acts--and why.
Audible
US
/
UK
| Amazon
US
/
UK
| Amazon kindle
US
/
UK
|
The Book Depository
This was a very intriguing book as it was far from Eve's usual high flyer investigations. The mystery is subtle but relentless, and I couldn't put away the book trying to figure out the motive for murder and who'd done it. Really well crafted plot, loved it!
* * *
Очень интригующий был сюжет и довольно отличный от характерных для Ив Даллас скандальных, кровавых расследований. Я прям сидела и гадала кто убийца и каковы причины преступления. Читала с огромным удовольствием, отличный сюжет, и вам советую!
Blaze of Memory by Nalini Singh (Psy-Changeling #7)
borrowed on audio
Synopsis from Goodreads
A woman without a past becomes the pawn of the man who controls her future...

Dev Santos discovers her unconscious and battered, with no memory of who she is. All she knows is that she's dangerous. Charged with protecting his people's most vulnerable secrets, Dev is duty-bound to eliminate all threats. It's a task he's never hesitated to complete...until he finds himself drawn to a woman who might prove to be the enemy's most insidious weapon yet.

Stripped of her memories by a shadowy oppressor and programmed to carry out cold-blooded murder, Katya Haas is fighting desperately for her sanity. Her only hope is Dev. But how can she expect to gain the trust of a man who could very well be her next target? For in this game, one must die...
Audio
US
/
UK
| Amazon
US
/
UK
| Amazon kindle
US
/
UK
|
The Book Depository
I enjoyed the plot much more in this book than in a previous one. First of all, there is more of it. There is finally a shift in focus on other races rather than changelings. Forgotten sound to me like the best of both worlds. I still can't care less for sex scenes, which are super formulaic, but the world-building is fascinating which is why I continue reading this series.
* * *
Мне сюжет в этой книге понравился гораздо больше, чем в книге предыдущей. Во первых, здесь его гораздо больше. Мы наконец-то узнаём о таинственной расе Забытых, которая звучит не настолько клише, как остальные две. Хоть сцены интимности и формулаичны до тошноты, построение мира очень интересное, что заставляет меня читать или слушать эту серию дальше.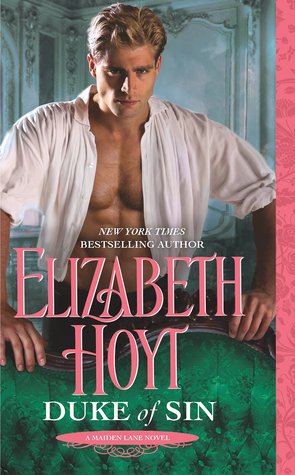 Duke of Sin by Elizabeth Hoyt (Maiden Lane #10)
bought
Synopsis from Goodreads
A MAN OF SIN

Devastatingly handsome. Vain. Unscrupulous. Valentine Napier, the Duke of Montgomery, is the man London whispers about in boudoirs and back alleys. A notorious rake and blackmailer, Montgomery has returned from exile, intent on seeking revenge on those who have wronged him. But what he finds in his own bedroom may lay waste to all his plans.

A WOMAN OF HONOR

Born a bastard, housekeeper Bridget Crumb is clever, bold, and fiercely loyal. When her aristocratic mother becomes the target of extortion, Bridget joins the Duke of Montgomery's household to search for the incriminating evidence-and uncovers something far more dangerous.

A SECRET THAT THREATENS TO DESTROY THEM BOTH

Astonished by the deceptively prim-and surprisingly witty-domestic spy in his chambers, Montgomery is intrigued. And try as she might, Bridget can't resist the slyly charming duke. Now as the two begin their treacherous game of cat and mouse, they soon realize that they both have secrets-and neither may be as nefarious-or as innocent-as they appear . . .
Audible US | Amazon US/UK | Amazon kindle US/UK | The Book Depository
One of the finest historical romances I've ever read, - this was, pardon my French, f*cking delicious! An antihero with a a twist; an unapologetic, determined and not in any way naive, heroine. *sigh* The heat is off the charts, the dialogues are to die for and the actual plot reminds me of Amanda Quick's romantic mysteries. Highly recommended, one of my top reads of the year.
Один из лучших исторических романов когда-либо мною прочитанных! Герцог Греха был дьявольски хорош. Антигерой со скрытыми сюрпризами и фантастическим чувством юмора; героиня безаппеляционная и далеко не наивная инженю. Влечение между героями зашкаливает, диалоги - шикарные, и сам сюже
т напоминает мне романтические детективы Аманды Квик. Очень рекомендую, эта одна из лучших книг года для меня.
Tags:
7.5/10
,
8.5/10
,
9.5/10
,
elizabeth hoyt
,
friday mini reviews
,
j.d. robb
,
nalini singh
,
джей ди робб
,
мини ревью
,
налини сингх
,
элизабет хойт