Tuesday, September 03, 2019 | Posted by kara-karina@Nocturnal Book Reviews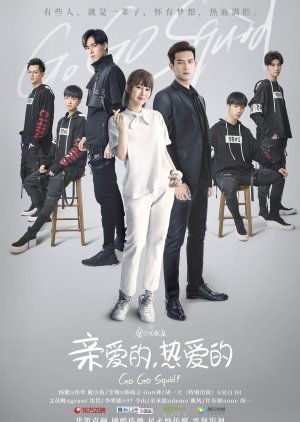 Go Go Squid (2019)
Episodes: 41
Status: Completed
Synopsis from MyDramaList
A cute romance between an adorable singer who develops a crush on a guy that she is too scared to approach, he is a genius in the field of computer engineering and a legend in the world of professional gaming.
It is late evening when Han Shang Yan walks into an internet cafe. While helping her cousin watch the shop, Tong Nian catches a glimpse of Han Shang Yan and immediately falls for him. She is usually brave, outgoing and has tens of thousands of followers from singing covers online, but she fumbles whenever she encounters him.
She is used to interviews, but can't even utter a word when speaking to him. He is cold, hard to reach and not the type of guy to be interested in girls, but Tong Nian's unique personality and her persistent ways to get close to him begin to catch his attention.
9/10
T

his was an absolute cuteness overload for me, peeps! The closest I can compare it with is Penny Reid's Elements of Chemistry series. It's geeky and adorable and very addictive.
Both characters are extremely talented people. Han Shang Yan is 30 and leads a team of young professional players in cyber security competitions. He has an unbeaten record in the same field and a legendary status as he left the field at his peak. He is strict, forbidding and really cold to people around but when he gives his loyalty to someone he fights for them with all his heart. It's really easy to fall for this grumpy bear.
Tong Nian is in her early twenties and a real prodigy. She graduated from the university early and is in her post-graduate studies working on building specific computer software programs and curating students. Not only she makes good money, she also sings covers of popular songs and has a huge following online. She is lovely, bright, kind and confident.
She meets Han Shang Yan by pure chance and is really struck by love at first sight. Not knowing anything about him she tries to show her interest with a few awkward and hilarious attempts, but he brushes her off. She is young and weird and he has too many things on his mind to notice her interest in him.
They meet again accidentally, and this time she finds out who he is and starts researching him online. When circumstances force them together, she admits she likes him to his face and he refuses her again. They get thrown back together once more and against his will Han Shang Yan starts falling for her. To be honest, he's got no choice, she just bulldozes her way into his heart until he starts softening his sharp edges and needing her around more and more.
I loved their dynamics and little cute moments and quiet devotion which he was trying to pretend were not a big deal. Han had really charismatic, strong personality and Nian fit with him and completed him really well.
There are a lot of secondary characters with their own stories, most of them very charming, but it's the main characters which kept me under their thrall. I loved it, and I loved that this cutesy girl had balls of steel while her cold man had such soft, squishy heart. Recommended to put a smile on your face.