Friday, March 16, 2012 | Posted by kara-karina@Nocturnal Book Reviews
Fire Baptized by Kenya Wright (Habitat #1)
review requested by the author
Synopsis from Goodreads
Since the 1970s humans have forced supernaturals to live in caged cities. Silver brands embedded in their foreheads identify them by species: a full moon for Vampires, a crescent moon for Shifters, a pair of wings for Fairies, and the list goes on, for each supernatural species has been tagged and categorized by humans.

Lanore Vesta is marked with a silver X, the brand of Mixbreeds, second-class citizens shunned by society. She stays to herself, revealing her ability to create fire only during emergencies. All she wants to do is graduate college and stop having to steal to survive. But when she stumbles upon a murder in progress, she catches the attention of a supernatural killer. Now all she wants is to stop finding dead bodies in her apartment.

Enlisting help from her Were-cheetah ex-boyfriend MeShack and a new mysterious friend named Zulu, she is steered through the habitat's raunchy nightlife. But their presence sometimes proves to be more burden than help, as they fight for her attention.

While the corpses pile up, and the scent of blood fills the air, Lanore is left wondering: will she find the psycho or die trying?
Amazon US/UK | Amazon kindle US($0.99)/UK(£0.77)
W

ell, color me surprised and let me join the hordes of other bloggers praising this book!
Kenya Wright possesses an absolutely wild and refreshing imagination; the world-building and descriptions of the characters in Fire Baptized captivate you from the first page.
I can't quite figure out the world of The Habitat yet, but it has distinct Jamaican tones in food, accents, appearances and the religion itself. The dialogues are simple and down to earth and the creatures created in this urban fantasy novel are magnificent.
The three main characters Lanore (LaLa), MeShack and Zulu are Mixies (mixbloods) dealing with the strong prejudice from Purebloods in the enclosed habitat, where the supernaturals have been contained since the 1970s.
Lanore and Zulu created MFE - an organisation fighting for the rights of Mixies, and MeShack is Lanore's childhood friend, ex-lover, roommate and a general pain in the backside.
When Lanore sees a Pureblood getting killed in the dark alley, the killer fixates onto her and keeps bringing the murders literally to her doorsteps so she can admire the gruesome and bizarre handiwork. Lanore correctly deduces that before the killer chooses her as his next victim she is better to find him first. Concerned for her safety, Zulu, an exotic and rich half-faerie prince throws all MFE resources to her help while MeShack continues being a nuisance because his worry and fear for LaLa literally paralyses him.
The plot is straightforward - guess the killer, find the killer, kill the killer, but there are plenty of fascinating sidelines as in fight for the freedom of Mixies and supernaturals in general, a strange prophecy and a hint of a very important legacy.
Lanore is a focused, non-nonsense young woman who tries to think about all the problems, take care of her friends and fulfil her aspirations for successful graduation from the university and finding a decent job at the same time. She slips, she makes mistakes and she is very real.
MeShack is a possessive, selfish little sh*t, but then again he's been LaLa's friend since she was 9, fell victim to her dad's horrid experiments and deep down has a good heart, so Lanore ignores his bad sides and loves him anyway.
Zulu is possessive as well, but clever enough to fight his own nature and keep it under control. Not always but most of the time. I think he is manipulative and has Machiavellian plans but magnificent and fair nevertheless.
Seconds later, I spied Zulu stomping my way. The
security lights shone on his X brand. His blond dreadlocks
hung beyond his broad shoulders, slapping around his
elbows. He wore no shirt, just indigo jeans that hung low
and framed perfect abdominal muscles. Multicolored
cords were sewn into his ivory skin in a swirly pattern that
stopped at his wrists. It had to have been pretty painful
when he'd gotten it done. With each furious stomp, his
muscles bulged under the cords.
There is something very earthy and very alive in Fire Baptized, and I'm looking forward to reading its sequel and enjoying it just as much as the first book!
C

большим удовольствием прочитала эту книгу Кеньи Райт! У автора фантазия так и бьёт через край. Вся книга - это мешанина интересных персонажей, акцентов, обычаев и находок.
Главная героиня - экзотична и чернокожа, с головой полной дредлоков, и весь Хабитат своей культурой напоминает мне Джамайку с её религией вуду.
Зулу и МеШак два мужских персонажа, тоже полны экзотики. Зулу - эльфийский принц-полукровка, МеШак - рок-звезда - оборотень, друг детства героини и жертва ужасных экспериментов её отца демона.
Когда главная героиня -Ланор (ЛаЛа) случайно видит как в тёмной аллее совершается убийство, убийца зацикливает своё внимание на ней и продолжает приносить чудовищные плоды своего труда к её дверям. Ланор догадывается, что в скором времени он решит избрать и её своей жертвой и пытается найти и убить его первой.
Сюжет довольно прямолинеен, одноко в нём полно вторичных линий, и сам мир и его интереснейшие колоритные персонажи просто завораживают! Я с удовольствием прочитаю продолжение серии, у Кении чувствуется огромный потенциал, её слог простой и свежий.
8.5/10
Kenya Wright currently has a collection of stories from Habitat available for FREE on Smashwords. It's a great way to see if you enjoy her writing, so grab it while you can!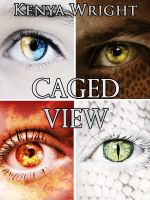 Kenya also generously agreed to give away her ebook Fire Baptized to THREE winners, so enter away!
As always giveaway is international and ends on 23rd of March 2012.
a Rafflecopter giveaway
Tags:
8.5/10
,
giveaways
,
kenya wright
,
urban fantasy
,
городское фэнтези
,
городское фэнтэзи/городская фантастика