Monday, June 25, 2012 | Posted by kara-karina@Nocturnal Book Reviews
1. The Little Mermaid by Hans Christian Andersen
The inspiration for thousands of characters, films, and memes (not to mention a princess with twenty thingamabobs), Andersen's tale is famously poignant. The princess in this piece is nameless, fragile... and driven by a yearning that no other mermaid has ever felt.
Did you know?
HCA's tale has
two different endings
. A bit like the dolphin debacle in Luc Besson's "The Big Blue."
Karina: If you think about it, Hans Christian Andersen wrote a proper fairytale. It's pretty dark and doesn't really have a happy ending.
2. The Creatures from The Abyss.
The NTIs (Non-Terrestrial Intelligent lifeforms) are bioluminescent, water-controlling beings who are curious, playful, and (in the 3-hour version) unthinkably powerful.
My favorite?
The shapeshifting column of water.
3. Yüyi The Mermaid
Y
ü
yi is a mer-fashionista who sometimes doubles as Lady Gaga. A lover of latex and Mutt Lange-countrified pop, Yuyi first emerged in a wheelchair during a Gaga concert in the Sydney opera house.
Did you know?
Y
ü
yi was originally supposed to appear in "
The Edge of Glory
." It is rumoured that a hospital scene was to take place, posing the question of whether we were supposed to see a mer-to-human surgery... or vice versa.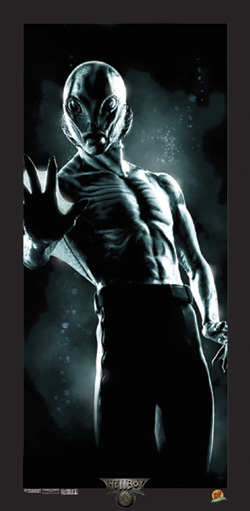 4. Abe Sapien from Hellboy comics.
Intelligent, athletic, and mysterious, Abe Sapien is a blue biped with webbed hands and feet. He was discovered in an underground vat but soon became an agent of the B.P.R.D. (a.k.a. the Bureau for Paranormal Research and Development). Oh, and he's also one of Hellboy's closest friends.
Did you know?
Frasier's David Hyde Pierce was the uncredited voice behind Abe Sapien in the first Hellboy movie.
5. The Undine
The Undine is a mythological creature who is said to gain a soul if she marries a man, has a child, and becomes a SAHM (Stay At Home Mom). But please don't cheat on her, for she just might curse you with a lethal form of
sleep apnea
.
Small observation:
what's up with immortal beings chasing souls for the sake of having one? What's the point of having one if you're not headed for an afterlife?
6. Dory from Finding Nemo.
In case you haven't seen the movie, Dory is one special... well... Dory. She's talkative, unflappable, forgetful to a chronic degree, and famous for her ability to 'just keep swimming.' She may (or may not) be able to talk to whales.
Did you know?
Marlin Drive and Dory Lane are streets found near Pixar Studios.
7. Vampire Squid
A Vampire Squid is a real animal that is often mistaken for an octopus. They live in the deepest parts of the ocean and have red eyes, a black cape, and bioluminescent parts that flash on and off.
Did you know?
Their scientific name is Vampyroteuthis infernalis. (Yes, you read that correctly!)
8. Hipster Ariel
Hipster Ariel is a RayBan-wearing, seven fingered mermaid who left the 'pineapple under the sea' to become a Tumblr meme. Once a Disney princess... now an angsty mer chick, some of her best lines come from her creator Braden Graeber (e.g.: "The Sea was just too mainstream" and "I got legs so I could wear skinny jeans"). However, the internet is also full of H.A. fanfare made by people from around the world--everything from rally placards to Halloween outfits.
Thank you , Ciye, for an awesome list!
Ciye Cho lives in Australia. His head is usually stuck in the clouds, or below the waves... or somewhere far from reality. He writes YA fantasy and works as a freelance graphic designer.
You can find Ciye Cho
here
.

Ciye is the author of Florence, which comes out 1st of July 2012.
Make sure to check out the beautiful
trailer
!
Summary
Seventeen-year-old Florence Waverley is out of her depth. Literally. Kidnapped and taken below the waves to the mer world of Niemela, she is the ultimate gift for merman Prince Kiren: a human familiar tied to his side. But nothing is what it seems amid the beauty and danger of a dark ocean.

Every Niemelan has a role to play, from the mermaids who weave towers out of kelp to the warriors who fight sea monsters. But in trying to survive, Florence will end up in the middle of a war between the mer and the Darkness. A conflict that will push her between two brothers: Kiren, the charmer inexplicably drawn to both her and the monsters; and Rolan, the loner who has been pushing her away since the day they met. But in order to take a stand--and find out where she belongs--Florence will have to risk it all: her life, her heart... and her very soul.
Giveaway
Ciye is offering an ecopy of his book to ONE lucky winner!
The contest is open to ALL and ends 30th June 2012.
All you need to enter the contest is to tell me what kind of sea monster you find fascinating? (books, movies, fairytales, etc.)
a Rafflecopter giveaway
Tags:
ciye cho
,
giveaways
,
guest post
,
mermaids