Friday, May 15, 2015 | Posted by kara-karina@Nocturnal Book Reviews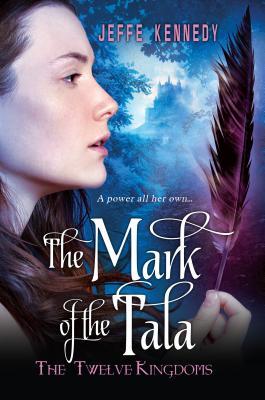 Hi, Jeffe! Thank you for stopping by Nocturnal Book Reviews. First of all, for readers unfamiliar with your books how would you describe your Twelve Kingdoms series in one sentence?
Thanks for having me! The Twelve Kingdoms trilogy is about the three princesses, daughters of the High King, each more beautiful than the last – and what they
really
did.
What kind of reader would enjoy it?
While some men read the series, many of my most enthusiastic readers are women. They range from teens (yes, my books are sexy, but I was reading that stuff at that age, so I don't judge) up to women in their older years. I know of a couple readers in their 80s! Other than that, I think anyone who enjoys fantasy with women taking strong central roles in their own heroic journeys, along with smexy romance, will enjoy these books.
Is The Talon of The Hawk the last book in series or will there be more?
There will be more! The Talon of the Hawk wraps up the trilogy of the three princesses, and ends that particular story arc. But thoughtful readers will notice that the ending of Talon, while it solves one set of problems, also introduces a whole new set of issues. I'm writing book 4 right now – which is, indeed, Dafne's book (The Pages of the Mind), for all who've asked

- and there will also be at least book 5. Maybe more!
I've only read The Mark of The Tala (my review), the first book in this series so far, but I really enjoyed the rich, beautiful imagery. What served as inspiration for this series?
Thanks! Well, I'd long had thoughts about the trope of the three princesses, particularly about who the middle princess might be. She always seems to be glossed in the stories. Kind of a placeholder, a space between what the eldest does and what the youngest does. Which seems to be something many middle children struggle with. I also had a dream about being trapped in a castle while a monster hunted me outside. My sister kept promising that I'd be safe, but people were going out to fight the monster and dying to protect me. I knew I'd have to leave the castle and face the monster. When I set out to write this story, I knew it would be about my middle princess and that I'd have to find out who the monster was.
At last, do you have a personal favorite among your characters who you would like to meet face to face, and why?
That's so difficult to answer. I pretty much fall in love with all of my heroes, so I'd love to hang with any of them. At this moment, I'm still pretty besotted with Harlan, the hero of The Talon of the Hawk. As I'm writing The Pages of the Mind, it's starting with him escorting Dafne and the babies from Annfwn and... well, I just love him! He's insightful, caring, protective and, mmm, big and musclebound! *dreamy sigh*
Thank you so much for all your answers and for your wonderful books!
Thank YOU and everyone out there for reading!!
Jeffe Kennedy is an award-winning author whose works include non-fiction, poetry, short fiction, and novels. She has been a Ucross Foundation Fellow, received the Wyoming Arts Council Fellowship for Poetry, and was awarded a Frank Nelson Doubleday Memorial Award. Her essays have appeared in many publications, including Redbook.
Her most recent works include a number of fiction series: the fantasy romance novels of
A Covenant of Thorns
; the contemporary BDSM novellas of the
Facets of Passion
, and an erotic contemporary serial novel,
Master of the Opera
. A fourth series, the fantasy trilogy
The Twelve Kingdoms
, hit the shelves starting in May 2014 and book 1,
The Mark of the Tala
, received a starred Library Journal review and has been nominated for the RT Book of the Year while the sequel,
The Tears of the Rose
, has been nominated for best fantasy romance of the year. A fifth series, the highly anticipated erotic romance trilogy,
Falling Under
, released starting with Going Under, followed by
Under His Touch
and
Under Contract
.
She lives in Santa Fe, New Mexico, with two Maine coon cats, plentiful free-range lizards and a very handsome Doctor of Oriental Medicine.
Jeffe can be found online at her
website
, every Sunday at the popular Word Whores blog, on Facebook, and pretty much constantly on Twitter @jeffekennedy. She is represented by Connor Goldsmith of Fuse Literary.
Find Jeffe: