Friday, October 23, 2015 | Posted by kara-karina@Nocturnal Book Reviews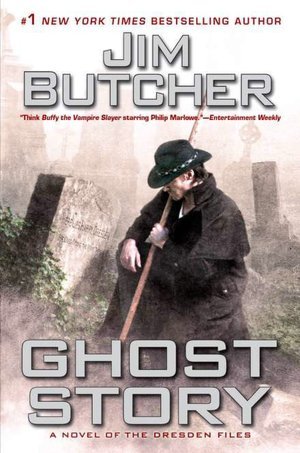 Ghost Story by Jim Butcher (Harry Dresden #13)
bought on audio
Synopsis from Goodreads
The eagerly awaited new novel in the #1 New York Times bestselling Dresden Files series.

When we last left the mighty wizard detective Harry Dresden, he wasn't doing well. In fact, he had been murdered by an unknown assassin.

But being dead doesn't stop him when his friends are in danger. Except now he has nobody, and no magic to help him. And there are also several dark spirits roaming the Chicago shadows who owe Harry some payback of their own.

To save his friends-and his own soul-Harry will have to pull off the ultimate trick without any magic...

Watch a Video
Don't panic! I have an explanation for the appallingly low rating. Marsters couldn't narrate it at the time, and it was narrated by someone else, and I couldn't listen to it at all. It was horrible! Since then, they re-released another version of the audiobook with Marsters, and I'm sure if I listened to it, I'd have given it at least 7.5 out of 10. Otherwise the plot was a downer after the shocker of a previous book. It couldn't compare.
* * *
Не паникуйте! Сейчас объясню почему такая низкая оценка. Джеймс Марстерс не смог стать рассказчиком этой книги, и слушалась она совершенно отвратительно. Ну никто другой не идёт у меня как Гарри Дрезден. После большого возмущения фанатов, книга была переиздана наконец-то с Марстерсом, так что я бы наверное дала ей не меньше 7 с половиной баллов. А так, конечно, после шока предыдущей книги, очень трудно с ней было эту сравнивать. Тихая она какая-то вышла.
Glory in Death by J.D. Robb (In Death #2)

The dead were her business. She lived with them, worked with them, studied them. She dreamed of them. And because that didn't seem to be enough, in some deep, secret chamber of her heart, she mourned them ...

The first victim is found lying on a sidewalk in the rain. The second in her own apartment building. Police Lieutenant Eve Dallas has no problem finding connections between the two crimes. Both victims are beautiful and highly successful women; their glamorous lives and loves were the talk of the city. And their intimate relations with men of power and wealth provide Eve with a long list of suspects - including her own lover, Roarke. As a woman, Eve is compelled to trust the man who shares her bed. But as a cop, it's her job to explore every avenue ... no matter where it might lead.
I am absolutely loving this series on audio, Susan Ericksen does a stellar job narrating it. While the mystery in this book is fairly straightforward, it's the human element which continues to fascinate me. Roarke, Eve, Mavis, even Peabody, who appears for the first time. Also, one nasty character definitely got what they deserved :)
Мне безумна нравится эта серия в аудио формате, Сюзан Эриксен - превосходная рассказчица. Хотя детектив сам по себе довольно прямолинеен, не он, а человеческие отношения в этой книге, сами характеры притягивают в себе читателя. Роарк, Ева, Мэвис и даже Пибоди, с которой мы встечаемся впервые, ну очень уж хороши.
Coda by C.D. Reiss (Songs of Submission #9)
Did you want a pat little ending about Jonathan and I riding off into the sunset? Did you want flowers and stars? Man, I wish it was all soft filters and violins. I wish we could fight about who cleaned the bathroom or who was cooking dinner. But I knew I was never destined for simple contentment.

I almost committed murder for him. I almost tore us apart to save him. How do you get back on the horse after that? Because, I promise you, nothing is the same. Nothing.

I've earned our happily ever after. Now I have to survive it.
Amazon kindle US/UK
It's actually a really believable HEA for these two difficult, complex characters. Surviving something like heart transplant is bound to change a man. Almost losing someone you love so desperately changes a woman. Now both Jonathan and Monica are struggling with the aftermath, the anxieties, the smothering cautious handling of each other and the secrets. They will have to break and remake each other to find their balance again. And I really enjoyed seeing them do it.
Кстати очень достоверное "и жили они долго и счастливо". Моника и Джонатан оба очень сложные характеры. Выжив пересадку сердца, Джонатан меняется мириадами мелочей. Чуть не потеряв любимого человека, Моника до сих пор страдает от стресса и тревожности. Оба скрывают друг от друга свои страхи и никак не могут найти баланс пока не разобьют друг друга опять на тысячи кусочков, чтобы собрать себя заново. И читала я об этом с удовольствием.
Tags:
4/10
,
8/10
,
cd reiss
,
friday mini reviews
,
j.d. robb
,
jim butcher
,
джей ди робб
,
джим бутчер
,
си ди рейс