Monday, October 19, 2015 | Posted by kara-karina@Nocturnal Book Reviews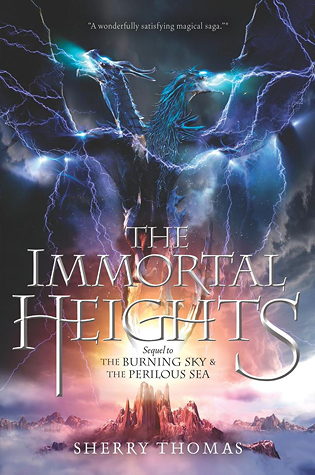 The Immortal Heights by Sherry Thomas (The Elemental Trilogy #3)
Egalley thanks to Balzer+Bray
Synopsis from Goodreads
In a pursuit that has spanned continents, Iolanthe, Titus, and their friends have always managed to remain one step ahead of the forces of Atlantis. But now the Bane, the monstrous tyrant who bestrides the entire mage world, has issued his ultimatum: Titus must hand over Iolanthe, or watch as his entire realm is destroyed in a deadly rampage. Running out of time and options, Iolanthe and Titus must act decisively to deliver a final blow to the Bane, ending his reign of terror for good.

However, getting to the Bane means accomplishing the impossible—finding a way to infiltrate his crypt in the deepest recesses of the most ferociously guarded fortress in Atlantis. And everything is only made more difficult when new prophecies come to light, foretelling a doomed effort....

Iolanthe and Titus will put their love and their lives on the line. But will it be enough?

With The Immortal Heights, Sherry Thomas brings the acclaimed Elemental Trilogy to its breathtaking conclusion.
Audio US | Amazon US/UK | Amazon kindle US/UK | The Book Depository
9/10
O

h man, how do I even describe this book? It's big. Or it felt big, because it dragged for the first half. It took me ages to read it because the mind kept snagging at something and I'd lose interest and put it down. It's like it's been crammed too much with everything. I was starting to feel disappointed.
Then the second half happened. And suddenly it felt epic. It felt profound, and my heart was racing.
"Titus did not scream. He did not smash the furniture. He did not crumple to the floor, sobbing.
He lay perfectly still, listened to the soft breaths of her peaceful slumber, and wept in complete silence.
I love you. I will love you until the end of the world."
These two! Fairfax and Titus has such an amazing couple dynamics. There is a perfect balance of power and yet, there are reversed gender roles. She is the prophesied girl and he is a supporting character, who supplies her with means and training, and yet both have equally huge roles to play.
The Immortal Heights picks up where The Perilous Sea ended. They are in the desert and have to get out under Bane's siege. Throughout the whole book Titus and Iolanthe are joined by Kashkari and Amara - both amazing characters in their own right.
While running for their lives and searching for ways to get into Atlantis, the team continues to reveal old secrets, extra prophecies and Bane's own terrible past. That villain, boys and girls! He is perfectly evil and horrifying. When he is vanquished and as this is the last part of the trilogy and we all believe in happily ever after I am not revealing any shocking truths *grinning*, he is vanquished in a truly spectacular fashion.
And the sacrifices! This book is riddled with them. They are majestic and meaningful, and bring tears to your eyes.
"For what is the Void but the beginning of Light?" said Titus, quoting from the Adamantine aria. "What is the Light but the end of Fear?"





Iolanthe heard her own voice joining him in the rest of the verse. "And what am I, but Light given form? What am I but the beginning of Eternity?"



You are the beginning of Eternity now, she said silently to [omitted as a spoiler]. You have arrived at the end of Fear. And I will love you always, for as long as the world endures."
The ending is gorgeous, and I felt really happy leaving our characters like this, saying goodbye. So, my dear readers, persevere through the first half of the book, the rest is totally worth it. The whole series is wonderful and hugely recommended.
К

ак же мне описать эту книгу? Она длинная. Или казалась мне длинной особенно в первую её половину, так как была забита мелочами, объяснениями и экшном до невозможности. Читала я её долго, так как постоянно чувствовада, что голова моя была переполнена всей этой информацией и уже смирилась с тем, что в книге этой буду разочарована.
Затем случилась вторая половина книги, и, о боже, она оказалась просто эпичной!
Фэйрфакс и Титус конечно парочка совершенно фантастичная своей динамикой отношений. Между ними идеальный баланс сил, и, в то же время, приятное своей нетипичностью разделение полов. Она - напророченный элементный маг, которая свергнёт Бэйна, а он - характер её во всём поддерживающий, и средствами и обучением. Обе их роли важны и друг без друга им никак.
Бессмертные Высоты начинается там, где закончилось Опасное Море - в пустыне, в осаде силами Атлантиса, где Иоланта, Титус, Кашкари и Амара пытаются осаду эту обойти. Кстати, последние двое - характеры просто чудестные и хорошо работают с нашими героями.
Пока эта команда пытается избежать захвата и найти как проникнуть в крепость Бэйна, они продолжают раскрывать старые секреты, новые пророчества и ужасающее прошлое Бэйна. Ах, злодей он восхитительный! Аж мурашки от него по коже бежали, и он естественно получил концовку по заслугам.
Книга эта также наполнена смертями и жертвами близких Титусу и Иоланте людей, да так, что от них щемило сердце. Сама концовка превосходна, и я была очень счастлива, прощаясь с главными героями именно так. Так что, пересильте себя, прочитайте первую половину книгу, и вторая будет того стоить. Замечательная серия, очень, очень советую!
Tags:
9/10
,
fantasy
,
magic
,
sherry thomas
,
YA
,
магия
,
подростковый фикшн
,
фэнтези
,
шерри томас