Friday, October 02, 2015 | Posted by kara-karina@Nocturnal Book Reviews
source
White Night by Jim Butcher (Harry Dresden #9)
bought on audio
Synopsis from Goodreads
The inspiration for the Sci Fi channel television series

In Chicago, someone has been killing practitioners of magic, those incapable of becoming full-fledged wizards. Shockingly, all the evidence points to Harry Dresden's half-brother, Thomas, as the murderer. Determined to clear his sibling's name, Harry uncovers a conspiracy within the White Council of Wizards that threatens not only him, but his nearest and dearest, too...
This is where it really gets darker and more twisted, peeps. Again, Thomas is on the forefront of the plot, and I love him to bits. Also, Harry playing the role of his scorned lover is hilarious. Thomas, Molly and Harry work as a pretty good team, and you would not be able to catch a break in this book, it's so full of action. Recommended.
* * *
Именно в этой книге действие повышается на уровень, становится темнее, закрученнее. Томас играет хорошую роль, и его как зарактер я очень люблю. Вообще, Дрезден, Томас и Молли - это прекрасная команда. Эпизод с Гарри, играющим ревнивого любовника томаса - просто ржачка. Читайте или слушайте.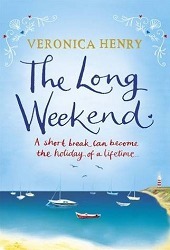 The Long Weekend by Veronica Henry

In a gorgeous quay-side hotel in Cornwall, the long weekend is just beginning...

Claire Marlowe owns 'The Townhouse by the Sea' with Luca, the hotel's charismatic chef. She ensures everything runs smoothly - until an unexpected arrival checks in and turns her whole world upside down.

And the rest of the guests arrive with their own baggage. There's a couple looking for distraction from a family tragedy; a man trying to make amends for an affair he bitterly regrets . . . and the young woman who thinks the Cornish village might hold the key to her past.

Here are affairs of the heart, secrets, lies and scandal - all wrapped up in one long, hot weekend.
If there is one word to describe this book, it's MELANCHOLY. There is so much more under the surface of seemingly cheating or shallow characters, that you end up changing your point of view a few times before you get to the end. It's unhurried, lovely and sad, but there is a happy ending, and it made me smile. Recommended if you want something less upbeat and more philosophical.
* * *
Если бы эту книгу можно было описать одним словом, то это была бы "меланхолия". Столько всего здесь происходит под слоями видимых характеров пустышек и обманщиков, что своё мнение о них я меняла несколько раз. Книга неспешная, душевная, грустная и всё же с хэппи-эндом. Мне понравилось.
Reluctant Concubine by Dana Marton (Hardstorm Saga #1)

"A terrific epic fantasy ~ magical, compelling, and romantic!" Susan Mallery, NEW YORK TIMES bestselling author

"It's impressively easy to become immersed in Marton's fantasy world. Readers will find it impossible not to care what happens next..." Kirkus Review

An ambitious, vividly imagined epic fantasy. Marton has created a promising and immersive world that is, at the same time, darkly brutal... the splendor of the author's vision cannot be overlooked." RT Book Reviews

To escape punishment, Tera, a maiden healer sold to barbarians must hide the truth: she has not yet come into her healing powers. Born into a much gentler world, she struggles to survive in a land of savage warlords and their cruel concubines. When ancient prophecies begin to come to pass, can the healer-slave save the realm and awaken the High Lord's heart?

"I ADORED.. (the hero). From his initial appearance and those gentle words of promise that no harm would come to...(the heroine), to his accepting manner of all that was her, to his tenderness shown when a barrier for which he waited so patiently to fold was finally crossed. He has to be one of my favourite male counterparts I've read in a while. LOVE him." Bookaroo-Ju Review

"The writing is just beautiful. It flows sometimes like water. I don't know how else to describe it other than to say i enjoyed how it felt reading it." 5 out of 5 Modokker Book Pick Stars

For anyone who enjoyed the fantasy worlds of George Martin's Game of Thrones, C.L. Wilson's Lord of the Fading Lands, Elizabeth Vaughan's Warprize, or the memorably crafted healer heroines in Jean Auel's Clan of the Cave Bear and Diana Gabaldon's Outlander series, THE THIRD SCROLL is the next epic adventure to get lost in.
7/10
Alright, the premise is good. The setting is good. The potential is there... But I couldn't help comparing this one with
Warprize
, and it keep coming up short. There is no either coherency to the plot or a strong, charismatic love story, and the book which started strong, lost me by its ending. Otherwise it's an enjoyable enough read.
* * *
Задумка хорошая, построение мира интересное, потенциал есть... Однако я не могла не сравнить эту книгу с
Военным Призом
, и не в лучшую сторону. Нет чёткой сюжетной линии или харизматичной любовной истории, и глазу зацепиться за что-то конкретное сложно, поэтому книга, которая началась сильно, под конец меня потеряла. А так, неплохо.
Tags:
7.5/10
,
7/10
,
8.5/10
,
dana marton
,
friday mini reviews
,
jim butcher
,
veronica henry
,
вероника генри
,
дана мартон
,
джим бутчер