Wednesday, October 07, 2015 | Posted by kara-karina@Nocturnal Book Reviews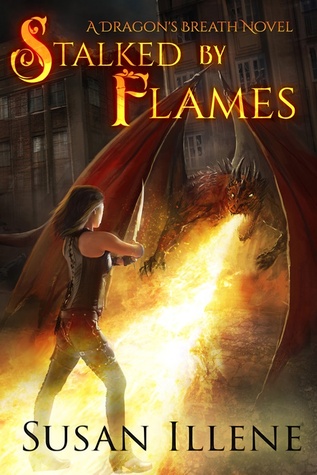 Stalked by Flames by Susan Illene (Dragon's Breath #1)
Audiocopy courtesy of the author
Synopsis from Goodreads
Bailey Monzac has just graduated college and is leaving town for her parents' ranch in Texas when a massive earthquake unleashes the unthinkable on the world: fire-breathing dragons.

Chaos erupts as people flee for their lives, and Bailey survives only because she is somehow immune to the dragons' flames. In the midst of the mayhem, Bailey is helped by a shape-shifting dragon named Aidan, who recognizes Bailey is a dragon slayer and will be an essential ally in the power struggle between—and within—the dragon clans.

Natural disasters intensify and dragons lay waste to the world as civilization all but collapses amid the loss of electricity and running water. Roving gangs prowl the debris-filled streets, and Bailey and her friends manage to find refuge in the university library. As her relationship with Aidan deepens during private training sessions, Bailey must learn to harness her newfound skills or see everything she knows and loves destroyed.

Stalked by Flames is a gritty urban fantasy about a woman's journey into a dark new reality she never could have imagined.
Audible US/UK | Amazon US/UK | Amazon kindle US/UK | The Book Depository
8/10
I

f you liked Susan Illene's urban fantasy series, The Sensor, I guarantee you will enjoy this one. She takes an apocalyptic event of our world colliding with an another dimension, and creates a believable, creative scenario, blending dystopia and fantasy genres, magic and technology, dragons and college graduates.
Bailey just graduated from college and is getting ready to ride back to her parents ranch in Texas, when there is a huge earthquake, and suddenly dragons roam the sky attacking people. During an attack on the campus Bailey survives and realises that she is immune to dragon fire.
Suddenly our rational, sensible heroine is forced to admit there is more to world than she can see with a naked eye. Dragons and witches and crazy survivalists thrive, while ordinary people are forced to band together, loot neighbouring stores for food, clothes and water while the thin veneer of civilisation slowly crumbles away.
Bailey's point of view is counteracted by Aidan's, - a young dragon shifter determined to help his clan survive and prevail in the collision of two worlds. Finding Bailey on his territory he recognises her as one of rare dragon slayers and offers to teach her if she helps him fight pure dragons who consider people as food and nothing else.
Aidan's character is pretty awesome. He is cunning, strategic but at the same time, there is no darkness in him. He is a decent guy who is determined to do what's needed to be done, nothing more.
Both him and Bailey have separate struggles and dangers, and both have a solid circle of secondary characters whom I really enjoyed.
The narrator, Marguerite Gavin, whom you might know for her narration of Kim Harrison's works, does a stellar job with Southern drawl for Bailey and her friends, and for expressionless, slightly alien accents of dragon shifters.
Overall, this is a book which lays down the rules and creates the base for an extensive world-building. It's interesting, easy to listen and full of potential. I enjoyed it and very much am looking forward to the next one in the series.
Е

сли вам понравилась серия городского фэнтези от Сюзан Иллен, Сенсор, то я гарантирую, что вам придётся по вкусу и эта книга, смешавшая дистопию и фэнтези, технологию и магию, драконов и студентов-выпускников.
Бэйли только что закончила колледж и готовится сесть в машину и поехать домой к родителям на ранчо в Техас. Однако внезапное землятрясение объединяет наш мир с другим измерением, и вот уже над кампусом её колледжа летают драконы и нападают на разбегающихся в ужасе людей.
В процессе нападения Бэйли осознаёт, что имунна к драконьему пламени, и нашей разумной, хладнокровной героине приходится принять, что мир - это больше того, что видно глазу. Теперь драконы, ведьмы и сумасшедшие выживальщики процветают, а вот обычным людям приходится туго. Они сбиваются в большие группы и проводят свои дни, патрулируя территорию и разграбливая магазины в поисках воды, еды и одежды.
Точку зрения Бэйли сопровождает взгляд на происходящее со стороны молодого дракона-оборотня - Эйдана. Эйдан - хитрый стратегист, которого волнует будущее своего клана, но в то же время в нём нет тёмных сторон. Он - хороший характер, полный решимости пойти на всё необходимое для достижения своих целей, и когда он распознаёт Бэйли как одну из редких истребителей драконов, он старается завербовать её на свою сторону. Эйдан научит её сражаться, если она поможет ему против полнокровных драконов, которые с наслаждением истребляют человечество.
Обоих характеров окружает толпа полноценных и довольно сильных второстепенных персонажей, и вообще вся книга слушается легко и быстро. Рассказчица, Маргерит Гэвин, которую мы знаем по озвучиванию книг Ким Харрисон, придаёт Бэйли и её друзьям шикарный тягучий говор американского юга, а драконам - акцент холодный, отстранённый и немного чужой, что подходит тем прекрасно.
Книга мне понравилась. Она конечно озвучивает новые правила и строит сложный мир больше, чем следит за развитием событий и персонажей, но в ней чувствуется хороший потенциал, и продолжения я буду ждать с нетерпением.
Tags:
8/10
,
dragons
,
post-apocalyptic
,
susan illene
,
urban fantasy
,
городское фэнтези
,
драконы
,
пост-апокалипсис
,
сюзан иллен