Saturday, June 11, 2011 | Posted by kara-karina@Nocturnal Book Reviews
Moonshine by Rob Thurman (Cal Leandros #2)
Synopsis (from Goodreads)
The second novel in Rob Thurman's dark fantasy saga featuring Caliban "Cal" Leandros follows the half-monster protagonist and his older brother, Niko, as they begin a new life in New York City as bodyguards and amateur detectives specializing in cases with a supernatural slant.
After almost destroying the world in 2006's Nightlife, Cal has learned a lot about his mysterious past (he was the product of an experimental breeding program run by the otherworldly and nightmarish Auphe, whose objective was nothing short of annihilating the planet), but many questions still trouble him. However, one thing is certain: With a plethora of bloodthirsty monstrosities secretly preying on and sometimes coexisting with humankind, Cal and Niko will never be short of work in the City That Never Sleeps. But when they take a seemingly open-and-shut case involving the Kin (the "Mafia of the nonhuman world"), Cal and his sword-wielding brother become unwilling pawns in a power struggle between rival werewolf factions. The stakes are dramatically increased when Cal's girlfriend, the young seer Georgina, is kidnapped and held as collateral. The odds of Cal and his small group of misfit allies coming out of this unscathed are not good -- but 20-year-old Caliban Leandros is much more than even he realizes.
* * *
R

ob Thurman is a very good example of urban fantasy. Her writing is crisp, sharp and sarcastic, full of banter and good old boy humour that will keep you snickering.
Cal and Niko very much remind me of two brothers from Supernatural. So if you like this show you will most certainly love the books.
The brothers are tight, and it's quite touching to see how they can not imagine life without each other and will do anything in their power to save one another.
I also love the puck, Robin Goodfellow, narcissistic, wickedly charming fashion plate/comedian and Promise, a vampire and a black widow who buried five husbands and got her hands on their fortune. Along with brothers Leandros they make a formidable team.
Although this book is not as intense as the first one, Rob Thurman definitely laid the groundwork for the future adventures of the brothers with all the new developments that happened in Moonshine.
And the quotes! You can quote half of the book, the phrases are so catchy :)
" I shitteth you not."
"Sufficient unto the day the ass kicking therein."
Overall, a very good read. I intend to go through all the books written by this author and thoroughly enjoy them.
Some fan-art from Rob Thurman's website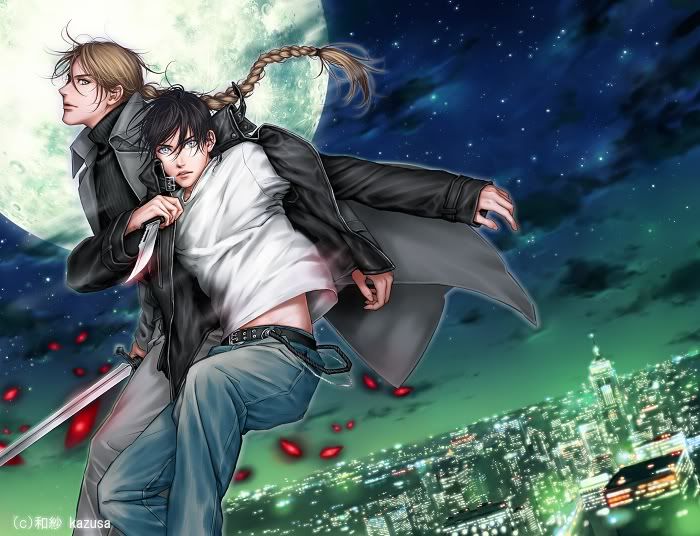 * * *
Н
у, что братишки Нико и Кэл снова в строю, открывают своё частное агенство и получают первый заказ пошпионить за вервольфом-мафиози, пока он играет в покер.
Затея заканчивается полным провалом по причине того, что братьев кто-то сдаёт. Расследование неожиданно прерывается, так как кто-то похищает Джордж, девушку-провидицу, которая неравнодушна к Кэлу, и Кэлу, Нико, Промис и Робину придётся чуть ли не из кожи вылезти, чтобы её вернуть в обмен на таинственную древнюю корону.
Полно схваток, шуточек, серьёзных проблем, с которыми приходится столкнуться братьям и экшна. Хорошие книги, добротные, буду продолжать читать эту серию.
Всё-таки очень трогательные отношения между Нико и Кэлом. Оба не могут помыслить существование друг без друга, и оба пойдут на всё, что угодно, чтобы друг друга спасти.
Хоть я ещё и не добралась до Supernatural, этот сериал по тому, что видела, очень мне напоминает книжки про Кэла и Нико.
Цитаты
: (см. выше)
Кэл и Нико - фан-арт с вебсайта автора (см.выше)