Monday, September 14, 2015 | Posted by kara-karina@Nocturnal Book Reviews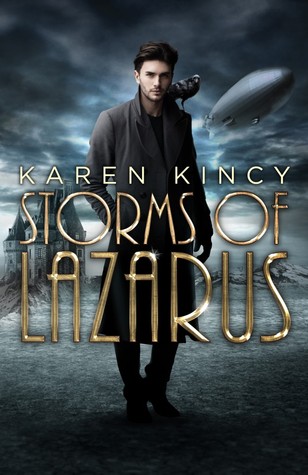 Storms of Lazarus by Karen Kincy (Shadows of Asphodel #2)
Egalley thanks to Curiousity Quills Press
Synopsis from Goodreads
Sometimes escape is impossible. Sometimes love isn't enough.

1913. Christmas Eve. Ardis hardly expects a quiet holiday with Wendel, between fleeing Constantinople and hiding from an ancient society of assassins. And they owe a debt to a certain archmage.

In Königsberg, Prussia, they work with Konstantin on the next evolution of Project Lazarus. Wendel once called Königsberg home, the city now besieged by the Russians and their clockwork engines of war. This may be Wendel's last chance to save his family and find redemption, but he's tormented by nightmares and tempted by laudanum. Ardis fears her love isn't enough to save Wendel. Her hands are full piloting the automatons, and she's terrified to tell him a secret of her own. Will they—and their love—survive the storms of war?
Amazon US/UK | Amazon kindle US/UK | The Book Depository
8/10
T

his is a pretty snappy steampunk series, ladies and gents. It's just so fluid, and the tech is not in the face obvious. It's a well integrated part of everyone's life. I also love how organically it co-exists with magic in this world.
Wendel and Ardis is a couple we met in Shadows of Asphodel. Thrown together by chance, an assassin necromancer and a mercenary fugitive manage to thwart powerful enemies in a conspiracy plot. Now they are on the run from Wendel's masters. Not only that, but Prussia and Russia are on the brink of war, and Ardis, who works for archmages of Vienna is called back to serve them in Project Lazarus.
There are four main characters in this book, Konstantin, Theodore, Wendel and Ardis, and while the action mostly concentrates on the last two, these four work well together. Just find the strip-poker scene! *grinning* Wendel and Ardis's relationship also progresses. I really enjoyed their interactions. Both are practical to boot, flippant and very honest with each other. They also know how to work on their insecurities and how to admit they were wrong. This feels like a solid couple.
Expect a breezy read full of airship chases, clockwork dragons, steampunkish robots, Tesla, assassins and some princes thrown in just to spice things up. Easy, entertaining and fun, recommended for the fans of Melanie Karsak and Melanie Card.
Это чудесная, яркая серия стимпанка, дамы и господа! Ожидайте гонок на воздушных кораблях, часовых драконов, дизельпанковских роботов, Никола Теслу, ассассинов и пару-тройку принцев, чтобы сделать эту мешанину позадорнее.
Мы встретили Венделя и Ардис в предыдущей книге серии, Тени Асфоделя, где эта парочка развалила большой и очень опасный заговор. Теперь некромант-ассассин и наёмница, скрывающаяся от закона находятся в бегах, однако Пруссия и Россия находятся на грани войны, и архмаги Вены, работадатели Ардис, призывают ту обратно в Кёнингсберг, чтоба она помогла с Проектом Лазарь.
Помимо Венделя и Ардис, книга концентрирует своё внимание на архмаге Константине и капитане воздушного корабля, Теодоре, и все четверо прекрасно работают в команде. Чего только стоила сцена со стрип-покером!
Мне очень понравилось развитие отношений между Венделем и Ардис. Оба прямолинейны, ничего друг от друга не скрывают, очень практичны и готовы признать свои ошибки и попросить прощения. Честно говоря, такое благоразумие нечасто встречаешь в фиктивных героях.
А в общем, книга читается очень быстро и легко. Рекомендую поклонникам Мелани Карзак и Мелани Кард.
Tags:
8/10
,
assassin
,
dieselpunk
,
fantasy
,
karen kincy
,
necromancer
,
steampunk
,
ассассин
,
дизельпанк
,
карен кинси
,
некромант
,
стимпанк
,
фэнтези