Monday, May 05, 2014 | Posted by kara-karina@Nocturnal Book Reviews
Hello, peeps!
We are turning THREE on the 9th of May, so we will be celebrating all week with exclusive content from our favorite authors, giveaways and personal tidbits.
Hope you join us in all the fun.
Cheers,
Karina & Vika
Did you know?
The day this blog was established it's an official Second World War Victory Day celebration in Russia. I thought I would be very unlikely to forget that date, and I was right.
My husband is the one who came up with the name Nocturnal Book Reviews - he has a real knack for names while I'm totally rubbish at it!
Anyway, please welcome our first guest of honor, Michelle Diener, whose books I discovered in 2011 and whose historical fiction and fantasy I adore! Michelle would like to talk about real history tricky incorporation in historical fiction.
It's an honour to be celebrating with Karina! The third book in my Susanna Horenbout and John Parker series,
In Defense of the Queen
, has a review quote by Karina on the cover, and I have bought numerous books after reading Karina's great reviews on this blog. So thank you, Karina, for your always insightful and interesting reviews.
Real History in Historical Fiction
There is a really fine line to walk when incorporating a specific historical event in historical fiction, rather than setting a fictional novel in that general time period. I love basing my historical fiction plots on fact, but I usually use broad brush strokes, rather than focusing on a single, real event. I did it once before, with my Anglo-Zulu war set novel,
Daughter of the Sky
, where I stuck very closely to real events, and I've just done it again with my upcoming May 19th release,
A Dangerous Madness
.
While I did use a real historical conspiracy as a large part of the plot in
The Emperor's Conspiracy
(Napoleon's plan to bleed England dry of it's gold reserves) and used the real secret treaty between Russian, England and Sweden against Napoleon in
Banquet of Lies
,
A Dangerous Madness
is slightly different, in that the plot focuses on the assassination of British Prime Minister Spencer Perceval, and the details of how and why he was murdered. The historical details in this one are a lot more specific, and a lot of the secondary characters were real people.
For me, the balancing act is getting enough of the information across to readers, without weighing the plot down with too much detail. Because I studied it for months, I know all the reasons people wanted to kill Spencer Perceval, but most readers won't know anything about that. The characters in my book would, though, so they can't go around explaining things to each other, and enlighten readers that way. They all live in the same city, read the same newspapers, and are quite aware of the political tensions. So slipping the information to readers without having characters talking to each other in ways they never would, or without going out of deep third person point of view and addressing readers directly as the author, is hard work. Well, it is for me! :) But very satisfying to get right.
I love balancing hard fact with my own imagination, and weaving a story where fact and fiction are so tightly bound together, it's hard to tell which is which. Although I always come clean with what is made up in my author's note at the end.
I'd like to know if readers enjoy reading author's notes, especially at the end of historical novels, or do you skip them altogether?
Thanks again to Karina for having me, and I have a copy of any one of my books as a giveaway to one commenter, winner's choice. You can find out about my books at my website:
www.michellediener.com
Regards
Michelle
Thank you so much, Michelle!
Folks, if you answer Michelle's question in the comments this will enter you in the contest for an ebook or a physical book of your choice. I'll close the comments on the 11th of May and choose the winner with the help of Random.org
Bear in mind, that A Dangerous Madness comes out on May 19th and won't be available to you until then if the winner decides on this book.
P.S. Between you and me, newest book is just as delish as the rest! :)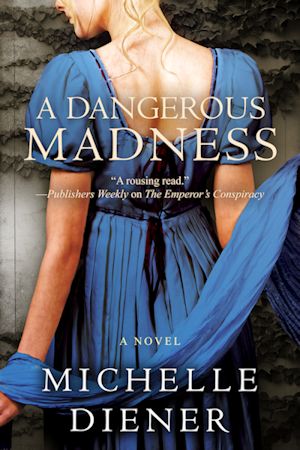 Summary
The Duke of Wittaker has been living a lie...

He's been spying on the dissolute, discontented noblemen of the ton, pretending to share their views. Now he's ready to step out of the shadows and start living a real life...but when the prime minister of England is assassinated, he's asked to go back to being the rake-hell duke everyone believes he still is to find out more.

Miss Phoebe Hillier has been living a lie, too...

All her life she's played by society's rules, hiding her fierce intelligence and love of life behind a docile and decorous mask. All it's gotten her is jilted by her betrothed, a man she thought a fool, though a harmless one. But when she discovers her former fiancé was involved in the plot against the prime minister, and that he's been murdered, she realizes he wasn't so harmless after all.

And now the killers have set their sights on her...

The only man who can help her is the Duke of Wittaker--a man she knows she shouldn't trust. And she soon realizes he's hiding behind a mask as careful as her own. As the clock ticks down to the assassin's trial, the pair scramble to uncover the real conspiracy behind the prime minister's death. And as the pressure and the danger mounts, Phoebe and Wittaker shed their disguises, layer by layer, to discover something more precious than either imagined–something that could last forever. Unless the conspirators desperate to hide their tracks get to them first.
Release date: May 19th 2014.
Tags:
blogoversary
,
giveaways
,
guest post
,
international
,
Michelle Diener
,
авторский пост
,
день рождения
,
международный контест