Monday, January 02, 2012 | Posted by kara-karina@Nocturnal Book Reviews
First of all, here are some January releases I'm eagerly awaiting...
You can probably guess my top three. No?
Sins of The Demons
Raven Cursed
Burned
I'm really looking forward to these books and will be buying them in paperback, although Raven Cursed is the ugliest Jane Yellowrock cover so far!
The plans for January so far are as follows:
Redheaded covers are coming baaaack! Did you miss them?
So as the cover artists!
I'm participating in a blog tour for this beautiful book
so on the 16th of January expect a review and a giveaway
January is a Netgalley Month which means that I will have to read all the books I hoarded in December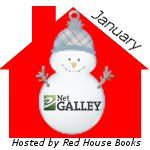 This month My Guilty Pleasure will feature movies
and Speampunk'd hopefully will give you a selection of music
Last but not least to my usual selection of genres I'll add occasional fantasy and historical romance reviews. I do hope you like it.
So this is it so far! I also upped my reading challenge this year
to
250 books
. We'll see. i think it's possible. Maybe...
Have a great day! Ciao!