Wednesday, February 21, 2018 | Posted by kara-karina@Nocturnal Book Reviews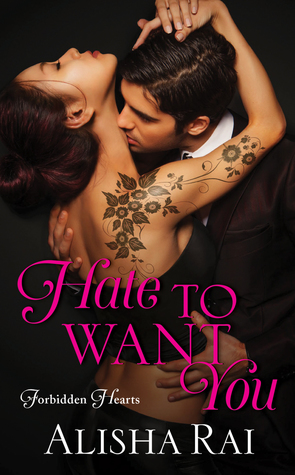 Hate to Want You by Alisha Rai (Forbidden Hearts #1)
bought
Synopsis from Goodreads
One night. No one will know.
That was the deal. Every year, Livvy Kane and Nicholas Chandler would share one perfect night of illicit pleasure. The forbidden hours let them forget the tragedy that haunted their pasts—and the last names that made them enemies.
Until the night she didn't show up.
Now Nicholas has an empire to run. He doesn't have time for distractions and Livvy's sudden reappearance in town is a major distraction. She's the one woman he shouldn't want . . . so why can't he forget how right she feels in his bed?
Livvy didn't come home for Nicholas, but fate seems determined to remind her of his presence—and their past. Although the passion between them might have once run hot and deep, not even love can overcome the scandal that divided their families.
Being together might be against all the rules . . . but being apart is impossible.
Audible
US
/
UK
| Amazon
US
/
UK
| Amazon kindle
US
/
UK
|
Book Depository
* * *
G

orgeous, spicy, sincere and touching. That's all you need to know about this romance to pick it up.

This was my introduction to Alisha Rai, and after reading this book I went back to her first romance. Boy, what a difference! She went from a fairly formulaic erotic novel to something absolutely magical! Hate to Want You had all my heart, peeps.
The characters were vibrant and memorable. I had no trouble imagining their personalities and rooting for them both.
The dialogue sparkled, and the reasoning behind their actions was complex and not so easy to overcome.
Add to it rich background peppered with intriguing secondary characters, and wonderful chemistry between Nicholas and Livvy, and I couldn't put this book down.
An excellent contemporary romance with a believable happy-for-now ending. Recommended.
П

рекрасная, трогательная, правдивая и актуальная история с перчиком. Это все, что вам надо знать, мои хорошие, чтобы купить эту книгу.

Это был мой первый роман от Алиши Рай, и после этого я взялась за первую, изданную ею книгу и почувствовала разницу. Она шикарнейшим образом выросла от шаблонного эротического романа как писатель к какой-то волшебной сказке о трагичной любви. Просто небо и земля между двумя книгами!

Николас и Ливви были яркими, запоминающимися персонажами. Я без труда могла представить их характеры и переживала за них обоих. Их диалоги сверкали, были полны химии и притяжения, несмотря на которые причины для их разрыва и отстраненности друг от друга были вескими и многослойными.

Добавьте к этому богатое построение мира, пересыпанное интригующими второстепенными персонажами, и от этой книги я не могла оторваться.

Отличный современный роман с концовкой счастья-на-сейчас, в которую верилось. Рекомендую.
Tags:
8/10
,
alisha rai
,
contemporary
,
enemy lovers
,
erotic romance
,
алиша рэй
,
враги любовники
,
современный роман
,
эротика