Friday, May 20, 2016 | Posted by kara-karina@Nocturnal Book Reviews
Survivor in Death by J.D. Robb (In Death #20)
bought on audio
Synopsis from Goodreads
No affairs. No criminal connections. No DNA. No clues. Eve Dallas may be the best cop in the city - not to mention having the lavish resources of her husband Roarke at her disposal - but the Swisher case has her baffled. The family members were murdered in their beds with brutal, military precision. The state-of-the-art security was breached, and the killers used night vision to find their way through the cozy middle-class house. Clearly, Dallas is dealing with pros. The only mistake they made was to overlook the nine-year-old girl cowering in the dark in the kitchen. . .

Now Nixie Swisher is an orphan - and the sole eyewitness to a seemingly inexplicable crime. Kids are not Dallas's strong suit. But Nixie needs a safe place to stay, and Dallas needs to solve this case. Not only because of the promise she made to Nixie. Not only for the cause of justice. But also to put to rest some of her own darkest memories - and deepest fears. With her partner Peabody on the job, and watching her back - and with Roarke providing the kind of help only he can give - Lieutenant Eve Dallas is running after shadows, and dead-set on finding out who's behind them.
8.5/10
Fantastic book, strong plot and wonderful character growth. There were some emotional moments because the victim Eve's fighting for is a child and through her eyes we see a lot of very painful stuff. Eve is fabulous in that, but so as everyone else. Well done!
* * *
Фантастичная книга, сильный сюжет и очень хороший рост характеров. Много эмоциональных моментов, так как жертва преступления - ребёнок, и очень многое оспринимается более болезненно через её взгляд на происходящее. Ив - красотка просто, да и вся остальная команда тоже. Надо читать!
Intimate Geography by Tamsen Parker (The Compass #2)
bought
Synopsis from Goodreads
Fiercely protective of her heart, India Burke let down her defenses when Cris Ardmore went from another notch on her D/s playdate belt to everything she could never admit she wanted.

But being disowned by your family and betrayed by your lover aren't easy to get over, and India's old fears of intimacy creep in against a backdrop of professional drama that forces her return to a place that never really felt like home.

Though she proved her loyalty when it mattered most, love is about more than grand gestures and Cris wants all of her—which may be more than India is able to give. Can Cris and India navigate to a shared future or will they forever be off course?

** Please Note: Intimate Geography is Book 2 of The Compass Series and CANNOT be read as a stand-alone. Personal Geography, the beginning of Cris and India's story, released on December 1st 2014.**
A sweet read, a realistic situation, and I really liked that nothing was straightforward. Both characters had hard choices to make, lives to re-arrange. The low rating is mostly because a lot of issues were unresolved and the book would have only won by being longer to do just that. Great plot which truly needed expanding. Overall, fab duology.
Милая книга, реалистичная ситуация, и мне очень понравилось, что простых решений здесб не было. Обоим героям нужно было обдумать, как продвигать отношения дальше и кому пожертвовать своим комфортом и изменить жизнь, чтобы быть со своим партнёром. Оценка занижена, так как в сюжете осталось много неразрешённых линий, и надо было книгу расширять. Автор талантливый, спору нет, но книга закончилась лениво.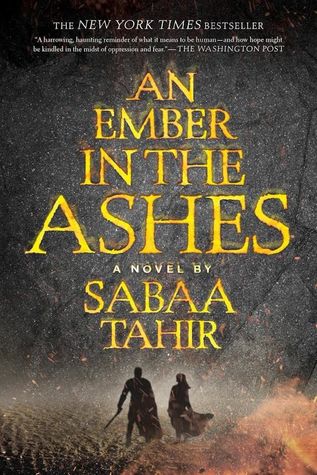 An Ember in The Ashes by Sabaa Tahir (An Ember in The Ashes #1)
bought on audio
Synopsis from Goodreads
Laia is a slave. Elias is a soldier. Neither is free.

Under the Martial Empire, defiance is met with death. Those who do not vow their blood and bodies to the Emperor risk the execution of their loved ones and the destruction of all they hold dear.

It is in this brutal world, inspired by ancient Rome, that Laia lives with her grandparents and older brother. The family ekes out an existence in the Empire's impoverished backstreets. They do not challenge the Empire. They've seen what happens to those who do.

But when Laia's brother is arrested for treason, Laia is forced to make a decision. In exchange for help from rebels who promise to rescue her brother, she will risk her life to spy for them from within the Empire's greatest military academy.

There, Laia meets Elias, the school's finest soldier—and secretly, its most unwilling. Elias wants only to be free of the tyranny he's being trained to enforce. He and Laia will soon realize that their destinies are intertwined—and that their choices will change the fate of the Empire itself.
The amount of kickass women in this book is beyond awesome. Nevermind Elias. Helena saves his backside every time, Laia uncovers conspiracy on her own, and the main villain in all her cruel, sadistic glory is Elias's mother. One monologue of hers about Elias's birth is worth the whole book. Men are pretty much worthless to the plot. A lot of chemistry in here, a lot or cruelty and fast action. I enjoyed it sooo much and looking forward to the next book in the series.
* * *
Количество шикарных баб в этой книге зашкаливает по шкале Рихтера. Забудьте, Элиаса. Хелена вытаскивает его задницу из различных передряг каждый раз, Лайя раскрывает заговор в одиночку, а главная злодейка во всей своей беспощадной, садистской красе - мать Элиаса. Один её монолог о рождении Элиаса стоит всей книжки! Очень много здесь жестокости, брутального экшна и магнетизма между главными героями. Талантливый автор, жутко хочу читать дальше!
Tags:
erotic romance
,
friday mini reviews
,
j.d. robb
,
sabaa tahir
,
sci-fi
,
tamsen parker
,
YA
,
джей ди робб
,
мини ревью
,
сабаа тахир
,
тамзен паркер