Monday, January 11, 2016 | Posted by kara-karina@Nocturnal Book Reviews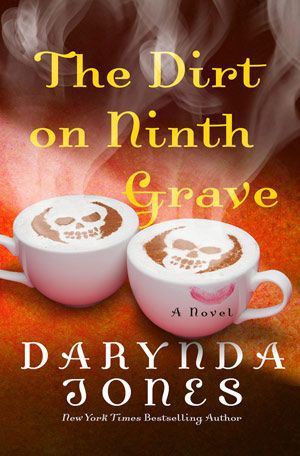 The Dirt on Ninth Grave by Darynda Jones (Charley Davidson #9)
Egalley courtesy of St. Martin's Press
Synopsis from Goodreads
In a small village in New York lives Jane Doe, a girl with no memory of who she is or where she came from. So when she is working at a diner and slowly begins to realize she can see dead people, she's more than a little taken aback. Stranger still are the people entering her life. They seem to know things about her. Things they hide with lies and half-truths. Soon, she senses something far darker. A force that wants to cause her harm, she is sure of it. Her saving grace comes in the form of a new friend she feels she can confide in and the fry cook, a devastatingly handsome man whose smile is breathtaking and touch is scalding. He stays close, and she almost feels safe with him around.

But no one can outrun their past, and the more lies that swirl around her—even from her new and trusted friends—the more disoriented she becomes, until she is confronted by a man who claims to have been sent to kill her. Sent by the darkest force in the universe. A force that absolutely will not stop until she is dead. Thankfully, she has a Rottweiler. But that doesn't help in her quest to find her identity and recover what she's lost. That will take all her courage and a touch of the power she feels flowing like electricity through her veins. She almost feels sorry for him. The devil in blue jeans. The disarming fry cook who lies with every breath he takes. She will get to the bottom of what he knows if it kills her. Or him. Either way.
Release date: January 12, 2016.
Audio US/UK | Amazon US/UK | Amazon kindle US/UK | The Book Depository
8.5/10
Y
ou guys might have remembered how disappointed I was in the previous book in this series and how it felt like a cop out especially after the gradual build-up of all the previous books. Well, there is nothing disappointing in
The Dirt on Ninth Grave
, nothing at all! All the magic is back, and it positively sizzles with chemistry. *grinning*
Charley lost her memory and ended up in Sleepy Hollow, a small town in the state of New York. She is curious about herself and her strange abilities, and is unsure what to think about it, but overall positive. Of course all her friends and family are around, but following advice of a psychologist, everyone keeps silent and lets Charley remember herself just who and what she is.
Of course, a confused Charley is no less hilarious than usual. Her rediscovery of her friendship with Cookie is adorable, but the most delicious part of the book is her infatuation with Reyes and how she goes about conquering his heart. Their interactions jump off the pages, they are so sizzling hot and full of chemistry. I loved it!
Add to it usual Charley's shenanigans, cracking a couple of cases and avoiding Hell's bounty hunters, and
The Dirt on Ninth Grave
won't let you get bored and will entertain your pants off. Honestly, this was glorious, and I'm enormously relieved that the series in general got back it's hell of a mojo. I loved it!
* * *
П
омните, как я жаловалась, что предыдущая книга подвела своим плохим качеством всю серию? Как мне жутко не понравился поворот сюжета, который свёл на нет растущую кульминацию главной темы серии? Так вот,
Грязь на Девятой Могиле
к счастью вернула всю магию этой серии обратно!
Чарли страдает от амнезии и оказывается в Спящей Лощине, маленьком городке штата Нью-Йорк, где она начинает работать официанткой, одновременно пытаясь вспомнить что же с ней случилось. Её друзья и родные следуют за ней по пятам, однако в процесс не вмешиваются из-за совета психотеропевта, который рекомендует не торопить Чарли и дать ей вспомнить что же произошло самой по себе.
Чарли, потерявшая память, так же истерически смешна, как и Чарли, знающая кто она такая. Она милейшим образом вновь становится подругой Куки и, что особо романтично, вновь влюбляется в Рейса. Вообще, любая сцена между ней и Рейсом настолько насыщенна электричеством, что так и хочет спрыгнуть со страниц книги и долбануть вам током.
Добавьте к этому несколько преступлений, которые она раскрывает между делом, и агента Ада, который за ней охотится, и скучать читателю совершенно не приходится! Я безумно рада, что серия вернулась к тому уровню совершенства, которого я так привыкла от неё ожидать. Очень рекомендую!