Friday, January 08, 2016 | Posted by kara-karina@Nocturnal Book Reviews
Witness in Death by J.D. Robb (In Death #10)
bought
Synopsis from Goodreads
With the 'in death' series Nora Roberts has created her own futuristic world - set in 2058 - following the adventures of feisty female detective Eve Dallas and her ongoing relationship with reformed criminal and self-made billionaire Roarke. In 'Witness in Death' there is always an audience for murder.

Audible US/UK | Amazon US/UK | Amazon kindle US/UK | The Book Depository
I really enjoyed this book as it starts as an old-fashioned murder mystery, and Eve has to eliminate the suspects from the people in the room during murder. It was tons of fun, and I can probably recommend this book to a newbie in the series because the story is pretty self-contained.
* * *
Мне очень понравился
Свидетель в Смерти
, так как эта книга построена как старомодный детектив в стиле Агаты Кристи. Даже новичок серии может спокойно за неё взяться, так как сюжет ограничен происходящим только в этой книге.
Caressed by Ice by Nalini Singh (Psy-Changeling #3)

As an Arrow, an elite soldier in the Psy Council ranks, Judd Lauren was forced to do terrible things in the name of his people. Now a defector, his dark abilities have made him the most deadly of assassins - cold, pitiless, unfeeling. Until he meets Brenna . . .

Brenna Shane Kincaid was an innocent before she was abducted - and had her mind violated - by a serial killer. Her sense of evil runs so deep, she fears she could become a killer herself. Then the first dead body is found, victim of a familiar madness. Judd is her only hope, yet her sensual changeling side rebels against the inhuman chill of his personality, even as desire explodes between them. Shocking and raw, their passion is a danger that threatens not only their hearts, but their very lives . . .

Audio US/UK | Amazon US/UK | Amazon kindle US/UK | The Book Depository
It's not bad. Again I really enjoyed the world-building in general, but couldn't connect to a particular couple. I know I will be reading more in this series, but so far romantic elements in this series are leaving me cold. No pun intended.
* * *
Это неплохая книга, и меня всё-также очень привлекает построение мира в общем. Однако я опять не могу проникнуться симпатией к паре любовник - главных героев сюжета. В общем, я знаю, что с серией продолжу, однако пока её романтические элементы оставляют меня совершенно равнодушной.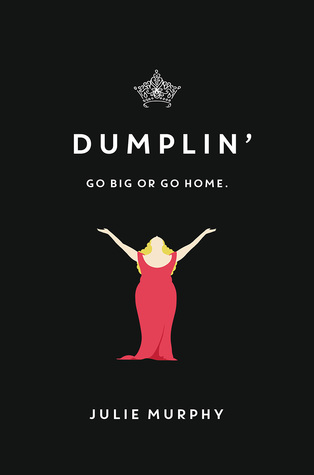 Dumplin' by Julie Murphy

Self-proclaimed fat girl Willowdean Dickson (dubbed "Dumplin'" by her former beauty queen mom) has always been at home in her own skin. Her thoughts on having the ultimate bikini body? Put a bikini on your body. With her all-American beauty best friend, Ellen, by her side, things have always worked…until Will takes a job at Harpy's, the local fast-food joint. There she meets Private School Bo, a hot former jock. Will isn't surprised to find herself attracted to Bo. But she is surprised when he seems to like her back.

Instead of finding new heights of self-assurance in her relationship with Bo, Will starts to doubt herself. So she sets out to take back her confidence by doing the most horrifying thing she can imagine: entering the Miss Clover City beauty pageant—along with several other unlikely candidates—to show the world that she deserves to be up there as much as any twiggy girl does. Along the way, she'll shock the hell out of Clover City—and maybe herself most of all.

With starry Texas nights, red candy suckers, Dolly Parton songs, and a wildly unforgettable heroine—Dumplin' is guaranteed to steal your heart.
I loved, loved. loved this book, and it was one of my top reads from 2015. Willowdean or Dumplin is funny and bitter at the same time, and she and her team of friends were a very colourful cast of characters. Add to it living in the south and being a huge fan of Dolly Parton, and that girl was a riot! Hugely recommended. It also tackled some serious issues of girl self-perception of our generation.
* * *
Мне жутко, жутко понравилась эта книга, и я назвала её одной из лучших, прочитанных мною в 2015г. Уиллоудин ака Пелмешка - смешная и циничная героиня, и она вместе с командой своих не менее колоритных друзей умудряется поменять восприятие о нестандартных, немодных и толстеньких девчонках как героинях в одном маленьком городке юга США. Добавьте к этому конкурс красоты и фанатейство над Долли Партон, и эта книга была просто милашкой.
Tags:
friday mini reviews
,
j.d. robb
,
julie murphy
,
nalini singh
,
джей ди робб
,
джули мёрфи
,
налини сингх