Monday, April 20, 2015 | Posted by kara-karina@Nocturnal Book Reviews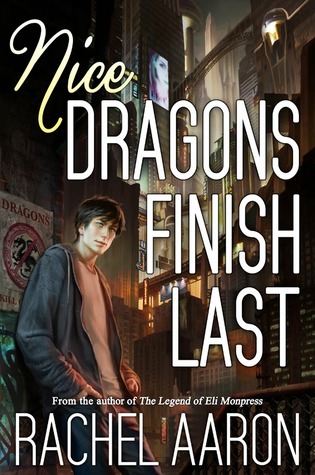 Nice Dragons Finish Last by Rachel Aaron (Heartstrikers #1)
bought
Synopsis from Goodreads
As the smallest dragon in the Heartstriker clan, Julius survives by a simple code: keep quiet, don't cause trouble, and stay out of the way of bigger dragons. But this meek behavior doesn't fly in a family of ambitious magical predators, and his mother, Bethesda the Heartstriker, has finally reached the end of her patience.

Now, sealed in human form and banished to the DFZ--a vertical metropolis built on the ruins of Old Detroit--Julius has one month to prove that he can be a ruthless dragon or kiss his true shape goodbye forever. But in a city of modern mages and vengeful spirits where dragons are considered monsters to be exterminated, he's going to need some serious help to survive this test.

He only hopes humans are more trustworthy than dragons...
Amazon US/UK | Amazon kindle US/UK
8.5/10
"So far as I can tell, 'good dragon' is just another name for coldblooded sociopath," he said. "No friends, no trust, no love. Why would I ever want to live like that? It's not like any of you good dragons are happy."
J
ulius is a bad dragon. He stays away from his family's brutal machinations, he is fast because he likes to run away while other dragons fight each other, and he is content to stay in his dungeon and play computer games all day long. All in all, he is adorable.
However, when his mother drops him without any means in a city which hates dragons, he is forced to prove he is a Heartstriker and make a name for himself! If course, Julius doesn't mean to do that, he wants to keep quiet and survive, but a damsel in distress kinda changes his agenda without him even realising it.
The closest analog I can come up with is Ilona and Gordon Andrews's writing. This is a world where after years of technological advances, magical creatures had enough and took control of people destroying the planet. Detroit is ruthlessly managed by Lady of The Lake, there are various creatures, levels of power and subtle machinations from those who are not welcome in this city.
This is also a hilarious book. Julius's family is so bad, it's funny, and when he enlists help from one of his trigger happy older brothers, it gets even funnier.
In the end everything resolves well, and he himself realises that he is not as timid and hapless as he thought, but I enjoyed this book immensely, and recommend it to any fan of Andrewses. Read it!
* * *
Д
жулиус - плохой, незадачливый дракон. Он шугается махинаций своей жадной до власти семейки, убегает когда остальные драконы предпочитают драться и всё своё время проводит в подвале, играя в компьютерные игры. В общем, он милашка.
Однако когда его мать, глава клана Хартстрайкеров, забрасывает его в Дейтройт без каких-либо денег или документов и приказывает доказать ей, что он достоин имени Хартстрайкеров, иначе она сама его убъёт, Джулиус вынужден изменить свою тактику выживания. Добавьте к этому девицу в беде, просящую его помощи, и Джулиусу приходится сражаться не на жизнь, а на смерть.
Больше всего эта книга напомнила мне творчество Илоны и Гордона Эндрюс. Прекрасное чувство юмора, технологический мир, перевёрнутый с ног на голову когда магические существа выходят на поверхность и берут людей под свой контроль до того, как те уничтожат планету. Детройт в этом плане один из наиболее пострадавших городов, и им правит Леди из Озера, которая ненавидит драконов.
Это очень смешное городское фэнтези. Семья Джулиуса полна аморальных злодеев, и когда Джулиус просит помощи у одного из своих братьев, который носится везде со своим мечом, книга становится ещё более смешной. Я читала её с огромным удовольствием и советую всем любителям Эндрюсов сделать то же самое!