Friday, April 17, 2015 | Posted by kara-karina@Nocturnal Book Reviews
Kushiel's Mercy by Jacqueline Carey (Imriel's Trilogy #3)
bought
Synopsis from Goodreads
Having learned a lesson about thwarting the will of the gods, Imriel and Sidonie publicly confess their affair, only to see the country boil over in turmoil. Younger generations, infatuated by their heart-twisting, star-cross romance, defend the couple. Many others cannot forget the betrayals of Imriel's mother, Melisande, who plunged their country into a bloody war that cost the lives of their fathers, brothers, and sons.

To quell the unrest, Ysandre, the queen, sets her decree. She will not divide the lovers, yet neither will she acknowledge them. If they marry, Sidonie will be disinherited, losing her claim on the throne.

There's only one way they can truly be together. Imriel must perform an act of faith: search the world for his infamous mother and bring her back to Terre d'Ange to be executed for treason.

Facing a terrible choice, Imriel and Sidonie prepare ruefully for another long separation. But when a dark foreign force casts a shadow over Terre d'Ange and all the surrounding countries, their world is turned upside down, alliances of the unlikeliest kind are made, and Imriel and Sidonie learn that the god Elua always puts hearts together apurpose.
Amazon US/UK | Amazon kindle US/UK | The Book Depository
My favourite book in this series, this was an amazing story! Oh Miss Carey, sometimes the scope of your imagination makes me dissolve into a teary eyed, babbling creature. When Imriel had to go to a faraway land to make Sidonie fall in love with him all over again in a different skin with no memory of her ties to him due to an evil enchantment, that was... truly EPIC! Hugely recommended series! What a couple...
Моя любимейшая книга серии! Ах, Мисс Кэрри, масштаб вашего воображения иногда лишает меня дара речи, и я превращаюсь в молчаливое существо со слезами на глазах. Когда Имриэль оказывается вынужден отправиться за Сидони в далёкие земли, чтобы вновь завоевать её сердце под личиной совершенно другого мужчины, чтобы освободить её от магического заклятия, это превратило последнюю книгу трилогии во что-то совершенно эпичное. Жутко рекомендую, превосходная книга!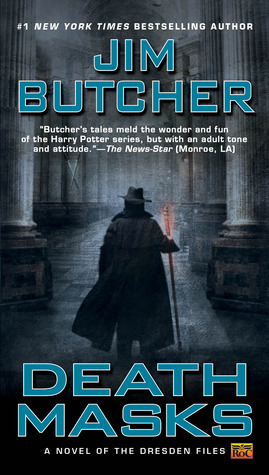 Death Masks by Jim Butcher (The Dresden Files #5)
bought
Synopsis from Goodreads
Harry Dresden, Chicago's only practicing professional wizard, should be happy that business is pretty good for a change. But now he's getting more than he bargained for:

A duel with the Red Court of Vampires' champion, who must kill Harry to end the war between vampires and wizards...

Professional hit men using Harry for target practice...

The missing Shroud of Turin...

A handless and headless corpse the Chicago police need identified...

Not to mention the return of Harry's ex-girlfriend Susan, who's still struggling with her semi-vampiric nature. And who seems to have a new man in her life.

Some days, it just doesn't pay to get out of bed. No matter how much you're charging.
Amazon US/UK | Amazon kindle US/UK | The Book Depository
One of the stronger books in this series in my opinion. I really enjoyed having Susan back, and that love scene was gorgeous and heartbreaking. Of course, Death Masks also introduces us to one of my favourite villains, Nicodimus.*shivers* Fabulous, read it!
Одна из более сильных книг серии. Я была очень рада возвращению Сюзан, и её любовная сцен
а с Гарри была очен
ь красивой и просто душераздирающей. К тому же, Маски Смерти познакомила нас с одним из лучших злодеев серии, Никодимусом. *поёживается* Читайте, превосходно написано!
My Beautiful Enemy by Sherry Thomas (The Heart of Blade Duology #2)
bought
Synopsis from Goodreads
In this spellbinding romance by the acclaimed author of The Luckiest Lady in London, a beautiful and cunning woman meets her match in a man just as dangerous and seductive as she is, putting both her heart and her future at risk…

Hidden beneath Catherine Blade's uncommon beauty is a daring that matches any man's. Although this has taken her far in the world, she still doesn't have the one thing she craves: the freedom to live life as she chooses. Finally given the chance to earn her independence, who should be standing in her way but the only man she's ever loved, the only person to ever betray her.

Despite the scars Catherine left him, Captain Leighton Atwood has never been able to forget the mysterious girl who once so thoroughly captivated him. When she unexpectedly reappears in his life, he refuses to get close to her. But he cannot deny the yearning she reignites in his heart.

Their reunion, however, plunges them into a web of espionage, treachery, and deadly foes. With everything at stake, Leighton and Catherine are forced to work together to find a way out. If they are ever to find safety and happiness, they must first forgive and learn to trust each other again…
Amazon US/UK | Amazon kindle US/UK | The Book Depository
O_o! Atwood and Ying-Ying are back, and they are all grown up and very dangerous! Such a delicious story, full of spies, political intrigues and serious heartbreak. Reminded me a bit of
Mr and Mrs. Smith
, the main characters are so capable and confident. Throughout the story which involves quite a few years and couple of continents it's Atwood who is more vulnerable and desperate to find his love, and Catherine who is reticent and stoic. Really, really loved it, and recommend it to almost anyone but the most cynical reader.
* * *
Атвуд и Йинь-Йинь возвращаются, позвзрослевшие и очень опасные! Такая восхитительная история, полная шпионов, героев, политических интриг и разбитых сердец. Напоминает мне немного
Мистера и Миссис Смит
, главные герои настолько компетентны и уверены в своих силах. На протяжение всей истории, которая охватывает довольно много лет и пару континентов, именно Атвуд более раним и отчаянно пытается найти свою любимую, и Кэтрин наоборот - суровый стоик. Очень, очень понравилось, рекомендую любому читателю, кроме может быть закоренелых циников.
Tags:
9/10
,
friday mini reviews
,
jacqueline carey
,
jim butcher
,
sherry thomas
,
джим бутчер
,
жакелин кэри
,
мини ревью
,
шерри томас