Friday, January 09, 2015 | Posted by kara-karina@Nocturnal Book Reviews
Sugar and Spice by Tawny Weber (Karma Cafe #1)
kindle freebie
Synopsis from Goodreads
Hot kisses, sexy shoes and a midnight rendezvous – the perfect recipe for Happy Ever After. Throw in a fairy godmother with personal agenda, a midnight deadline and a marriage-of-convenience and you have a hot and sassy twist on a modern day Cinderella story.

For over a hundred years, the Karmanski women have been cooking up delicious treats, and a little magic. But now their business, Karma Café, is in trouble and each of the Karmanskis has a different opinion on how to save their livelihood. The matriarch, Odette, is old-school, and more than ready to rely on magic. Natalia is sure if she can just marry her daughter off to a wealthy suitor, all their problems will be solved, and she has just the suitor in mind-the gorgeous CEO of Chastain Shoes. Anja's just as determined to foil her mother's plans and stay single. She cooks up a scheme to serve up the perfect match for this prince of a guy. With the aid of a little magical help, she's going to put a Happy Ever After twist on her mother's matchmaking.

Administrative Assistant, Dedra Hanson has three addictions. Gorgeous shoes, yummy treats and her sexy boss. Her credit card balance and bathroom scale do a pretty good job of keeping the first two addictions in check. And the third? Love of her job has always kept her from acting on her passion for Paul Chastain. But now that she's leaving her job because her playboy CEO boss is about to become engaged to a chilly socialite to save his business, Paul Chastain is fair game.

All she needs for one wild fantasy night? The nerve to seduce her boss, and a little bit of magic. The only question left is, can she leave when the clock strikes midnight?
Amazon kindle US/UK
7/10
A lovely novella which did exactly what author hoped to accomplish - made me as a reader interested in reading more of this series. I love anything to do with cooking, and the premise of three witches cooking delicious food while helping their customers find love... well, I was hooked. Recommended!
* * *
Читала эту повесть с большим удовольствием, и думаю, что автор с успехом достигла желаемого эффекта - этой короткой историей заинтересовала читателя во всей серии книг. Должна признаться, что я очень люблю романы, где готовке еды отводится очень большая роль (особенно с героинями поварами или пекарями), и основа серии на том, что три ведьмы работают в кафе Сан-Франциско и помогают своим посетителям найти любовь меня сразу же поймала на удочку. Читайте, очень мило!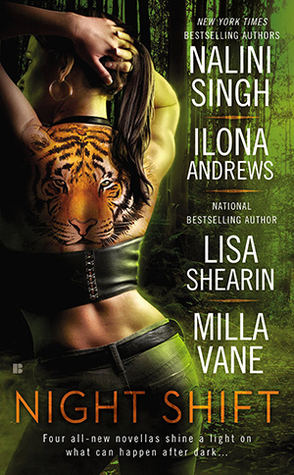 Night Shift Anthology
bought
Synopsis from Goodreads
Four masters of urban fantasy and paranormal romance plunge readers into the dangerous, captivating world unearthed beyond the dark...

New York Times bestselling author Nalini Singh delivers a smoldering story with Secrets at Midnight , as the scent of Bastien Smith's elusive lover ignites a possessiveness in him that's as feral as it is ecstatic. And now that he's found his mate, he'll do anything to keep her.

In #1 New York Times bestselling author Ilona Andrews' novella, Magic Steals , when people start going missing, shapeshifting tigress Dali Harimau and jaguar shifter Jim Shrapshire must uncover the truth about the mysterious creatures responsible.

From Milla Vane—a warrior princess must tame The Beast of Blackmoor to earn a place among her people. But she quickly discovers that the beast isn't a monster, but a barbarian warrior who intends to do some taming himself.

It's seer Makenna Frazier's first day on the job at Supernatural Protection and Investigations, and her first assignment is more than she bargained for when bodyguard duty for a leprechaun prince's bachelor party goes every which way but right in national bestselling author Lisa Shearin's Lucky Charms .
Amazon US | Amazon kindle US/UK
Fantastic anthology! With the exception of Nalini Singh's story which was 7.5/10 read because I just don't care that much about paranormal romances, the rest of them were all 8 or 8.5/10 reads.

Milla Vane's (which is another pen name for Meljean Brook) story was the longest, and I loved it. I'd definitely read more barbarian romances from her. Ilona Andrews's story was exceptionally good, and Lisa Shearin's cracked me up so much I had to go and buy the first book in the series that her novella introduced us to. All I'm saying - watch out for a sexy, dangerous goblin :)
Read it, recommended!
Прекрасное собрание повестей! Помимо истории от Налини Сингх, которая меня совершенно не затронула (только потому что я чистый паранормальный роман как жанр не жалую) все остальные авторы просто супер!
Про Илону Эндрюс и говорить нечего, Джим и Дали меня совершенно очаровали. История от Лизы Ширин открыла для меня новую юморную серию городского фэнтэзи, которую я сейчас читаю. Наконец, повесть от Миллы Вэйн (она же Мелджин Брук) оказалась самой длинной и была написана в жанре варварского романа. Так как я в детстве зачитывалась Конаном Варваром, мне жутко понравилось, и я точно её буду читать под этим псевдонимом. В общем, рекомендую!
Promises by Marie Sexton (Coda Books #1)
bought
Synopsis from Goodreads
Jared Thomas has lived his whole life in the small mountain town of Coda, Colorado. He can't imagine living anywhere else. Unfortunately, the only other gay man in town is twice his age and used to be his teacher, so Jared is resigned to spending his life alone. Until Matt Richards walks into his life, that is. Matt has just been hired by the Coda Police Department, and he and Jared immediately become friends. Matt claims he is straight, but for Jared, having a sexy friend like Matt is way too tempting. Facing Matt's affair with a local woman, his disapproving family, and harassment from Matt's co-workers, Jared fears they'll never find a way to be together-if he can even convince Matt to try.
Amazon US/UK | Amazon kindle US/UK| TBD
My book guru, Betsy, recommended me this one ages ago, and at last I finished it. It's a tender romantic story, which is not at all explicit. It reads really easily, the issues in it are very mild, and it shows a charming small town life well. While it didn't stand out in my mind it was a pleasurable book.
Моя книжная гуру, Бетси, порекомендовала мне эту книгу очень давно, и я наконец-то её прочитала. Хотя она и не вызывает у читателя сильных чувств, она романтична, мила, в ней нет грубых интимных сцен и она хорошо описывает жизнь маленького американского городка. В целом, мне понравилось.
Tags:
friday mini reviews
,
ilona andrews
,
lisa shearin
,
marie sexton
,
milla vane
,
nalini singh
,
tawny weber
,
мини ревью