Friday, August 05, 2016 | Posted by kara-karina@Nocturnal Book Reviews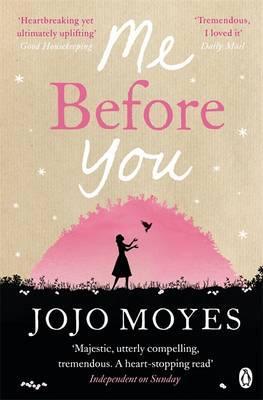 Me Before You by Jojo Moyes (Me Before You #1)
bought on audio
Synopsis from Goodreads
Lou Clark knows lots of things. She knows how many footsteps there are between the bus stop and home. She knows she likes working in The Buttered Bun tea shop and she knows she might not love her boyfriend Patrick.
What Lou doesn't know is she's about to lose her job or that knowing what's coming is what keeps her sane.
Will Traynor knows his motorcycle accident took away his desire to live. He knows everything feels very small and rather joyless now and he knows exactly how he's going to put a stop to that.
What Will doesn't know is that Lou is about to burst into his world in a riot of colour. And neither of them knows they're going to change the other for all time.
Audible US/UK | Amazon US/UK | Amazon kindle US/UK | The Book Depository
It was a sweet book and I did have tears in my eyes in places, but saying all that, I feel like the movie will be much more of a tearjerker than a book. Anyone watched it? Am I right? I loved Louisa's journey, no matter how difficult it was, and there were plenty of fantastic characters here. Definitely will be reading more from this author.
Милейшей конечно эта книга оказалась. И слёзы у меня стояли в глазах в некоторых отрывках, однако мне почему-то кажется, что фильм будет сильнее чем книга. Вот кто смотрел, скажите мне, права ли я? Самоосознание и изменения в Луизе были конечно прекрасными, да и вся книга просто была напичкана хорошими персонажами. Уж точно читать этого автора буду снова!
Mine to Possess by Nalini Singh (Psy-Changeling #4)

Clay Bennett is a powerful DarkRiver sentinel, but he grew up in the slums with his human mother, never knowing his changeling father. As a young boy without the bonds of Pack, he tried to stifle his animal nature. He failed...and committed the most extreme act of violence, killing a man and losing his best friend, Talin, in the bloody aftermath. Everything good in him died the day he was told that she, too, was dead.

Talin McKade barely survived a childhood drenched in bloodshed and terror. Now a new nightmare is stalking her life--the street children she works to protect are disappearing and turning up dead. Determined to keep them safe, she unlocks the darkest secret in her heart and returns to ask the help of the strongest man she knows...

Clay lost Talin once. He will not let her go again, his hunger to possess her, a clawing need born of the leopard within. As they race to save the innocent, Clay and Talin must face the violent truths of their past...or lose everything that ever mattered.
Audible US/UK | Amazon US/UK | Amazon kindle US/UK | The Book Depository
Yuck. Yuckity yuck. Definitely not her best romance. Mostly I disliked how Clay judged a very traumatized heroine, and the forcefulness of his relationship with her. She just felt very fragile. Also there was more nipple biting than actual plot. Not my cup of tea, and I totally lost interest.
М-да, одна из худших книг Налини по моему мнению. В общем-то, мне жутко не нравилось как Клэй осуждал Тали за её всевдо-прегрешения (особенно за секс с другими мужчинами до того, как она его встретила) и очень пришлось не по душе как он напрягад эту травматизированную женщину. Да и в самой книге больше секса, чем продвижения сюжета, от чего у меня была тоска. Еле дослушала, не рекомендую.
Innocent in Death by J.D. Robb (In Death #24)

New York Lieutenant Eve Dallas doesn't like to see innocent people murdered. And the death of Craig Foster is clearly a murder. He was seemingly ordinary history teacher, but uncovers some extraordinary surprises. Foster's death devastated his young wife, who'd sent him to work that day with a lovingly packed lunch. It shocked his colleagues at the private school, too, and as for the ten-year-old girls who found him in his classroom in a pool of bodily fluids-they may have been traumatized for life.

Eve soon determines that Foster's homemade lunch was tainted with deadly ricin, and that Mr. Foster's colleagues have some startling secrets of their own. It's Eve's job to sort it out- and discover why someone would have done this to a man who seemed so inoffensive, so pleasant... so innocent.

Now Magdalena Percell... there's someone Eve can picture as a murder victim. Possibly at Eve's own hands. The slinky blonde-an old flame of her billionaire husband, Roarke-has arrived in New York, and she's anything but innocent. Roarke seems blind to Magdalena's manipulation, and he insists that the occasional lunch or business meeting with her is nothing to worry about... and none of Eve's business. Consumed by her jealousy--and Roarke's indifference to it, she is unnerved by the situation that she finds it hard to focus on her case. Still, she'll have to put aside her feelings, for a while at least-because another man has just turned up dead.

Eve knows all too well that innocence can be a facade. Keeping that in mind may help her solve this case at last. But it may also tear apart her marriage.
8/10
I feel very nostalgic towards this book as it was my first ever read
from
In Death
series, which hooked me up to it. Lovingly done, and with an interesting insight into Roarke's past. J.D. Robb also writes such amazing sociopaths, that I breezed through it. Totally recommended.
* * *
У меня прямо-таки ностальгия по этой книге, так как она меня и познакомила с этой серией, после чего я начала ей зачитываться. Прекрасно написано, с интересным взглядом в прошлое Роарка. Джей Ди Робб также замечательно описывает социопатов, так что книгу эту я просто проглотила. Очень рекомендую.
Tags:
friday mini reviews
,
j.d. robb
,
jojo moyes
,
nalini singh
,
джей ди робб
,
джоджо мойес
,
мини ревью
,
налини сингх