Friday, June 17, 2016 | Posted by kara-karina@Nocturnal Book Reviews
The Confessions: An Original Sinners Collection by Tiffany Reisz
bought
Synopsis from Goodreads
Three Sinners. Three confessions. And all the dirty little secrets you could possibly desire...

Father Stuart Ballard has been Marcus Stearns' confessor since the young Jesuit was only eighteen years old. He thought he'd heard every sin the boy had to confess until Marcus uttered those three fateful words: "I met Eleanor."

So begins the 40-page "The Confession of Marcus Stearns," a moving coda to the RITA Award-winning Original Sinners series. Originally published as a limited-edition paperback for the 2014 RT Booklovers' Convention, and available worldwide for the first time.

This collection also includes "The Confession of Eleanor Schreiber," a companion 36-page story written exclusively for The Confessions.

And, finally, all secrets are revealed in "The Confession of Tiffany Reisz," an exclusive, in-depth interview.
Amazon US/UK | Amazon kindle US/UK | The Book Depository
This novella consists of Soren's confession to Father Ballard, who is an amazing character; Nora's confession to the same priest years later and Tiffany Reisz's interview where she sheds light on her further writing plans which was exciting. Soren shines through as always, I just love his demeanor and brutal honesty about himself. Nora is as flirty and devilish as usual but is faced with realising and making peace with some truths about herself. A good short read.
Эта повесть состоит из трёх исповедей. Исповедь Сорена отцу Балларду после того, как он встретил Элеанор. Исповедь Элеанор двадцать лет спустя и наконец интервью автора о своих дальнейших планах. Как обычно, Сорен завораживает своей брутальной правдивостью, Нора дьявольски остроумна и отчаянно флиртует, однако Баллард заставляет её осознать некоторые неприятные вещи о себе и примириться с ними. Наконец, интервью раскрывает дальшейше планы Тиффани, что очень интересно. Неплохая книга.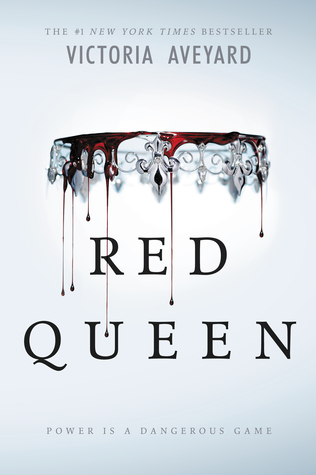 Red Queen by Victoria Aveyard (Red Queen #1)

This is a world divided by blood – red or silver.

The Reds are commoners, ruled by a Silver elite in possession of god-like superpowers. And to Mare Barrow, a seventeen-year-old Red girl from the poverty-stricken Stilts, it seems like nothing will ever change.

That is, until she finds herself working in the Silver Palace. Here, surrounded by the people she hates the most, Mare discovers that, despite her red blood, she possesses a deadly power of her own. One that threatens to destroy the balance of power.

Fearful of Mare's potential, the Silvers hide her in plain view, declaring her a long-lost Silver princess, now engaged to a Silver prince. Despite knowing that one misstep would mean her death, Mare works silently to help the Red Guard, a militant resistance group, and bring down the Silver regime.

But this is a world of betrayal and lies, and Mare has entered a dangerous dance – Reds against Silvers, prince against prince, and Mare against her own heart.
Audible US/UK | Amazon US/UK | Amazon kindle US/UK | The Book Depository
Where do I start with this disaster? Primitive writing, sloppy world building, the main twist which could be spotted a mile off, the main heroine talking about her feelings rather than showing them. The fighting was interesting, but was far and few between. The only reason I didn't DNF because it was on audio, and I listened to it on autopilot. Not recommended. Not when there are authors like Kristin Cashore, Sherry Thomas and Sabaa Tahir among others, who do YA fantasy much much better.
Где мне начать с этой катастрофой? Примитивный слог, ленивое построение мира, главный сюрприз сюжета виден за милю, главная героиня говорит и говорит о своих чувствах вместо того, чтобы их показать. Сражения были интересными, однако очень редкими. Единственная причина, по которой я книгу эту не забросила это её формат на аудио, так как слушала я её на автопилоте. Не рекомендую, особенно потому что существуют такие авторы как Сабаа Тахир, Кристин Кашор и Шерри Томас, которые пишут в жанре подросткового фэнтези ГОРАЗДО лучше.
Memory in Death by J.D. Robb (In Death #22)

Eve Dallas is one tough cop. It should take more than a seemingly ordinary middle-aged lady to make her fall apart. But when that lady is Trudy Lomaitbard, all bets are off. Just seeing Trudy at the station plunges Eve back to the days when she was a vulnerable, traumatized young girl—and trapped in foster care with the twisted woman who now sits smiling in front of her.

Trudy claims she came all the way to New York just to see how Eve is doing. But Eve's fiercely protective husband, Roarke, suspects otherwise—and a blackmail attempt by Trudy proves his suspicion correct. Eve and Roarke just want the woman out of their lives. But someone else wants her dead. And when her murder comes to pass, Eve and Roarke will follow a circuitous and dangerous path to find out who turned the victimizer into a victim.
Audible US/UK | Amazon US/UK | Amazon kindle US/UK | The Book Depository
I love how protective Eve and Roarke are about each other, and this book is a perfect example of that trait. This is more of a clash of characters without a ton of action, a case of blackmail, awakened inner demons and straight out, classic who'd-done-it investigation. Recommended.
Я люблю как Ив и Роарк сражаются друг за друга и всегда готовы подставить друг другу плечо. Эта книга медленная, с минимальным экшном и с большим классическим у-кого-мотив? расследованием, шантажом и борьбой с внутренними демонами. Рекомендую.
Tags:
4/10
,
8/10
,
friday mini reviews
,
j.d. robb
,
tiffany reisz
,
victoria aveyard
,
виктория эйвьярд
,
джей ди робб
,
мини ревью
,
тиффани райс