Friday Mini Reviews #64: Joe Abercrombie, J.D. Robb & Amy Stewart
The Blade Itself by Joe Abercrombie (The First Law #1)
bought
Synopsis from Goodreads
Inquisitor Glokta, a crippled and increasingly bitter relic of the last war, former fencing champion turned torturer extraordinaire, is trapped in a twisted and broken body - not that he allows it to distract him from his daily routine of torturing smugglers.

Nobleman, dashing officer and would-be fencing champion Captain Jezal dan Luthar is living a life of ease by cheating his friends at cards. Vain, shallow, selfish and self-obsessed, the biggest blot on his horizon is having to get out of bed in the morning to train with obsessive and boring old men.

And Logen Ninefingers, an infamous warrior with a bloody past, is about to wake up in a hole in the snow with plans to settle a blood feud with Bethod, the new King of the Northmen, once and for all - ideally by running away from it. But as he's discovering, old habits die really, really hard indeed...

...especially when Bayaz gets involved. A bald old man with a terrible temper and a pathetic assistant, he could be the First of the Magi, he could be a spectacular fraud, but whatever he is, he's about to make the lives of Glotka, Jezal and Logen a whole lot more difficult...
Audible US/UK | Amazon US/UK | Amazon kindle US/UK | The Book Depository
Is it me or did this book feel incredibly messy with its plot and world-building? Going back and forth in timeline didn't help either. Overall I can see the merit, and why this author is liked so much, but I wasn't entirely sold on him. The narrator though, was amazing! And I absolutely loved Glokta! What a fabulous character...
Либо это я, либо это была очень грязно написанная книга по построению мира. Прыжки из прошлого в настоящего тоже не помогали рассеять моё замешательство. В общем, я вижу почему этот автор так любим, так как характеры у него выходят очень мощные, однако что-то он не для меня. Рассказчик, кстати, был превосходный, а Глокта вообще оказался шикарнейшим персонажем.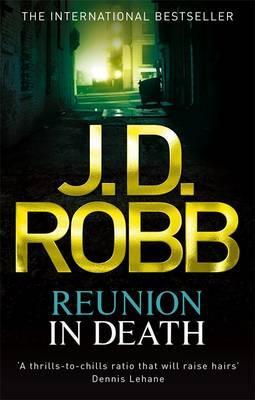 Reunion in Death by J.D. Robb (In Death #14)
bought
Synopsis from Goodreads
A birthday bash sets the scene for a frightening reunion with a killer from Eve Dallas s past...

At exactly 7:30 p.m., Walter Pettibone arrived home to over a hundred friends and family shouting, surprise! It was his birthday. Although he had known about the planned event for weeks, the real surprise was yet to come. At 8:45 p.m., a woman with emerald eyes and red hair handed him a glass of champagne. One sip of birthday bubbly, and he was dead.

The woman's name is Julie Dockport. No one at the party knew who she was. But Detective Eve Dallas remembers her all too well. Eve was personally responsible for her incarceration nearly ten years ago. And now, let out on good behaviour, she still has nothing but bad intentions. It appears she wants to meet Dallas again - in a reunion neither will forget...
8.5/10
This was absolutely fantastic, one of the best reads in series! Eve is on the hunt for a female serial killer, whom we know from early stages of the investigation. However she also takes on so many personas that it's almost impossible to flash her out, and Eve, Roarke and Peabody have to dig deep into her past to uncover her motives. Well thought, very suspenseful and delightful murder mystery. Well done, Miss Robb!
* * *
По моему мнению, это была одна из лучших книг серии! Ив охотится за серийной убийцей, тия которой нам известно с начала расследование, однако у той так много личин, что Ив необходимо глубоко влезть в её мотивы и мышление, чтобы понять как ту поймать. Очень напряжённая, интересная книга, которая читалась на одном дыхании!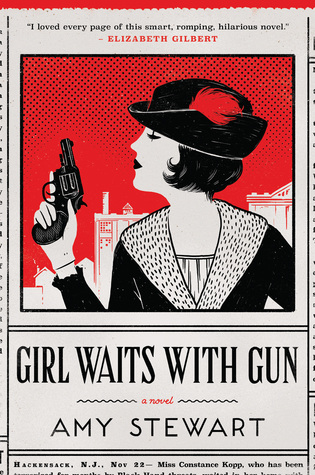 Girl Waits With Gun by Amy Stewart

A novel based on the forgotten true story of one of the nation's first female deputy sheriffs.

Constance Kopp doesn't quite fit the mold. She towers over most men, has no interest in marriage or domestic affairs, and has been isolated from the world since a family secret sent her and her sisters into hiding fifteen years ago. One day a belligerent and powerful silk factory owner runs down their buggy, and a dispute over damages turns into a war of bricks, bullets, and threats as he unleashes his gang on their family farm. When the sheriff enlists her help in convicting the men, Constance is forced to confront her past and defend her family — and she does it in a way that few women of 1914 would have dared.
What an interesting read, all the more fascinating that I know that it's based on a true story. My only problem is that it's extremely slow and it takes perseverance to get to the end where the heroine becomes a deputy. The whole book is a compilation of choices and circumstances which lead her to that decision. It's good, but I'm reluctant to read the next one in series.
Очень интересная книга, особенно потому, что я знаю, что она написана о реальном историческом персонаже. Проблема в том, что сюжет продвигается мучительно медленно, и под конец я совершенно выдохлась как читатель. Вся книга - это комбинация обстоятельств и решений превёдших Констанс под конец к принятию позиции помощника шерифа. В общем, интересно, но вряд ли буду читать продолжение.