Friday, November 06, 2015 | Posted by kara-karina@Nocturnal Book Reviews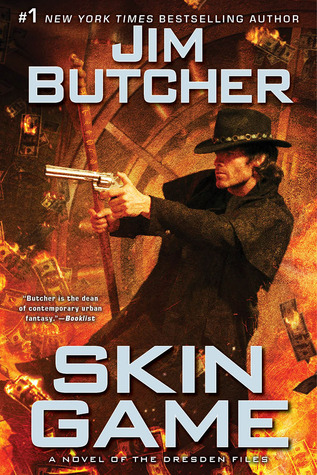 Skin Game by Jim Butcher (Harry Dresden #15)
bought on audio
Synopsis from Goodreads
Harry Dresden, Chicago's only professional wizard, is about to have a very bad day….

Because as Winter Knight to the Queen of Air and Darkness, Harry never knows what the scheming Mab might want him to do. Usually, it's something awful.

He doesn't know the half of it….

Mab has just traded Harry's skills to pay off one of her debts. And now he must help a group of supernatural villains—led by one of Harry's most dreaded and despised enemies, Nicodemus Archleone—to break into the highest-security vault in town so that they can then access the highest-security vault in the Nevernever.

It's a smash-and-grab job to recover the literal Holy Grail from the vaults of the greatest treasure hoard in the supernatural world—which belongs to the one and only Hades, Lord of the freaking Underworld and generally unpleasant character. Worse, Dresden suspects that there is another game afoot that no one is talking about. And he's dead certain that Nicodemus has no intention of allowing any of his crew to survive the experience. Especially Harry.

Dresden's always been tricky, but he's going to have to up his backstabbing game to survive this mess—assuming his own allies don't end up killing him before his enemies get the chance….
Audible US/UK | Amazon US/UK | Amazon kindle US/UK | The Book Depository
This is one of my favorite books in series, because it's one big, shiny heist! Fantastic, gripping and devious, it made me grin or catch my breath in anticipation all the way through. Honestly, peeps, this is one of Butcher's finest.
Это одна из моих любимейших книг серии, дамы и господа, так как она - одна сплошная афёра! Шикарная, наполненная адреналином и хитросплетениями, от которых просто захватывает дух. У меня почти всё книгу на лице была улыбка чеширского кота. Честно, одна из лучших книг Бутчера. Очень советую.
Rapture in Death by J.D. Robb (In Death #4)

They died with smiles on their faces.

Three apparent suicides: a brilliant engineer, an infamous lawyer, and a controversial politician. Three strangers with nothing in common — and no obvious reason for killing themselves.

Lieutenant Eve Dallas found the deaths suspicious. And her instincts paid off when autopsies revealed small burns on the brains of the victims. Was it a genetic abnormality or a high-tech method of murder? Eve's investigation turned to the provocative world of virtual-reality games—where the same techniques used to create joy and desire could also prompt the mind to become the weapon of it's own destruction...
Audible US/UK | Amazon US/UK | Amazon kindle US/UK | The Book Depository
Fabulous plot, actually. I loved it, and thought it was quite original as well. By this book you see how apart from the strength of the characters (which is the main draw) the author slowly develops an intricate and fascinating world building. Although I still don't know how Roarke rules his immense empire AND helps his wife in her investigations. Does he sleep at all?!
Классный сюжет, кстати. Мне он очень понравился, и я посчитала его в своё время довольно оригинальным. К этой книге уже хорошо видно, что помимо сильных характеров, Робертс начинает втягивать читателя в сложный и такой интересный футуристический мир Нью-Йорка. Хотя я так и не знаю, как Роарк умудряется править своей финансовой империей и помогать своей жене в расследованиях. Может он вообще не спит?!

Anita Blake has the highest kill count of any vampire executioner in the country. She's a U.S. Marshal who can raise zombies with the best of them. But ever since she and master vampire Jean-Claude went public with their engagement, all she is to anyone and everyone is Jean-Claude's fiancée.

It's wreaking havoc with her reputation as a hard ass—to some extent. Luckily, in professional circles, she's still the go-to expert for zombie issues. And right now, the FBI is having one hell of a zombie issue.

Someone is producing zombie porn. Anita has seen her share of freaky undead fetishes, so this shouldn't bother her. But the women being victimized aren't just mindless, rotting corpses. Their souls are trapped behind their eyes, signaling voodoo of the blackest kind.

It's the sort of case that can leave a mark on a person. And Anita's own soul may not survive unscathed . . .
Amazon
US
/
UK
| Amazon kindle
US
/
UK
|
The Book Depository
3/10
Just as bad as I thought it would be. Anita spends most of her time pacifying men around her who require endless explanations and talk about their feelings in the middle of emergency situations. The investigation is shit because apparently FBI is more interested in pissing contest with Miss Blake than looking at obvious clues, and the only remotely interesting thing which happens is Anita raising a flesh-eating zombie by mistake and cleaning after herself. There is only one guy around who is fun because he is a sociopath just like Edward and Olaf, and it's Nicky. All in all, the book is a bust, and my head aches, because there are so many people Anita is involved with now, I need a diagram of who is who, as it's getting absolutely ridiculous. Enjoy at your own peril.
Мои ожидания оправдались, дамы и господа. Анита проводит всё своё время умиротворяя орду своих любовников, по большей части в чрезвычайных ситуациях. Расследование - побочная сюжетная линия, идущая в никуда, потому как автору похер и интереснее рассказывать как агенты ФБР ругаются с Анитой из-за её личной жизни, а не потому, что им важно найти преступников. Самое интересное происходит когда Анита случайно поднимает зомби-каннибала, и потом ей приходится за собой же и подчищать. Единственный интересный персонаж - это социопат Никки, за неимением Эдварда и Олафа. От всего остального у меня осталась головная боль и необходимость рисовать диаграмы, чтобы понять кто есть кто в постели Аниты...
Tags:
3/10
,
8.5/10
,
9/10
,
friday mini reviews
,
j.d. robb
,
jim butcher
,
laurell k. hamilton
,
джей ди робб
,
джим бутчер
,
лорелл к. гамильтон