Monday, August 03, 2015 | Posted by kara-karina@Nocturnal Book Reviews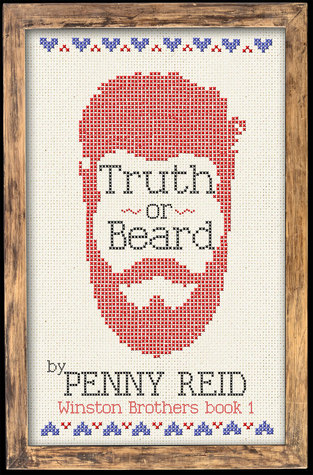 Truth or Beard by Penny Reid (Winston Brothers #1)
Ecopy thanks to the author
Synopsis from Goodreads
Beards, brothers, and bikers! Oh my!
Identical twins Beau and Duane Winston might share the same devastatingly handsome face, but where Beau is outgoing and sociable, Duane is broody and reserved. This is why Jessica James, recent college graduate and perpetual level headed good girl, has been in naïve and unhealthy infatuation with Beau Winston for most of her life. His friendly smiles make her tongue-tied and weak-kneed, and she's never been able to move beyond her childhood crush. Whereas Duane and Jessica have always been adversaries. She can't stand him, and she's pretty sure he can't stand the sight of her…
But after a case of mistaken identity, Jessica finds herself in a massive confusion kerfuffle. Jessica James has spent her whole life paralyzed by the fantasy of Beau and her assumptions of Duane's disdain; therefore she's unprepared for the reality that is Duane's insatiable interest, as well as his hot hands and hot mouth and hotter looks. Not helping Jessica's muddled mind and good girl sensibilities, Duane seems to have gotten himself in trouble with the local biker gang, the Iron Order.
Certainly, Beau's magic spell is broken. Yet when Jessica finds herself drawn to the man who was always her adversary, now more dangerous than ever, how much of her level-headed heart is she willing to risk?

Series Description:
Everyone in Green Valley, Tennessee knows that the six bearded Winston brothers have been imbued with an unfair share of charm and charisma… and are prone to mischief.
Truth or Beard is book #1 in the Winston Brother's series. Each book is a standalone, full length (120k words), contemporary romantic comedy novel, and follows the romantic exploits and adventures of one of the six Winston Brothers.
Release date: July 23rd 2015.
Amazon kindle US/UK
8.5/10
O

kay. I'll say it as I see it. While Truth or Beard doesn't pack quite the same punch as Beauty and The Mustache, it's still a lovely, comforting read, which, for me, pushed all the right buttons. It certainly captured the charm of the tiny town in the middle of nowhere, hot romance and sweet happy end, without being overly dramatic (and believe me, with that plot? It could have been a proper drama queen :)
Beau is the charmer, and Duane is the reticent troublemaker who doesn't give his affections lightly. This is how Winston twins are known and this is why Jessica has a huge crush on Beau. He is the safe option. Kind, slightly heroic and unattainable. Duane makes her blood boil, and she always fights with him like cats and dogs. Only Duane has been in love with beautiful, fierce Jessica since they were kids, and he is desperate enough to play a trick to get her attention.
This is not quite hate to love relationship, more like stubbornness and misunderstanding to attraction relationship, and it's done really well. There are plenty obstacles to keep the couple fighting and occupied, but there are also small-minded obstacles, and I'm happy that both characters manage to grow and realise that.
The book has classic Penny's style - eccentricity, self-deprecation, very wry humour and some cartoonish villains. In fact, the bikers just reminded me again why I stopped watching Sons of Anarchy and why I don't read bikers' romances. I just can't stand rampant chauvinism in any way.
Cletus, wherever possible, completely steals the show. He is like this huge star, and everyone can't help but revolve around his orbit. Honestly, I don't know how I'll be able to wait until book three, which is supposed to be about him... The rest of the brothers have lovely dynamics in their relationships, and we manage to see glimpses of their possible future interests.
I might not have been convinced by Jessica's unexpected good luck and didn't think the book needed that twist in the plot, but overall it was an immensely pleasurable ready, and I strongly recommend it. Now I demand Cletus' sausage.
Л

адно уже. Скажу как вижу. Правда или Борода может и не режет по сердцу также как великолепная Красотка и Усы, однако книге этой удаётся прекрасно передать уютную атмосферу маленького городка, горячий роман и милый хэппи энд без особой драматизации событий (и уж поверьте, искушение у автора было огромное!).
Бо известен как чаровник, Дюан - как угрюмый плохиш, который в отличие от своего брата на улыбки совсем не щедр. Именно так городок различает близнецов Уинстонов. Бо - безопасный выбор, добрый, слегка героичный и недосягаемый. Именно поэтому Джессика влюблена в него с детства, а сДюаном наоборот постоянно дерётся как кошки с собаками. Однако именно Дюан тайно влюблён в храбрую красотку Джессику и в отчаянии решается сыграть над ней шутку, чтобы она обратила на него внимание.
Это не совсем отношения от-ненависти-к-любви, больше от-упрямства-и-ошибочных-убеждений-к-любви, и написаны они очень убедительно и мило. Пару держит врознь множество обстоятельств, но они также обстоятельства неубедительные, и я рада что сами герои вырастают и понимают насколько те мелочны.
Книга написана в классическом для Пенни стиле. Ожидайте экцентрику, юроничный юмор и карикатурных злодеев, которые кстати напомнили мне опять почему я бросила смотреть сериал Сыны Анархии и почему я не читаю романы про байкеров. Ну вот не в моем это стиле, - свирепствующий шовинизм!
Клетус где возможно крадёт всё внимание читателя, настолько он больше чем жизнь фигура, и всё автоматически вращается вокруг его орбиты. Я жду не дождусь его книги, даже если она и будет третьей. Вообще, динамика между братьями Уинстонами очень уютная и смешная, и кое-где мы видим намёки на их будущие любовные интересы.
Несмотря на то, что я была недовольна поворотом сюжета, который волшебным образом разрешил проблемы Джессики, книгу всё же очень рекомендую как и всю серию и всё, написанное этим автором, ибо Пенни Рид - прекрасна.
Tags:
8.5/10
,
comedy
,
contemporary
,
penny reid
,
romance
,
small town
,
комедия
,
маленький город
,
пенни рид
,
современный роман