Friday, June 05, 2015 | Posted by kara-karina@Nocturnal Book Reviews
Blood Rites by Jim Butcher (The Dresden Files #6)
bought
Synopsis from Goodreads
For Harry Dresden, Chicago's only professional wizard, there have been worse assignments than going undercover on the set of an adult film. Dodging flaming monkey poo, for instance. Or going toe-to-leaf with a walking plant monster. Still, there is something more troubling than usual about his newest case. The film's producer believes he's the target of a sinister entropy curse, but it's the women around him who are dying, in increasingly spectacular ways.

Harry is doubly frustrated because he got involved with this bizarre mystery only as a favor to Thomas, his flirtatious, self-absorbed vampire acquaintance of dubious integrity. Thomas has a personal stake in the case Harry can't quite figure out, until his investigation leads him straight to Thomas' oversexed vampire family. Harry is about to discover that Thomas' family tree has been hiding a shocking secret; a revelation that will change Harry's life forever.
8.5/10
You know what I love in this book? Thomas! It's the beginning of long and beautiful friendship for Harry and Thomas. It's also one of the more vicious books in this series. I enjoyed the showdown in the end immensely. Fantastic instalment in an extraordinary urban fantasy series. Read it.
* * *
Знаете, что я люблю больше всего в этой книге? Знакомство с Томасом. Да-да, я знаю, что мы уже его встречали, однако я говорю о полноценном раскрытии персонажа и начале его долгой и плодотворной дружбы с Гарри. Это также одна из более кровавых книг серии, и её концовка просто превосходна. Читайте!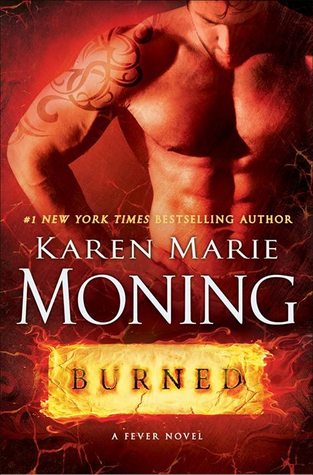 Burned by Karen Marie Moning (Fever #7)
It's easy to walk away from lies. Power is another thing.

MacKayla Lane would do anything to save the home she loves. A gifted sidhe-seer, she's already fought and defeated the deadly Sinsar Dubh—an ancient book of terrible evil—yet its hold on her has never been stronger.

When the wall that protected humans from the seductive, insatiable Fae was destroyed on Halloween, long-imprisoned immortals ravaged the planet. Now Dublin is a war zone with factions battling for control. As the city heats up and the ice left by the Hoar Frost King melts, tempers flare, passions run red-hot, and dangerous lines get crossed.

Seelie and Unseelie vie for power against nine ancient immortals who have governed Dublin for millennia; a rival band of sidhe-seers invades the city, determined to claim it for their own; Mac's former protégé and best friend, Dani "Mega" O'Malley, is now her fierce enemy; and even more urgent, Highland druid Christian MacKeltar has been captured by the Crimson Hag and is being driven deeper into Unseelie madness with each passing day. The only one Mac can depend on is the powerful, dangerous immortal Jericho Barrons, but even their fiery bond is tested by betrayal.

It's a world where staying alive is a constant struggle, the line between good and evil gets blurred, and every alliance comes at a price. In an epic battle against dark forces, Mac must decide who she can trust, and what her survival is ultimately worth.
What a disappointing book, the worst in this series so far. I reckon, sometimes you should let the sleeping dogs lie. The mopping, indecisive Mac and the decision to include the bonus scene written a few years ago as a result of Barrons winning the alpha showdown were just some of the letdowns, but the worst problem of the book was the way out the author took with Dani. It pissed me off, ladies and gents. Not recommended.
Я разочарована, дамы и господа! На настоящий момент, это худшая книга серии. Я думаю, что иногда лучше оставить всё как есть и не портить хорошую линию сюжета. Начиная с бонусной сцены в начале книги, хорошо знакомой фанатам, так как она была написана в честь выигрыша Бэрронсом титула Альфы на популярном паранормальном блоге несколько лет назад, продолжая нехарактерным для Мак нерешительным, депрессивным настроем и заканчивая превращением Дэни, которое разрешило трудную линию сюжета, книга эта меня выбесила. Не рекомендую.
Naamah's Kiss by Jacqueline Carey (Moirin's Trilogy #1)

Once there were great magicians born to the Maghuin Dhonn, the folk of the Brown Bear, the oldest tribe in Alba. But generations ago, the greatest of them all broke a sacred oath sworn in the name of all his people. Now only small gifts remain to them. Through her lineage, Moirin possesses such gifts - the ability to summon the twilight and conceal herself, and the skill to coax plants to grow.

Moirin has a secret, too. From childhood onward, she senses the presence of unfamiliar gods in her life - the bright lady and the man with a seedling cupped in his palm. Raised in the wilderness by her reclusive mother, Moirin learns only when she comes of age how illustrious, if mixed, her heritage is. The great-granddaughter of Alais the Wise, child of the Maghuin Donn and a cousin of the Cruarch of Alba, Moirin learns her father was a D'Angeline priest dedicated to serving Naamah, goddess of desire.

After Moirin undergoes the rites of adulthood, she finds divine acceptance...on the condition that she fulfill an unknown destiny that lies somewhere beyond the ocean. Or perhaps oceans. Beyond Terre d'Ange, where she finds her father, in the far reaches of distant Ch'in, Moirin's skills will be a true gift when facing the vengeful plans of an ambitious mage, a noble warrior-princess desperate to save her father's throne, and the spirit of a celestial dragon.
8/10
I have to agree with other reviewers that the last trilogy in this series is the weakest one. Perhaps it's because the heroine lacks the usual sophistication we got so accustomed to with d'Angelines, and perhaps it's her passivity and inability to say no that might irritate the reader, but I wasn't very pleased until the journey to Ch'in. Then we got dragons, and all was forgiven. Not bad, not bad.
* * *
Я вынуждена согласиться с остальными рецензиями, - эта трилогия оказалась слабейшей в серии о героях Тэр Д'Анж. Может быть меня доставала наивность молодой героини, отсутствие тонкости и лоска д'анжелинов. А может её нерешительность и неумение твёрдо сказать "нет" меня просто раздражали, однако события приобрели бурный приключенческий характер только на пути к Чин, потому как в дело вмешались драконы. Неплохо, но и не ждите красоты трилогий от Федрэ и Имриэля.
Tags:
friday mini reviews
,
jacqueline carey
,
jim butcher
,
karen marie moning
,
джим бутчер
,
жакелин кэри
,
карен мари монинг
,
мини ревью