Wednesday, August 13, 2014 | Posted by kara-karina@Nocturnal Book Reviews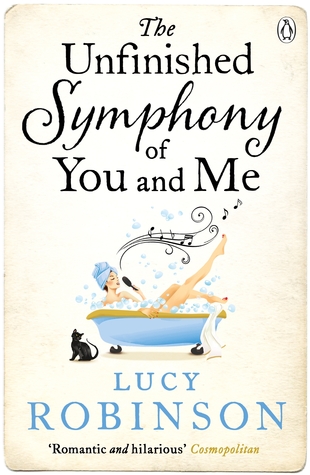 The Unfinished Symphony of You and Me by Lucy Robinson
bought
Synopsis from Goodreads
Sally is an incredible singer but she sings only in her wardrobe where nobody can hear her. She'd rather join a nudist colony than sing in public.

That is until she ventures to New York where a wild and heady summer of love and loss changes her forever. No longer able to hide in the shadows, Sally must return home to London to fulfill a promise she cannot break - to share her voice.

But just as she's about to embark on her new life, a beautiful man turns up on Sally's doorstep bearing a sheepish smile and a mysterious hand-written message.

How did he find her? Why is he here? Does he hold the truth to what happened back in New York? And, with him back on the scene, will she still have the courage to step into the spotlight?
Amazon US/UK | Amazon kindle US/UK | The Book Depository | Fishpond
8.5/10
I

first heard of this book at Ellie's blog, and decided there and then I'd have to buy it. I haven't been reading much chick lit lately comparing to 5-6 years ago, but this was exceptionally good.
Absolutely wonderful, wry and touching writing style and amazing characters - warm and imperfect, and funny! Lucy Robinson writes about artists, singers, dancers, and this time it's the world of opera that draws her attention.
Sally is a plump wardrobe girl from up north, working her dream job in London opera house, and she carries a big secret. She has a beautiful voice and a huge fear of singing in public, so all she's been doing since she was a little girl is sing in wardrobes where nobody could see her, and watch opera workshops obsessively.
Then one summer she ends up in New York on exchange with Metropolitan Opera House and meets this charming, goofy and beautiful editor of local newspaper, falling head over heals in love with him. The consequent tragedy and heartbreak make her overcome her fear and follow her promise to apply for a school for opera singers in London so she can at last make her voice known and heard.
The book is split between the past and present, and we slowly find out what happened to lead her to her decision to learn how to sing professionally and to mourn the loss that happened in New York.
What separates this book from million other ones is its irresistible charm, kindness and atmosphere of mad, artistic talent. It's like one of those movies - The Best Exotic Marigold Hotel or The Quartet which leaves you a little bit lighter and happier in the end. Highly recommended. Also, the mad Hungarian is a bonus. *winks*
С
огромным удовольствием читала этот современный комедийный роман. В писательском стиле Люси Робинсон так много шарма, таланта и тепла, что не полюбить её героев было просто невозможно!
Салли - это толстушка с севера Англии, которая занимает должность своей мечты, работая в костюмерной оперы Лондона. Она делит дом со своими лучшими друзьями - кузиной-балериной и балетным танцовщиком из Уэльса. Однако у Салли есть один тёмный секрет - она обладает чудесным оперным голосом, но годы запретов на пение и боязнь сцены заставляют её петь, только спрятавшись в гардеробе.
Затем, одним летом она отправляется работать в Метрополитэн Оперу в Нью-Йорке и встречает забавного, рассеяного и очень привлекательноо издателя местной газеты и влюбляется в него по уши. Однако большая трагедия и ошибочные обвинения заставляют её порвать отношения с ним и вернуться домой. Однако теперь она находит в себе смелость наконец-то уступить просьбам близких и подать заявление на обучение в оперной школе Лондона.
Сюжет разделён на настоящее и прошлое, так что мы понимаем, что произошло и насколько поменялся характер главной героини постепенно. Под конец обе временные линии воссоединяются и мы получаем полную картину произошедшего, и мы настолько увлечены происходящим, что книга проглатывается на лету. Очень чудесно написано, по-доброму и с прекрасной атмосферой сумасшедших оперных теноров и див с тараканами в голове. Безумно понравилось, категорически рекомендую.
Tags:
8.5/10
,
chick-lit
,
comedy
,
contemporary
,
lucy robinson
,
romance
,
комедия
,
современный роман