Friday, March 09, 2018 | Posted by kara-karina@Nocturnal Book Reviews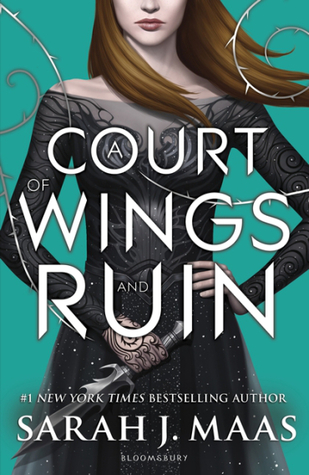 A Court of Wings and Ruin by Sarah J. Maas (A Court of Thorns and Roses #3)
bought on audio
Synopsis from Goodreads
Looming war threatens all Feyre holds dear in the third volume of the #1 New York Times bestselling A Court of Thorns and Roses series.

Feyre has returned to the Spring Court, determined to gather information on Tamlin's manoeuvrings and the invading king threatening to bring Prythian to its knees. But to do so she must play a deadly game of deceit – and one slip may spell doom not only for Feyre, but for her world as well.

As war bears down upon them all, Feyre must decide who to trust amongst the dazzling and lethal High Lords – and hunt for allies in unexpected places.

In this thrilling third book in the #1 New York Times bestselling series from Sarah J. Maas, the earth will be painted red as mighty armies grapple for power over the one thing that could destroy them all.
I've been enjoying this series more than Celaena, peeps. It feels more together and a bit more mature (pun intended). I also love that they are such long books that it's worth buying them on audio for countless hours of entertainment. I think I did 6 days of olive harvest to this book. *grins* I totally dig Rhys and Feyre. Theirs is an awesome union of two souls who really took time to understand each other. The overall story arch is on epic scale, and it's a vivid, fast-paced fantasy. Absolutely recommended.
* * *
Честно, слушаю я эту серию с большим удовольствием, чем Селину Сардотьен. Все-таки, она эмоционально повзрослее, и, к тому же, каждая книга - это увесистый том, который выгодно покупать на аудио и слушать очень долго. Под эту книгу я по моему собирала урожай оливок чуть ли ни неделю. *смеясь* Мне очень нравятся Рис и Фейра как пара, так как их союз достался им нелегко, и они долго друг к другу присматривались и приценивались. Да и главная сюжетная линия здесь совершенно эпичного масштаба, яркая и динамичная. Скучать не придется, рекомендую.
Marriage Games by C.D. Reiss (The Games Duet #1)
bought on audio
Synopsis from Goodreads
THIRTY DAYS
That's all Adam Steinbeck demands of his wife.
Thirty days in a remote cottage, doing everything he demands. After that, he'll sign her divorce papers and give her complete ownership of their company.

THIRTY DAYS
That's how long he has to rediscover the man he once was. The Dominant Master he hid when he fell in love with her five years ago.

THIRTY DAYS
She wants the business they built badly enough to go to the cottage for a month. Cut off ties to the world and do his bidding. She can submit to him with her body, but her heart will never yield.

She thinks this is his pathetic attempt to repair their marriage.

She's wrong.
Not my favourite read by this author, ladies and gents. Mostly, because it feels like a lost cause with a note of underlying bitterness. The relationship broke down, and no matter what, it can not be put back together the same way. It was an interesting experiment to follow, and I did enjoy the characters on their way to self-discovery, but they confused the heck out of me together. I'll listen to book two to see what happens, because right now I have no clue how it'll all ends.
* * *
Не очень мне понравилась эта книга от С.Д. Райсс, несмотря на свою оригинальность. Ну, не вижу я как отношения, которые закончились могут вернуться к прежнему статусу кво. Ведь сама пара и их восприятие друг друга сильно поменялись. Эта книга оставила у меня привкус горечи, но читать вторую часть все-равно буду, так как понятия не имею как этот дуэт закончится.
London Falling by Paul Cornell (Shadow Police #1)
bought on audio
Synopsis from Goodreads
The dark is rising ...Detective Inspector James Quill is about to complete the drugs bust of his career. Then his prize suspect Rob Toshack is murdered in custody. Furious, Quill pursues the investigation, co-opting intelligence analyst Lisa Ross and undercover cops Costain and Sefton. But nothing about Toshack's murder is normal. Toshack had struck a bargain with a vindictive entity, whose occult powers kept Toshack one step ahead of the law -- until his luck ran out. Now, the team must find a 'suspect' who can bend space and time and alter memory itself. And they will kill again.

As the group starts to see London's sinister magic for themselves, they have two choices: panic or use their new abilities. Then they must hunt a terrifying supernatural force the only way they know how: using police methods, equipment and tactics. But they must all learn the rules of this new game - and quickly. More than their lives will depend on it.
Audible
US
/
UK
| Amazon
US
/
UK
| Amazon kindle
US
/
UK
|
The BookDepository
It's like a toss between Joe Hill and Ben Aaronovitch. I liked the narrator a lot, and how tense and suspenseful the chase after the villain had been, but there were so many main characters with their own storylines, I kind of lost focus. The setting and the atmosphere were fascinating, and I'll be definitely picking up more by this author. I can easily imagine this series on TV.
* * *
Это какое-то смешение Джо Хилла и Бена Аароновича. Рассказчик мне очень понравился, все было напряженно и динамично, с большой дозой хоррора. Не понравилось то, что здесь слишком много главых героев с разными сюжетными линиями, и читатель теряет фокус. Атмосфера шикарная и сам мир очень интересный, так что буду продолжать серию. Мне ее легко представить на ТВ.
Tags:
cd reiss
,
friday mini reviews
,
paul cornell
,
sarah j. maas
,
мини ревью
,
пол корнелл
,
сара дж. маас
,
сд райсс
Facebook Page

BLOG ARCHIVE

KARINA IS READING

In case of zombie apocalypse
Hey, guys! I feel like I should say this just in case :)
If you'd like to sponsor a fellow book addict who sometimes can't sleep at night worrying that she won't have enough books to read if internet goes down in the event of zombie apocalypse (I'm convinced it's one of the top five ways to go for human race) you can donate through Paypal to
olivesandacorns at gmail dot com
or buy a book through any of the links provided with my reviews which will send me a small percentage from the sale. All proceeds will go towards my enormous TBR. I will also shelter you on the remote farm in Portugal when zombie apocalypse starts provided you survive getting there. There will be books, yay?
Thank you! Love you all


Blog Stats since May 2011
Noteworthy Blogs