Saturday, March 04, 2017 | Posted by kara-karina@Nocturnal Book Reviews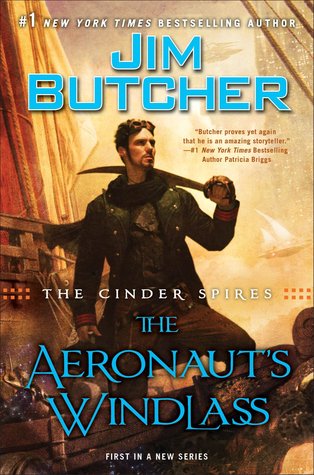 The Aeronaut's Windlass by Jim Butcher (The Cinder Spires #1)
bought on audio
Synopsis from Goodreads
Jim Butcher, the #1 New York Times bestselling author of The Dresden Files and the Codex Alera novels, conjures up a new series set in a fantastic world of noble families, steam-powered technology, and magic-wielding warriors…

Since time immemorial, the Spires have sheltered humanity, towering for miles over the mist-shrouded surface of the world. Within their halls, aristocratic houses have ruled for generations, developing scientific marvels, fostering trade alliances, and building fleets of airships to keep the peace.

Captain Grimm commands the merchant ship, Predator. Fiercely loyal to Spire Albion, he has taken their side in the cold war with Spire Aurora, disrupting the enemy's shipping lines by attacking their cargo vessels. But when the Predator is severely damaged in combat, leaving captain and crew grounded, Grimm is offered a proposition from the Spirearch of Albion—to join a team of agents on a vital mission in exchange for fully restoring Predator to its fighting glory.

And even as Grimm undertakes this dangerous task, he will learn that the conflict between the Spires is merely a premonition of things to come. Humanity's ancient enemy, silent for more than ten thousand years, has begun to stir once more. And death will follow in its wake…

Audible US/UK | Amazon US/UK | Amazon kindle US/UK | Book Depository
8/10
It's Jim Butcher, yo! So, the plot is fantastic, there is a really interesting intrigue and. mysterious world-building we find out about bit by bit. There are fab characters as well, and there are CATS. Cats, who are talking, plotting and killing giant spiders. Pure awesomeness! However, I felt that all of this was bogged down by too much detail about airships and aerial battles. Too much. Which is why I lowered my rating.
* * *
Короче, это Джим Бутчер! Сюжет супер, характеры замечательные, построение мира интригующее и раскрывается по частям... а ещё здесь есть КОТЫ! Коты говорящие, шпионящие, мудрые и дерущиеся с гигантскими пауками, что чертовски здорово. Однако, автор переборщил с деталями, описывающими воздушные корабли и битвы между ними. Прям у меня перегрузка была. А потому заниженная оценка.
The Way of Shadows by Brent Weeks (Night Angel #1)
From New York Times Bestselling author Brent Weeks...
For Durzo Blint, assassination is an art-and he is the city's most accomplished artist.

For Azoth, survival is precarious. Something you never take for granted. As a guild rat, he's grown up in the slums, and learned to judge people quickly - and to take risks. Risks like apprenticing himself to Durzo Blint.

But to be accepted, Azoth must turn his back on his old life and embrace a new identity and name. As Kylar Stern, he must learn to navigate the assassins' world of dangerous politics and strange magics - and cultivate a flair for death.

Audible US/UK | Amazon US/UK | Amazon kindle US/UK | Book Depository
Okay, it started strong, and the plot unravelled at a steady pace.. and then, something happened, and it was like an avalanche, everything collapsed, and the author lost me with the improbable ending. Like I was expecting an apple and received a screwdriver, you know? That kind of ending. Not cool, Brent, not cool.
В общем, началось всё довольно интересно, но автор не сумел выдержать ритм. С середины сюжет начал обваливаться как снежная лавина. Всё происходило одновременно, без разогрева и с жуткими роялями в кустах. Ну зачем было придумывать пятое колесо когда и так всё хорошо шло? В общем, разочаровалась.
Devoted in Death by J.D. Robb (In Death #41)
It's a new year in New York city, and two star-crossed lovers have just discovered an insatiable appetite...for murder.



Lieutenant Eve Dallas has witnessed some grisly crimes in her career and she knows just how dark things can get on the streets. But when a much-loved musician is found dead, Eve soon realises that his murder is part of a horrifying killing spree, stretching right across the country.



Now the killers have reached New York, and they've found themselves another victim. Eve knows she only has a couple of days to save a young girl's life, and to stop the killers before their sadistic games escalate. Eve's husband Roarke is ready to put his brains and his considerable resources behind the search. But even as the couple works closely together, time is running out...


Audible US/UK | Amazon US/UK | Amazon kindle US/UK | Book Depositor

y
Another fantastic read! I don't know how she does it? but J.D. Robb writes excellent serial killers. So, every time Eve investigates one of those, I know I'm in for a treat

.

It's suspenseful

,

plus a fresh secondary character from the country was a charming touch. Ver

y satisfying!
Ещё одна прекрасная

к

нига от Джей Ди Робб. Я не знаю как она это делает, но серийные убийцы у неё получаются особо сочные. Вот и в этот раз, как только я поняла,

ког

о Ив будет ловить, я знала, что

к

нига будет особо хороша. Да и свежий второстепе

н

ый герой из глубинки б

ыл очень очаровательный. Читала с удовольствием, рекомендую.
Tags:
6/10
,
8.5/10
,
8/10
,
brent weeks
,
friday mini reviews
,
j.d. robb
,
jim butcher
,
брент уикс
,
джей ди робб
,
джим бутчер
,
мини ревью