Friday, March 31, 2017 | Posted by kara-karina@Nocturnal Book Reviews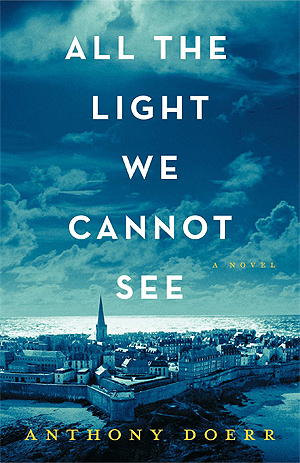 All The Light We Cannot See by Anthony Doerr
bought on audio
Synopsis from Goodreads
Winner of the Pulitzer Prize
From the highly acclaimed, multiple award-winning Anthony Doerr, the beautiful, stunningly ambitious instant New York Times bestseller about a blind French girl and a German boy whose paths collide in occupied France as both try to survive the devastation of World War II.

Marie-Laure lives with her father in Paris near the Museum of Natural History, where he works as the master of its thousands of locks. When she is six, Marie-Laure goes blind and her father builds a perfect miniature of their neighborhood so she can memorize it by touch and navigate her way home. When she is twelve, the Nazis occupy Paris and father and daughter flee to the walled citadel of Saint-Malo, where Marie-Laure's reclusive great-uncle lives in a tall house by the sea. With them they carry what might be the museum's most valuable and dangerous jewel.

In a mining town in Germany, the orphan Werner grows up with his younger sister, enchanted by a crude radio they find. Werner becomes an expert at building and fixing these crucial new instruments, a talent that wins him a place at a brutal academy for Hitler Youth, then a special assignment to track the resistance. More and more aware of the human cost of his intelligence, Werner travels through the heart of the war and, finally, into Saint-Malo, where his story and Marie-Laure's converge.

Doerr's "stunning sense of physical detail and gorgeous metaphors" (San Francisco Chronicle) are dazzling. Deftly interweaving the lives of Marie-Laure and Werner, he illuminates the ways, against all odds, people try to be good to one another. Ten years in the writing, a National Book Award finalist, All the Light We Cannot See is a magnificent, deeply moving novel from a writer "whose sentences never fail to thrill" (Los Angeles Times).
Despite the topic of WWII this ended to be a meditative, quiet listen with a lot of fascinating connections between the main characters. I was so glad one of my friends in Portugal recommended this book to me because I wouldn't have picked it up myself in a million years. It's sad, it's beautiful, it's scary and nerve-wracking. Superb writing, very much recommended.
Несмотря на тему Второй Мировой, книга эта оказалась медитативной, неспешной, тихой и невероятно интересной, показав как судьба связала таких далёких друг от друга главных героев. Я была так рада, что друг в Португалии мне её посоветовал, так как я бы никогда не взяла её в руки по своей инициативе. Она грустная, красивая, страшная и, читая её, очень нервничаешь. Очень рекомендую!
Paper Princess by Erin Watt (The Royals #1)
bought
Synopsis from Goodreads
From strip clubs and truck stops to southern coast mansions and prep schools, one girl tries to stay true to herself.

These Royals will ruin you…

Ella Harper is a survivor—a pragmatic optimist. She's spent her whole life moving from town to town with her flighty mother, struggling to make ends meet and believing that someday she'll climb out of the gutter. After her mother's death, Ella is truly alone.

Until Callum Royal appears, plucking Ella out of poverty and tossing her into his posh mansion among his five sons who all hate her. Each Royal boy is more magnetic than the last, but none as captivating as Reed Royal, the boy who is determined to send her back to the slums she came from.

Reed doesn't want her. He says she doesn't belong with the Royals.

He might be right.

Wealth. Excess. Deception. It's like nothing Ella has ever experienced, and if she's going to survive her time in the Royal palace, she'll need to learn to issue her own Royal decrees.
Honestly, what is wrong with these spoiled, angst-ridden poor rich brats? Oh, wait. I've answered my own question. This was like re-reading Tijan again, who, by the way, wrote in a much more cracktastic way. Who I couldn't understand was the main heroine and her unhinged responses. I kind of thought she was much more put together but apparently, she was hiding it until the very end. Read at your own peril. I am not continuing with this series.
Что за идиотские роблемы у бедных, неуравновешенных, испорченных богатых подростков? А, подождите. Я уже сама себе ответила. Как-то похоже на творчество Тижан, только у той всё гораздо круче написано. Главная героиня начала книгу собранно, а под конец превратилась в истеричку с чересчур преувеличенными эмоционально реакциями на ситуацию.. В общем, там капец. Я продолжать серию не собираюсь и вам не советую.
On Basilisk Station by David Weber (Honor Harrington #1)
Honor Harrington in trouble: Having made him look the fool, she's been exiled to Basilisk Station in disgrace and set up for ruin by a superior who hates her. Her demoralized crew blames her for their ship's humiliating posting to an out-of-the-way picket station. The aborigines of the system's only habitable planet are smoking homicide-inducing hallucinogens. Parliament isn't sure it wants to keep the place; the major local industry is smuggling, the merchant cartels want her head; the star-conquering, so-called "Republic" of Haven is Up to Something; and Honor Harrington has a single, over-age light cruiser with an armament that doesn't work to police the entire star system. But the people out to get her have made one mistake. They've made her mad!
I am not sold. The setting is fascinating (or the glimpses of it we get) but it's way too bogged down with the descriptions of space ships and what they can do. There is also zero character development. I don't know if I should continue with this series.
Что-то меня эта книга не убедила. Сам мир очень интересен (ну те крохи, что нам подсовывают), однако здесь слишком много деталей, описывающих космические корабли и что они могут делать, а вот развития персонажей нет. Не знаю, продолжать ли мне эту серию...
Tags:
4/10
,
6/10
,
8/10
,
anthony doerr
,
david weber
,
erin watt
,
friday mini reviews
,
дэвид уэббер
,
мини ревью
,
энтони доэрр
,
эрин уотт