Monday, December 19, 2016 | Posted by kara-karina@Nocturnal Book Reviews
OAK, HOLLY, AND THREE VEXED GHOSTS
by
Grace Draven
Copyright © 2016 by Grace Draven
All rights reserved
_____________________________________________
source
Gideon scowled at his and Nathaniel's reflections in the full length mirror residing in a corner of the library. "We look ridiculous."
Nathaniel adjusted the crown of oak leaves and acorns perched atop his head, then brushed away imaginary specks of dust from his lapels. He eyed Gideon's own crown of holly and red berries. "Our countenances are far too strange to ever look ridiculous, only frightening. Or on better days such as these, merely odd. Besides, we're doing this for a worthy cause."
"I wouldn't bother were it not for the fact that Lilah has badgered her mother and me nearly into Bedlam with her request for a duel between the Oak King and the Holly King as part of the Yule celebration." Gideon reached up to move his crown, hissing when the needle tip of a holly leaf pierced his finger. He jerked his hand away to wipe it across his coat, leaving a thread of silver blood across the fabric. "Already have first blood, and we haven't even crossed swords yet."
Nathaniel paid only half a mind to Gideon's complaints. He cocked his head, listening for a moment to the sweet sound of female voices coming from the parlor.
Read the rest of the story
HERE
.
* * *
I hope you enjoyed this small peek into the world of the Bonekeeper Chronicles. Nathaniel is my hero in GASLIGHT HADES, Book One of the Bonekeeper Chronicles. His and Lenore's story may be found in the duology
BENEATH A WANING MOON
, along with a fabulous Elizabeth Hunter tale. Gideon is my hero in GASLIGHT VIDUUS, Book Two of the Bonekeeper Chronicles, which I'm writing now. Gideon and Rachel's story will be published in 2017.
Karina's theme of writing a tale in which an unexpected visitor interrupts the Christmas celebration of some of my characters offered me a chance to tip an affectionate hat to my favorite Christmas story: A CHRISTMAS CAROL by Charles Dickens. Though Dickens wrote his story in 1843, and my story takes place in an alternate Victorian England of the 1860s, I took a small literary license of moving the events in ACC up almost twenty years to suit the purposes of this particular tale. Mea culpa.
There are other elements in this work which I incorporated from the history of Yule to the neopagan tradition in which the legendary Holly King and Oak King battle for supremacy over the Wheel of the Year. The Oak King always wins at Winter Solstice, and he reigns over the year until midsummer, when the Holly King returns to do battle and wins at Summer Solstice.
Happy holidays,
Grace Draven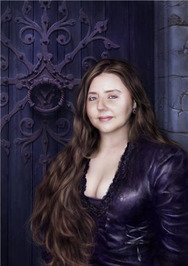 I'm an author and Louisiana native living in Texas with my husband, three smalls and a big doofus dog. I have lived in Spain, hiked the Teton Mountains, honeymooned in Scotland, ridden in competition rodeo and am the great great granddaughter of a Nicaraguan president. I also hate doing laundry and refuse to iron anything.

I've loved storytelling since forever. I published my first short story with Amber Quill Press and have since written several other tales. A love of the bad boy in fiction always inspires me.
Tags:
2016
,
christmas with
,
freebies
,
grace draven
,
short story
,
грэйс дрэйвен
,
короткие истории
,
с рождеством