Wednesday, November 23, 2016 | Posted by kara-karina@Nocturnal Book Reviews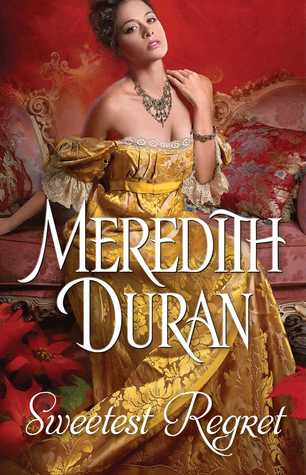 Sweetest Regret by Meredith Duran
Egalley courtesy of Pocket Star
Synopsis from Netgalley
The spirit of the season is festive—and clouding even the sharpest of judgments—in this Victorian era romance, perfect for fans of Jude Deveraux and Sabrina Jeffries.

At a house party in the countryside, the joyful spirit of the Christmas season threatens to sweep Georgiana Trent under the mistletoe—and back into the arms of the dashing rogue who broke her heart two years ago. Little does she know that Lucas Godwin has no intention of leaving until he has reclaimed her as his own.
Release date: Nov 28th, 2016
Amazon kindle
US
/
UK
8/10
* * *
T
his was a lovely Christmas novella about two people who fell in love two years ago but got separated by a meddling father, blaming each other for the break-up all the while.
Georgie is a perfect diplomat's daughter. She is sweet, clever, pretty and at the same time has a low self-esteem die to her father's frequent abandonment throughout her childhood. When her dad asks her to host a proper English Christmas for fellow diplomats in their country estate, she doesn't expect any trouble, but then a sensitive letter is stolen, and her father asks the only man whom she's never expected to see again in her life to help her retrieve it.
Lucas ordered to leave Paris, can not say no to his superior. As a rising start of Foreign Office and a man with unfortunate origins, he can't afford to alienate anyone. So with trepidation and bitter defiance he prepares to face the woman who broke his heart two years ago. And Georgie is as beautiful as ever, and surprisingly very angry with him.
The couple is forced to work together, and while all grievances and bitterness rises through their bickering with each other, they slowly realize what really happened to tear them apart. Both Lucas and Georgie are lovely and just the right touch vulnerable. There is this emerging light of hope and fragile love surrounding them, and together with Christmas festivities, this creates a gorgeous festive atmosphere which will put the reader in the right mood for the coming holidays. Recommended.
* * *
Э
то была очаровательная рождественская повесть о двух людях, влюбившихся друг в друга и разбивших друг другу сердце два года назад из-за лжи, вмешавшегося в их отношения родителя.
Джорджи - идеальная дочь дипломата, милная, умная, симпатичная, но в то же время неуверенная в себе из-за того что отец часто оставлял её одну в детстве. Когда он просит, чтобы она спланировала рождественскую вечеринку для дипломатов в его поместье, чтобы показать тем настоящее английское Рождество, она с готовностью соглашается. Только вот в процессе пропадает опасное письмо, которое необходимо вернуть в руки хозяев без лишнего шума, и кого посылает ей в помощники дорогой папа:? Никого иного, как её бывшего кавалера!
Люкас не может отказать своему начальнику как молодой, честолюбивый чиновник Министерства Иностранных Дел, карьера которого продвигается быстро несмотря на его неудачное происхождение. Так что с трепетом и опаской он готовится встретиться лицом к лицу с женщиной разбившей ему сердце. К его удивлению, Джорджи всё-также обворожительна и неожиданно очень на него сердита.
Парочка вынуждена работать вместе, но это не значит, что эмоциональный багаж и горечь между ними не заставит их бесконечно препираться пока они наконец не выясняют что же заставило их расстаться.
Характеры Джорджи и Люкаса - обаятельные, и очень приятно видеть как они вновь приобретают надежду и свет в глазах когда их отношения налаживаются. Добавьте к этому праздничную рождественскую атмосферу, и читателю легко удаётся погрузится в предновогоднее настроение. Хорошая повесть, советую.
Tags:
8/10
,
historical romance
,
meredith duran
,
novella
,
regency
,
spies
,
исторический роман
,
мередит дюран
,
повесть
,
регентство
,
шпионы