Thursday, January 31, 2019 | Posted by kara-karina@Nocturnal Book Reviews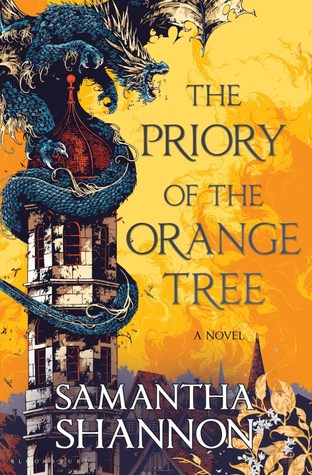 A world divided.
A queendom without an heir.
An ancient enemy awakens.

The House of Berethnet has ruled Inys for a thousand years. Still unwed, Queen Sabran the Ninth must conceive a daughter to protect her realm from destruction—but assassins are getting closer to her door.

Ead Duryan is an outsider at court. Though she has risen to the position of lady-in-waiting, she is loyal to a hidden society of mages. Ead keeps a watchful eye on Sabran, secretly protecting her with forbidden magic.

Across the dark sea, Tané has trained all her life to be a dragonrider, but is forced to make a choice that could see her life unravel.

Meanwhile, the divided East and West refuse to parley, and forces of chaos are rising from their sleep.
Goodreads
I remember Samantha Shannon's writing. It's phenomenal. I am totally adding this to my shelf!
Forced to lie to protect her sister . . .
From the New York Times Bestselling Author, Penny Reid

One week.
Home alone.
Girl genius.
Unrepentant slacker.
Big lie.
What's the worst that could happen?

Mona is a smart girl and figured everything out a long time ago. She had to. She didn't have a choice. When your parents are uber-celebrities and you graduate from high school at fifteen, finish college at eighteen, and start your PhD program at nineteen, you don't have time for distractions outside of your foci. Even fun is scheduled. Which is why Abram, her brother's best friend, is such an irritant.

Abram is a talented guy, a supremely gifted musician, and has absolutely nothing figured out, nor does he seem to care. He does what he feels, when he feels, and—in Mona's opinion—he makes her feel entirely too much.
Laws of Physics is the second trilogy in the Hypothesis series; Laws of Physics parts 1 (MOTION) & 2 (SPACE) end with a cliffhanger.
Goodreads
I really liked the first trilogy in this series, so I am really looking forward to geeking out to this one :)
* * *
A contemporary novel about two best friends who must make tough decisions about their futures--and the TV show they host--in their senior year of high school.

Every Friday night, best friends Delia and Josie become Rayne Ravenscroft and Delilah Darkwood, hosts of the campy creature feature show Midnite Matinee on the local cable station TV Six.

But with the end of senior year quickly approaching, the girls face tough decisions about their futures. Josie has been dreading graduation, as she tries to decide whether to leave for a big university and chase her dream career in mainstream TV. And Lawson, one of the show's guest performers, a talented MMA fighter with weaknesses for pancakes, fantasy novels, and Josie, is making her tough decision even harder.

Scary movies are the last connection Delia has to her dad, who abandoned the family years ago. If Midnite Matinee becomes a hit, maybe he'll see it and want to be a part of her life again. And maybe Josie will stay with the show instead of leaving her behind, too.

As the tug-of-war between growing up and growing apart tests the bonds of their friendship, Josie and Delia start to realize that an uncertain future can be both monstrous...and momentous.
Goodreads
I don't know anything about the author, but with the synopsis like that I have a feeling I will like it. What do you think?
It's said that if you sleep under a willow tree, you'll dream of your true love.

Emma Leighton doesn't believe in fairy tales or monsters until a bolt of lightning from a freak summer storm reveals a glimpse of a river creature so fantastical, she can't be certain he's real.

Stranded by the storm, she spends the night in eerie Willow Cottage where terrified guests check out early, vowing never to return. Emma sees nothing out of the ordinary, but her dreams bring her a secret lover like no other, disturbing and alluring in equal measure. Moss is half man, half water serpent. His kisses are cool and deep as the Columbia River itself, and he's been in love with Emma for a long time.

What begins as a dream becomes flesh, an erotic fusing of hearts, souls and bodies. But when others learn the secret sheltered by Willow Cottage, they'll do anything—including kill—to possess it.

Welcome to The River: After Dark.

First in a new series.
Goodreads
I've just read and reviewed this one, and it's lovely.
If you're a human in a vampire's world, nothing goes according to plan.

When a map to the mysterious fortune of notorious privateer Miguel Enríquez falls in the lap of Ben and Tenzin, only one of them is jumping at the opportunity. Tenzin can't wait to search for a secret cache of gold. Ben, on the other hand, couldn't be less excited.

All Ben knows about Puerto Rico is what he hears on the news and a few lingering memories of his human grandmother. Going back to his roots holds zero appeal for the carefully constructed man he's become.

In the end, the lure of hidden gold can't be denied.

Ben and Tenzin head to Puerto Rico where the immortal world is ruled by Los Tres, a trio of powerful vampires commanding the wind, the waves, and the mountains that make up this small island in the Caribbean.

To find Enríquez's treasure, they'll have to walk a fine line between flattery and secrecy. To leave the island might mean a bigger fight than either one of them foresaw.

Blood Apprentice is the second novel in the Elemental Legacy, a paranormal mystery series by Elizabeth Hunter, author of the Irin Chronicles.
Goodreads
I've got a copy for review and I can not wait to dig in! Benzin is my favorite duo of all Elizabeth's couples!
Tags:
2019
,
bookshelf
,
february
,
new releases
,
книжная полка
,
новые книги
,
релизы
,
февраль
|
0 comments