Friday, May 12, 2017 | Posted by kara-karina@Nocturnal Book Reviews
A Murder in Time by Julie McElwain (Kendra Donovan #1)
bought
Synopsis from Goodreads
Beautiful and brilliant, Kendra Donovan is a rising star at the FBI. Yet her path to professional success hits a speed bump during a disastrous raid where half her team is murdered, a mole in the FBI is uncovered and she herself is severely wounded. As soon as she recovers, she goes rogue and travels to England to assassinate the man responsible for the deaths of her teammates.

While fleeing from an unexpected assassin herself, Kendra escapes into a stairwell that promises sanctuary but when she stumbles out again, she is in the same place - Aldrich Castle - but in a different time: 1815, to be exact.

Mistaken for a lady's maid hired to help with weekend guests, Kendra is forced to quickly adapt to the time period until she can figure out how she got there; and, more importantly, how to get back home. However, after the body of a girl is found on the extensive grounds of the county estate, she starts to feel there's some purpose to her bizarre circumstances. Stripped of her twenty-first century tools, Kendra must use her wits alone in order to unmask a cunning madman.
So fascinating! If you like time-travel, kick-ass heroines and Diana Gabaldon's novel, then this one is for you! Kendra Donovan is a tough as nails FBI profiler who is ready to climb walls when she is transferred to Regency England and none of her skills are applied to female roles of the era. Then the murders start, and she realises that she does have a purpose here after all: to find the killer. A lightning-fast, gripping read, one of the highlights of the year for me.
Очень захватывающе! Если вам нравятся путешественники во времени, романы Дианы Гэбэльдон и крутосваренные героини, то вам сюда! Кендра Донован - специалист по профилям серийных убийц в ФБР. Когда она случайно проваливается во времени в Англию Регентства, она от отчаяния на стенку лезет, так как всё, что она знает, не входит в рамки гендерных ролей эпохи. Однако когда вокруг неё начинает происходить цепь убийств, она наконец понимает, что в это время попала не зря, и что её задача - найти и остановить опасного преступника. Прям от книги оторваться было невозможно, читалось на одном духу. Очень рекомендую!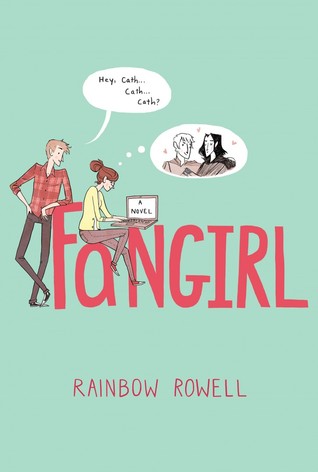 Fangirl by Rainbow Rowell
bought on audio and kindle
From the author of the New York Times bestseller Eleanor & Park. A coming-of-age tale of fan fiction, family and first love.

Cath is a Simon Snow fan.

Okay, the whole world is a Simon Snow fan...

But for Cath, being a fan is her life—and she's really good at it. She and her twin sister, Wren, ensconced themselves in the Simon Snow series when they were just kids; it's what got them through their mother leaving. Reading. Rereading. Hanging out in Simon Snow forums, writing Simon Snow fan fiction, dressing up like the characters for every movie premiere.

Cath's sister has mostly grown away from fandom, but Cath can't let go. She doesn't want to.

Now that they're going to college, Wren has told Cath she doesn't want to be roommates. Cath is on her own, completely outside of her comfort zone. She's got a surly roommate with a charming, always-around boyfriend, a fiction-writing professor who thinks fan fiction is the end of the civilized world, a handsome classmate who only wants to talk about words... And she can't stop worrying about her dad, who's loving and fragile and has never really been alone.

For Cath, the question is: Can she do this? Can she make it without Wren holding her hand? Is she ready to start living her own life? Writing her own stories?

And does she even want to move on if it means leaving Simon Snow behind?
This was an extremely lovely book, especially on audio. A sweet coming-of-age story, a mostly blind to everything out of her comfort zone heroine, which leads to tragic and hilarious situations, and very interesting, sympathetic secondary characters. I think this would be a must read for fans of Harry Potter fandom and Penny Reid. I really enjoyed it!
Ну безумно милая книженция, дамы и господа, особенно в формате аудио. Болезненный процесс взросления, потери наивности детства, здесь очень хорошо чувствуется. Главная героиня вообще слепа ко всему, что происходит за пределами её комфортной зоны, что приводит к траикомическим ситуациям. А вторичные персонажи ну очень симпатичные и живые. Рекомендую фанатам фандома о Гарри Поттере и любителям Пенни Рид. Вам должно понравиться.
Star Nomad by Lindsay Buroker (Fallen Empire #1)
bought
Synopsis from Goodreads
They have her daughter. She will stop at nothing to get her back.

When system-wide civil war broke out, fighter pilot Captain Alisa Marchenko left her family and accepted a commission in the Alliance Army to battle the empire's tyranny. Four years later, the empire has been toppled, but chaos and anarchy now rule the system. Alisa, after being injured in the final battle, is stranded on a dustball of a planet billions of miles from home. She learns that her husband died during the bombings, leaving their daughter on Perun, a planet that has become the last imperial stronghold.

Alisa must find a way to Perun, even if she has to steal a dilapidated ship from a junkyard overrun by murdering savages to do it. She's ready for the challenge. She did not, however, count on finding an elite imperial cyborg soldier squatting in the ship and planning to use it for a mysterious mission of his own. Alisa can't let him or anyone else stop her, or she'll never see her daughter again.
Audible US/UK | Amazon US/UK | Amazon kindle US/UK | Book Depository
I don't know what happened, peeps. I should have enjoyed it more but it just didn't do anything for me emotionally. The plot was good, the characters had interesting banter going on, but backstory felt very murky, and it just felt bland comparing to the vibrancy of Sara King's Outer Bounds or emotional warmth of Wayfarers by Becky Chambers.
Я не знаю, что случилось, ребята. Я вроде как должна была прочитать эту книгу с удовольствием, однако она меня совсем не зацепила. Интересный сюжет, хорошие перепалки между командой корабля, однако картина построения мира была мутной, и сама книга лично для меня была лишена яркости той же самой Сары Кинг или теплоты Беки Чэмберс.
Tags:
friday mini reviews
,
julie mcelwain
,
lindsay buroker
,
rainbow rowell
,
джули макэлвэйн
,
линдсэй барокер
,
мини ревью
,
рэйнбоу роуэлл
Facebook Page

BLOG ARCHIVE

KARINA IS READING

In case of zombie apocalypse
Hey, guys! I feel like I should say this just in case :)
If you'd like to sponsor a fellow book addict who sometimes can't sleep at night worrying that she won't have enough books to read if internet goes down in the event of zombie apocalypse (I'm convinced it's one of the top five ways to go for human race) you can donate through Paypal to
olivesandacorns at gmail dot com
or buy a book through any of the links provided with my reviews which will send me a small percentage from the sale. All proceeds will go towards my enormous TBR. I will also shelter you on the remote farm in Portugal when zombie apocalypse starts provided you survive getting there. There will be books, yay?
Thank you! Love you all


Blog Stats since May 2011
Noteworthy Blogs