Friday Mini Reviews #37: CD Reiss, K.J. Charles & Mary Hughes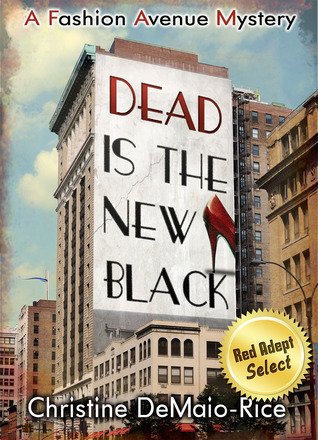 Dead is The New Black by Christine DeMaio-Rice (Fashion Avenue Mysteries #1)
bought
Synopsis from Goodreads
***A RED ADEPT SELECT FOR OUTSTANDING BOOK IN ITS GENRE***

Laura Carnegie gave up on the man of her dreams a long time ago. He's fashion designer Jeremy St. James, and not only is he her boss, everyone knows he's gay.
-
When he's arrested for murder, secrets come to light and nothing is what it seems. If Laura can just solve this crime, keep the cops off her tail, break up a counterfeiting ring, and get the show on the runway by Friday, she might stop being Seventh Avenue's perpetual loser.
Amazon US/UK | Amazon kindle US/UK | The Book Depository
8.5/10
Before CD Reiss became famous for her erotic romances, she was writing wonderful murder mysteries, and if you are a fan of this genre you shouldn't let this book pass you by. It's
funny, it has well developped characters, it's suffused with author's love for New York and it's very interesting for its involvement in the world of haute couture. Very much recommended.
До того, как С.Д. Рейсс прославилась своими эротическими романами она написала очень славную серию детективов, и если вы поклонник этого жанра пропускать вам её совсем не стоит. Она комична, её персонажи хорошо проработаны и умны, здесь видна любовь автора к Нью-Йорку, и показаны аспекты высокой моды, которые среднему читателю малоизвестны. Очень рекомендую.
Think of England by K.J. Charles
bought
Synopsis from Goodreads
Lie back and think of England...

England, 1904. Two years ago, Captain Archie Curtis lost his friends, fingers, and future to a terrible military accident. Alone, purposeless and angry, Curtis is determined to discover if he and his comrades were the victims of fate, or of sabotage.

Curtis's search takes him to an isolated, ultra-modern country house, where he meets and instantly clashes with fellow guest Daniel da Silva. Effete, decadent, foreign, and all-too-obviously queer, the sophisticated poet is everything the straightforward British officer fears and distrusts.

As events unfold, Curtis realizes that Daniel has his own secret intentions. And there's something else they share—a mounting sexual tension that leaves Curtis reeling.

As the house party's elegant facade cracks to reveal treachery, blackmail and murder, Curtis finds himself needing clever, dark-eyed Daniel as he has never needed a man before…
Warning: Contains explicit male/male encounters, ghastly historical attitudes, and some extremely stiff upper lips.
Amazon kindle
US
/
UK
Another recommend from my book guru, Betsy, and from Dear Author, this is a splendid read! Curtis is a taciturn but emotionally warm character, and da Silva is a proper enigma. Caught together in dark intrigues of a manor house in a middle of nowhere, these two start with an intense initial dislike of each other which quickly turns into something else. A very fast, intense book with a delightful mystery. Recommended, and I really hope K.J. Charles will turn this book into a series.
Ещё одна очень удачная рекомендация от моей книжной гуру, Бетси, и от блога Dear Author. Прекрасная книга! Куртис - мрачный, но эмоционально тёплый персонаж, а да Сильва - настоящая загадка. Пойманные вместе в интригах особняка посреди сельской глуши, парочка начинает книгу с сильной неприязни друг к другу, которая быстро превращается во что-то иное. Быстрый, острый детектив. Рекомендую!
Bite My Fire by Mary Hughes (Biting Love #1)
bought
Synopsis from Goodreads
At last, the perfect lover. Now what? Stake him, shoot him—or screw him?

A Biting Love story.

Elena O'Rourke lusts for two things—her detective's shield and a good lay. Sass-Cgal's "Bad Girl Sex Tips" will win her the man. But keeping the shield hinges on solving a murder.

Warrior-gorgeous Bo Strongwell stands in her way.

Powerful as a Viking warship, Bo would be Elena's one-stop solution to celibacy—except for his apartment building full of mysteries. Plus, his kisses…and nibbles…and full body tongue-swipes…keep distracting her from the case. As if a caped clown named Dracula, a hooker with a heart of gold (and boobs of steel), and Elena's own clueless partner aren't distraction enough.

Bo Strongwell is a master vampire who needs a cop snooping around like he needs a garlic enema. Fighting rogues keeps him busy enough without Elena trying to pin the murder on one of his kind…even if she does taste like heaven.

Two fighters for justice. One incredible attraction. A terrible secret. Drunken women dancing on the bar… It all rides on Elena solving the Case of the Punctured Prick.
Warning: Jammed with hot explicit sex, graphic fanged violence, and acid cop humor. May contain donuts.
Amazon
US
/
UK
| Amazon kindle
US
/
UK
|
The Book Depository
8/10
This reminded me of
Charley Davidson
series by Darynda Jones, only more of slapstick humor variety. This book takes populr paranormal tropes and thoroughly takes the piss out of them. It's dirty, hot and really, really funny! It's a great mix of paranormal romance and urban fantasy, and a heroine who decides in favor of bazooka instead of stakes is my type of gal. Recommended.
" There were pecans, there were cashews and then there were just plain nuts."
* * *
Очень мне эта книга напомнила серию Чарли Дэвидсон, только юмор здесь не такой тонкий как у Даринды Джонс. Однако автор умудрилась поиздеваться над паранормальными клише и создала здоровскую смесь городского фэнтези и паранормального романа, в которой героиня между колом и гранатомётом в охоте на вампиров всегда выберет гранатомёт! Рекомендую, особенно если хочется хорошо поржать.