Audiobook Memoir Review: Dirty Chick by Antonia Murphy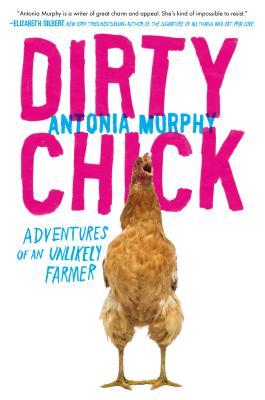 Dirty Chick: Adventures of an Unlikely Farmer by Antonia Murphy
review copy courtesy of Audible US
Synopsis from Goodreads
"One month into our stay, we'd managed to dispatch most of our charges. We executed the chickens. One of the cats disappeared, clearly disgusted with our urban ways. And Lucky [the cow] was escaping almost daily. It seemed we didn't have much of a talent for farming. And we still had eleven months to go."

Antonia Murphy, you might say, is an unlikely farmer. Born and bred in San Francisco, she spent much of her life as a liberal urban cliché, and her interactions with the animal kingdom rarely extended past dinner.

But then she became a mother. And when her eldest son was born with a rare, mysterious genetic condition, she and her husband, Peter, decided it was time to slow down and find a supportive community. So the Murphys moved to Purua, New Zealand—a rural area where most residents maintained private farms, complete with chickens, goats, and (this being New Zealand) sheep. The result was a comic disaster, and when one day their son had a medical crisis, it was also a little bit terrifying.

Dirty Chick chronicles Antonia's first year of life as an artisan farmer. Having bought into the myth that farming is a peaceful, fulfilling endeavor that allows one to commune with nature and live the way humans were meant to live, Antonia soon realized that the reality is far dirtier and way more disgusting than she ever imagined. Among the things she learned the hard way: Cows are prone to a number of serious bowel ailments, goat mating involves an astounding amount of urine, and roosters are complete and unredeemable assholes.

But for all its traumas, Antonia quickly embraced farm life, getting drunk on homemade wine (it doesn't cause hangovers!), making cheese (except for the cat hair, it's a tremendously satisfying hobby), and raising a baby lamb (which was addictively cute until it grew into a sheep). Along the way, she met locals as colorful as the New Zealand countryside, including a seasoned farmer who took a dim view of Antonia's novice attempts, a Maori man so handy he could survive a zombie apocalypse, and a woman proficient in sculpting alpaca heads made from their own wool.'

Part family drama, part cultural study, and part cautionary tale, Dirty Chick will leave you laughing, cringing, and rooting for an unconventional heroine.
Amazon US/UK | Amazon kindle US | The Book Depository | Audible US/UK
8.5/10
L

istening to or reading autobiographies is something I haven't done since I was a teenager, but when I had an opportunity to review Dirty Chick I had to grab it with both hands. You see, Antonia's adventures as a newly minted farmer is something I could relate to and was intensely curious to compare with my own experience.
Personal reasons aside, this book is funny,
at times
hysterically comical, smart, self-deprecating and bittersweet. Antonia narrates it herself and does a fantastic job depicting various accents and characters of her friends and family. It's also a very quick listen (I recall sawing wood while I was at it).
Antonia and Peter move to New Zealand from San Fransisco in search of more affordable life, and when their son is born with a rare genetic disorder, they decide to stay for the health system and a way of life which would afford him an existence as close to normal as possible.
Renting a farm house in rural New Zealand for a year, Antonia decides to have a go at being a farmer imagining this picturesque, wonderfully calm living where she potters round and create this wonderful artisanal produce for sale. The reality is far from what she imagined.
Soon she is overrun by a herd of animals who are more pets than valuable produce, the fence is collapsing, the goats ruin any cars parked nearby, there is sh*t everywhere, her kimchi is a disaster, her cheese is mouldy and her evenings are spent in a blissful haze due to the copious amounts of homemade wine.
However, the sense of community is wonderful, her friends are always ready to lend a hand or a roast chicken, and when disasters strike (and they do!) all people around her unite to help.
I mentioned that this book is bittersweet, and I admit, because it's mostly humorous, when something bad happens it cuts you worse than usual. I had tears in my eyes a few times, but I finished this book with sense of wonder and I felt inspired.
Very much recommended.
П

ризнаюсь, что я не читала автобиографий с подросткового возраста, однако когда у меня появилась возможность прорецензировать Грязную Курочку, я схватилась за неё двумя руками.
По большей части, потому что я хотела сравнить опыт Антонии с нашим, однако я бы выбрала эту книгу в любом случае, так как я люблю истории о приключениях людей, которые начинают с нуля.
Книга эта слушается быстро, и она очень трагикомична. К моему удивлению, Антония Мёрфи рассказывала её сама и прекрасно с эти справилась, представляя различные акценты и выражения своих друзей и знакомых.
Питер и Антония переезжают в Новую Зеландию в поисках более комфортной жизни, и когда их первый ребёной рождается с редким генетическим недостатком, они понимают, что в стране, которая предоставляет бесплатную систему здравоохранения, им придётся остаться навсегда.
Парочка снимает дом на год в сельской местности и решает попробовать заняться фермерством, и тут уж начинается веселье. Я конечно хихикала, а иногда и ржала, пока слушала злоключения Антонии и её стада животных, однако под всей этой комедией скрывается слой грусти и отчаянья, пока парочка пытается бороться с болезнью сына, и иногда от этого на глаза наворачиваются слёзы.
Милая книга, добродушная, и оставила она меня в приподнятом настроении, поэтому очень советую, независимо от ваших интересов.