Friday, October 21, 2016 | Posted by kara-karina@Nocturnal Book Reviews
Starshine by G.S. Jennsen (Aurora Rising #1)
bought on audio
Synopsis from Goodreads
Space is vast and untamed, and it holds many secrets. Now two individuals from opposite ends of settled space are on a collision course with the darkest of those secrets, even as the world threatens to explode around them.

The year is 2322. Humanity has expanded into the stars, inhabiting over 100 worlds across a third of the galaxy. Though thriving as never before, they have discovered neither alien life nor the key to utopia. Earth struggles to retain authority over far-flung planets and free-wheeling corporations while an uneasy armistice with a breakaway federation hangs by a thread as the former rebels rise in wealth and power.

Alexis Solovy is Earth Alliance royalty, her father a fallen war hero and her mother an influential military leader. But she seeks only the freedom of space and has made a fortune by reading the patterns in the chaos to discover the hidden wonders of the stars.

Nothing about her latest objective suggests the secret it conceals will turn her life— not to mention the entire galaxy—upside down. But a chance encounter with a mysterious spy leads to a discovery which will thrust Alex into the middle of a galactic power struggle and a sinister conspiracy, whether she likes it or not.

When faced with its greatest challenge, will humanity rise to triumph, or fall to ruin?

AURORA RISING is an epic tale of galaxy-spanning adventure, of the thrill of discovery and the unquenchable desire to reach ever farther into the unknown. It's a tale of humanity at its best and worst, of love and loss, of fear and heroism. It's the story of a woman who sought the stars and found more than anyone imagined possible.
Audible
US
/
UK
| Amazon
US
/
UK
| Amazon kindle
US
/
UK
|
The Book Depository
Whoa! A proper space opera, and a really well written one. Basically it's about to explorers/spies from enemy states who find a huge secret on the verge of war between aforementioned states. Then the war starts, and these two try their best to stop it as there is a bigger threat ahead... Very exciting, full of action, and you bet I'll be continuing with this series! Recommended.
* * *
Вау! Самая настоящая космическая опера, да и ещё так классно написанная. В общем, книга эта о двух исследователях или шпионах из враждебных государств на грани войны. Они раскрывают огромный секрет, война начинается, и теперь они пытаются убедить глав своих государств всё отбросить так как у них теперь огромная общая угроза. Написано блестяще, полно экшна и очень интересного построения мира. Точно буду читать продолжение. Рекомендую!
Wanderlust by Roni Loren
bought
Synopsis from Goodreads
From the New York Times bestselling author of the Loving on the Edge series and Off the Clock, a story of sex, love, rock & roll, and a reporter who's about to learn a new meaning for staying on top of her assignment...

Restaurant critic Aubrey Bordelon is never at a loss for words to describe her meals in the fancy restaurants of New Orleans. But after her magazine's high-profile music reporter falls ill, she finds herself out of her element and in a sea of screaming fans awaiting Wanderlust's lead singer, Lex Logan. The sound of his voice gives her goosebumps, and the stage presence of the hard-bodied rock star takes her breath away. So when he pulls her onstage for a sexy stunt, she knows she's in real trouble.

Lex doesn't want to pretend that the sparks on stage between him and Aubrey never happened, but it certainly makes the fact that she's writing a story on his band all the more dangerous. The last thing he needs is some nosy reporter revealing their problems to the world. But the sexy Southern belle doesn't give up easily, and soon he's wondering if the best way to chase her off the story is to coax her into his bed…
Amazon kindle US/UK
A sweet read, and an inspiring story about someone ho is putting their life together. It felt quite short and it didn't have usual for Miss Loren BDSM elements, but hey, there is a rock star here, and that counts for something, right? Recommended.
* * *
Милое чтиво, и воодушевляющее, так как главная героиня - перестраивает свою жизнь заново после трагедии в юности. Здесь нет обычных для Мисс Лорен элементов бдсм, однако Лекс - рок-звезда, а это за что засчитывается, правда? В общем, хоть и коротко, но рекомендую.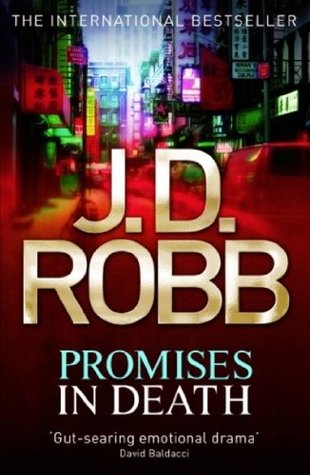 Promises in Death by J.D. Robb (In Death #28)
borrowed on audio
Synopsis from Goodreads
Inside the paralysed shell, she struggled, she strained. She looked up into the eyes of her killer. Into the eyes of a friend. Why?
Every cop gets angry when a police officer is killed. And Lieutenant Eve Dallas is no exception. Throwing every resource into solving Amarylis Coltraine's brutal murder, Eve encounters bitter opposition from Coltraine's fellow officers, who are desperate to take over the case. But when Eve receives a strange parcel containing Coltraine's badge and gun together with a note threatening the imminent arrival of her own ID, she knows the case has just got personal.
Then a link to millionaire Alex Ricker, son of a criminal she had put behind bars, heats things up even further. Ricker was romantically involved with Amarylis - did she leak information to him and then have a change of heart? Eve must put herself in extreme danger to get to the truth . . .
Audible
US
/
UK
| Amazon
US
/
UK
| Amazon kindle
US
/
UK
|
The Book Depository
8.5/10
I loved this one. Not only it involves both Roarke and Eve's pasts, it's about a very tragic loss for Morris, Eve's old friend and medical examiner. A loss he'll feel for many more books to come. Great investigation as usual, a very enjoyable read.
* * *
С большим удовольствием читала эту книгу. Она не только затрагивает прошлое Рорка и Ив, она немного раскрывает нам характер Морриса, который в этой книге теряет возлюбленную, и который будет по ней горевать на протяжение многих книг серии. Хорошая детективная история, слушалась на лету.
Tags:
7/10
,
8.5/10
,
friday mini reviews
,
g.s. gensen
,
j.d. robb
,
roni loren
,
дж.с. дженсен
,
джей ди робб
,
мини ревью
,
рони лорен
Facebook Page

BLOG ARCHIVE

KARINA IS READING

In case of zombie apocalypse
Hey, guys! I feel like I should say this just in case :)
If you'd like to sponsor a fellow book addict who sometimes can't sleep at night worrying that she won't have enough books to read if internet goes down in the event of zombie apocalypse (I'm convinced it's one of the top five ways to go for human race) you can donate through Paypal to
olivesandacorns at gmail dot com
or buy a book through any of the links provided with my reviews which will send me a small percentage from the sale. All proceeds will go towards my enormous TBR. I will also shelter you on the remote farm in Portugal when zombie apocalypse starts provided you survive getting there. There will be books, yay?
Thank you! Love you all


Blog Stats since May 2011
Noteworthy Blogs