Friday, July 31, 2015 | Posted by kara-karina@Nocturnal Book Reviews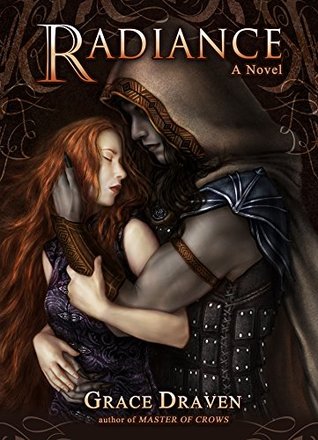 Radiance by Grace Draven (Wraith Kings #1)
Audio copy thanks to the author
Synopsis from Goodreads
THE PRINCE OF NO VALUE

Brishen Khaskem, prince of the Kai, has lived content as the nonessential spare heir to a throne secured many times over. A trade and political alliance between the human kingdom of Gaur and the Kai kingdom of Bast-Haradis requires that he marry a Gauri woman to seal the treaty. Always a dutiful son, Brishen agrees to the marriage and discovers his bride is as ugly as he expected and more beautiful than he could have imagined.

THE NOBLEWOMAN OF NO IMPORTANCE

Ildiko, niece of the Gauri king, has always known her only worth to the royal family lay in a strategic marriage. Resigned to her fate, she is horrified to learn that her intended groom isn't just a foreign aristocrat but the younger prince of a people neither familiar nor human. Bound to her new husband, Ildiko will leave behind all she's known to embrace a man shrouded in darkness but with a soul forged by light.

Two people brought together by the trappings of duty and politics will discover they are destined for each other, even as the powers of a hostile kingdom scheme to tear them apart.
8/10
I've already reviewed this book fully here, but Grace offered me an audio copy of Radiance, and I couldn't resist a chance to listen to the characters come to life.
Gabrielle Baker, the narrator, has done a lovely portrayal of Ildiko, Brishen, his cousin and her potential suitor in a wry, steady voice with a nice British accent. Reading an ebook first actually played against me, because knowing what was going to happen I concentrated more on the banter and intonations instead of action, but if you haven't read the book and just picked it up on audio you would enjoy it much more.
Я уже прорецензировала эту книгу здесь, однако когда Грэйс предложила мне прослушать её на аудио, я не смогла отказаться от шанса услышать как её герои будут воплощены в жизнь. И стоит сказать, что рассказчица Гэбриэль Бэйкер с этой задачей справилась прекрасно. Её насмешливый тон и красивый британский акцент очень подошли героям, и особенно Ильдико. Я бы сказала, что прочтение книги перед её прослушиванием играло против меня, так как я следила не за сюжетом, а за интонациями и диалогами. Однако если вы слушаете эту книгу впервые, пгрузиться в происходящее вы сможете полностью. Советую!
The Brush of Black Wings (Master of Crows #2)
Ecopy from the author / bought

~The novella-length sequel to Master of Crows~

During a foray into the woods of Neith, Martise stumbles upon a ruined temple and reawakens not only a power she thought lost, but also something far more malevolent. An ancient darkness, imprisoned in an eternal cage, sees a chance at freedom in a woman once held in bondage.

Desperate to save her, the Master of Crows will break the barriers of time and worlds to challenge an entity born of forgotten magic and the remnants of souls—a demon king who once led hordes of the damned across the face of the world.

The destroyer of gods will battle the destroyer of men to reclaim her and discover a truth the keepers of history once conspired to conceal.

A tale of revelation and redemption.
It was lovely to get back into relationship between Silhara and Martise five years into their marriage. My only complaint is that as a novella this book is a bad tease of things to come as it crosses path with the world of Radiance in a very peculiar way. Silhara is as usual unapologetic, forceful and rude, and I loved this about him. The Brush of Black Wings is full of secrets and promises, and I demand some sort of continuation of the story now!
Очень мило было вернуться к любимым мной Сильяре и Мартиз пять лет спустя после их свадьбы. Во многом эта повесть плоха тем, что только разздразнивает аппетит читателя к тому, что произойдёт в будущем, так как она очень неожиланно скрещивает временные рамки между этой серией и миром Radiance. У читателя остаётся много вопросов, и уже очень хочется прочесть продолжение прямо сейчас. Динамично и ярко!
The Perilous Life of Jade Yeo by Zen Cho
bought
Synopsis from Goodreads
For writer Jade Yeo, the Roaring Twenties are coming in with more of a purr — until she pillories London's best-known author in a scathing review. Sebastian Hardie is tall, dark and handsome, and more intrigued than annoyed. But if Jade succumbs to temptation, she risks losing her hard-won freedom — and her best chance for love.
Amazon kindle US/UK | Smashwords
This is my first time reading Zen Cho, and the reason I picked it was because one of the big blogs raved about this novella a few months back. I downloaded an excerpt, forgot about it, and only started reading it last week. Ladies and gents, few paragraphs in I knew it would be excellent, so I went back and bought it.
Fantastic, witty and blunt language, funny and super smart, - the voice of Jade is an absolute delight. If you're coming out of a very badly written book, this is your remedy to put you back on track. Highly recommended!
Читала
я Зен Чо впервые, и всё потому, что несколько месяцев назад один из больших блогов взахлёб хвалил её творчество. Я загрузила бесплатный отрывок себе на киндл и о нём благополучно забыла, пока не взялась от скуки за её чтение на прошлой неделе. Уже с первых нескольких параграфов мне было ясно, что книга эта - блестящая, так что я купила её и прочитала за один присест. Прекрасный, острый юмор, шикарный словарный запас и превосходный персонаж практичной и безапелляционной Джейд Йео. Очень рекомендую!
Breaking Out: Part II by Michelle Diener
Ecopy thanks to the author

Kelli, Nate and Giles know what it is to be imprisoned. They spent years locked away in a secret research lab. But now they're free, and they stole something important just before they escaped – a list of others like themselves, sent to other facilities for further experimentation.

Their plan? To break out every single one.

Nina Calvados has been in a new facility for four months. She's kept a low profile, been careful to be cooperative and helpful. And so far, she's been mostly left alone. So when two other inmates appeal to her for help, her heart may want to oblige but her head is screaming walk away.

Only, something bad is going down, and Nina realizes she's been fooling herself. No one's bought her low profile act. And if she's going to crash, she might as well crash hard. After all, it's not as if anyone's coming for her, is it?
I've already reviewed Part I of this story, but I've got to say that the whole thing is damn intriguing! Great ideas, especially appealing to all the fans of X-Men and superhero stories. I just wish they were full length novels rather than novellas! There is just no space for the plot to develop and for the characters to open up. I was also dying for some background story. We get hints, hints of what's happening in the outside world, but it's all one big tease, which is why I had to lower my rating. The budding love which only had three weeks to develop since the last book is just too unconvincing with very few dialogues and the background of non-stop action, but overall, this will be a great addition to urban fantasy genre when it's turned into a decent size story. Let's pray it happens.
Я уже писала, что я думаю о первой части этой серии повестей в новом для Мишель Дьенэ жанре городского фэнтэзи. Идеи у неё великолепные и придутся по вкусу поклонникам супергероев и
X-Men. Однако мне бы очень хотелось, чтобы она создала полноценную книгу, а не коротенькие истории, ибо ни сюжету ни характерам не удаётся нормально развиться, и в любовь после трёх недель вместе не особо верится на фоне скупых разговоров и нон-стоп экшн. Интересно, но недостаточно удовлетворительно.
Tags:
friday mini reviews
,
grace draven
,
Michelle Diener
,
zen cho
,
грэйс дрэйвен
,
зен чо
,
мини ревью
,
мишель дьенэ