Wednesday, April 08, 2015 | Posted by kara-karina@Nocturnal Book Reviews
David Gandy who would have been a perfect impersonation o
f Raphael
Hi, Donna! And thank you very much for stopping by. First of all, for those of the readers unfamiliar with your Vampires in America, how would you describe your series in one sentence?
Thanks for having me, Karina. I'm excited about sharing Deception with readers. My series in one sentence
...
Eight of the most powerful vampires on earth--violent, bloody and aggressive--rule all of North America with their beautiful and kickass mates fighting by their sides.
And what kind of reader would enjoy your books?
Anyone who believes sex and romance can only add to a story, who enjoys a dose of suspense and intrigue along the way, and who loves gorgeous vampires who revel in the power and seduction of their vampire blood. There are no self-hating vampires here.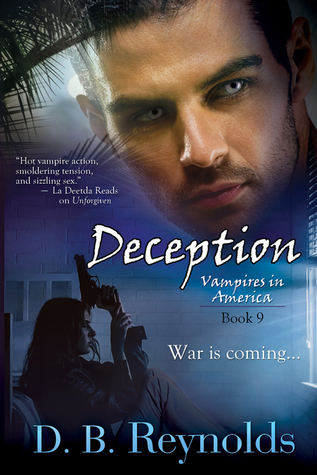 Raphael and Cyn are my absolute favourite couple in this series, and Deception brought them back to us (yay!). What made you come back to them as main characters so far along in the series?
I wanted something fresh for the series. All through the first eight books, Raphael has been gathering allies and manipulating events to make sure he has people he can work with and trust. The next logical step was to present a challenge that tested their historic alliance and forced them to work together, which is the European invasion. Naturally, the Europeans started by trying to eliminate Raphael, since he's the greatest threat to their success, and so the first book of the new story arc was Cyn and Raphael. In subsequent books, we'll meet new characters, but we'll also revisit the other vampire lords and their mates. This is fun for me, and I hope for my readers, since we get to see how they're getting along after that first, hot rush of love.
I feel like Deception is a game changer for the series. Can you give us a hint what's coming next for Vampires In America?
It's definitely a new direction for the series. In the next several books, we'll visit all of the North American Vampire Lords as they fight off challenges to their territories, some of the challenges will be outright wars, while others will try subterfuge and killing from the shadows. I've mapped out the territories and who will back up whom, just as Lucas does for Raphael in Deception, along with a general sense of story, but I don't have the details on all of them yet. The next book is set, however, since I'm writing it now. It's called Alliance, and will introduce a new and powerful Vampire Lord for the South.
At last, what is your absolute favourite book or couple you yourself have ever written and why?
This is so difficult, because I love all of my vampires and their mates. But I'd have to say that as a couple, it's Raphael and Cyn, because I'm a romantic at heart, and I love the way they love each other
Thank you so much for answering my questions, Donna! I am looking forward to the next book in the series already!
D. B. Reynolds is the RT Award-Winning author of the popular Vampires in America series of Paranormal Romance/Urban Fantasy and an Emmy-nominated television sound editor. She lives with her husband of many years in a flammable canyon near Los Angeles, and when she's not writing her own books, she can usually be found reading someone else's.
Find D.B. Reynolds: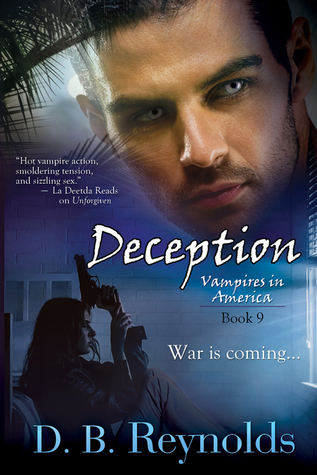 Kauai, Hawaii—tropical paradise, vibrant jungle, turquoise sea... and sensuous nights that hide vampires so powerful they can change the world.
Raphael—powerful, extraordinary, arrogant. He's been eliminating rivals and gathering allies, determined not just to survive, but to demolish the Europeans who think they can steal what he's worked for centuries to create. In a final bid to avert a war that seems inevitable, Raphael agrees to meet an enemy he knows of old. She is formidable, wily, and not to be trusted. But in his arrogance, Raphael believes he can foil whatever treachery she has brewing.
Cynthia Leighton—Raphael's human mate, beautiful, smart, and deadly when threatened. She doesn't trust anyone, much less a powerful vampire claiming to want peace. So while Raphael prepares to negotiate a treaty, Cyn is preparing for the inevitable double-cross that she knows is coming. Raphael worries about saving thousands of vampire lives. She only cares about one, and she will do anything to keep him alive and in her arms.
When Cyn is proven right, when it all falls apart and Raphael's enemies draw on ancient magic to trap him, taking him away from Cyn and out of the war, it all falls to her—to find Raphael, to save the thousands of vampires who will die if she doesn't succeed... and to kill every single being, human or vampire, who gets in her way.
GIVEAWAY!
Donna generously agreed to give away a print or ecopy of Deception to ONE lucky winner. Open to all and ends April 15th at 12am.
Good Luck!
a Rafflecopter giveaway
Tags:
d.b.reynolds
,
giveaways
,
international
,
interview
,
д.б. рейнольдс
,
интервью
,
международный контест