Friday Mini Reviews #23 - Anne Bishop, Meredith Duran & Patricia Briggs
Murder of Crows by Anne Bishop (The Others #2)
bought
Synopsis from Goodreads
After winning the trust of the terra indigene residing in the Lakeside Courtyard, Meg Corbyn has had trouble figuring out what it means to live among them. As a human, Meg should be barely tolerated prey, but her abilities as a cassandra sangue make her something more.

The appearance of two addictive drugs has sparked violence between the humans and the Others, resulting in the murders of both species in nearby cities. So when Meg has a dream about blood and black feathers in the snow, Simon Wolfgard—Lakeside's shape-shifting leader—wonders whether their blood prophet dreamed of a past attack or of a future threat.

As the urge to speak prophecies strikes Meg more frequently, trouble finds its way inside the Courtyard. Now the Others and the handful of humans residing there must work together to stop the man bent on reclaiming their blood prophet—and stop the danger that threatens to destroy them all.
Maybe it's because I read both books back to back, but I felt while both books were spectacular, Written in Red was structurally slightly better. The main reason for that is Meg losing her fear of The Others and treating them all as a big pile of adorable puppies. I think her fear added a healthy edge to all the contact with The Others. Otherwise it's a wild and chilling ride, fabulous urban fantasy which leaves your aching for more. I can't wait for the third book in series!
Наверное из-за того, что я читала обе книги одну за другой, я заметила, что первая всё-таки написана немного лучше, чем вторая. Несмотря на то, что обе книги - безумно прекрасное городское фэнтези, во второй части Мег быстренько забывает свою боязнь Других и обращается с ними как с кучей миленьких щенков, и оттого история теряет остроту, ощущаемую в книге первой. Но это чисто моё мнение. Сама по себе книга великолепная, читается на одном духу и от сущего напряжения в сюжете пробирает до костей. Читать обязательно!
Fool Me Twice by Meredith Duran (Rules for the Reckless #2)
bought
Synopsis from Goodreads
Sensible and lonely, Olivia Mather survives by her wits—and her strict policy of avoiding trouble. But when she realizes that the Duke of Marwick might hold the secrets of her family's past, she does the unthinkable, infiltrating his household as a maid. She'll clean his study and rifle through his papers looking for information.

Alastair de Grey has a single reason to live: vengeance. More beautiful than Lucifer, twice as feared, and thrice as cunning, he'll use any weapon to punish those who fooled and betrayed him—even an impertinent maid who doesn't know her place. But the more fascinated he becomes with the uppity redhead, the more dangerous his carefully designed plot becomes. For the one contingency he forgot to plan for was falling in love…and he cannot survive being fooled again.
Amazon US/UK | The Book Depository | Fishpond
Meredith Duran's books are usually hit or miss for me, but this series is definitely something I really enjoy. Beautiful story, wonderful dialogues between characters... Alastair is a very vulnerable man on the edge of madness, and Olivia brings him back to life by sheer force of will. There is humour and honesty, but there is also a female character not prone to drama and over-analyzing everything, two qualities I always try to avoid reading about. Please, do try this. Very much recommended!
"So you hate me now,' she said quietly. 'How convenient for you. As though everything I did for you no longer counts, because I deceived you."
* * *
Мне не каждый раз нравятся книги Мередит Дюран, но эта серия у неё вышла очень удачная. Милые, сложные, добрые характеры, диалоги, от которых искры так и сыпятся, главная героиня, не склонная к драматизации и чрезвычайному анализированию своих чувств и поступков. Ура! Алистэр - мужчина на грани безумия, и Оливия помогает ему вновь обрести рассудок своим чувством умора и силой воли. Очень понравилось и от всей души рекомендую.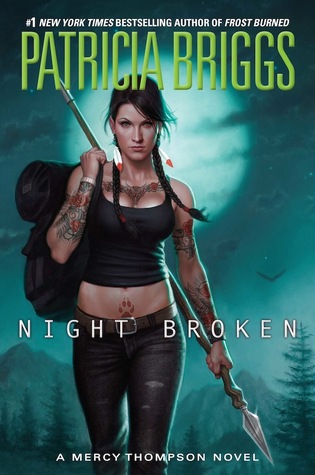 Night Broken by Patricia Briggs (Mercy Thompson #8)
bought
Synopsis from Goodreads
An unexpected phone call heralds a new challenge for Mercy. Her mate Adam's ex-wife is in trouble, on the run from her new boyfriend. Adam isn't the kind of man to turn away a person in need—and Mercy knows it. But with Christy holed up in Adam's house, Mercy can't shake the feeling that something about the situation isn't right.

Soon, her suspicions are confirmed when she learns that Christy has the farthest thing from good intentions. She wants Adam back and she's willing to do whatever it takes to make it happen, including turning Adam's pack against Mercy.

Mercy isn't about to step down without a fight, but there's a more dangerous threat circling. Christy's ex is more than a bad man—in fact, he may not be human at all. As the bodies start piling up, Mercy must put her personal troubles aside to face a creature with the power to tear her whole world apart.
Amazon US/UK | Amazon kindle US/UK | The Book Depository | Fishpond
I am so relieved that after a couple of so-so books, Patricia Briggs showed us all that she can still write pure awesomeness. This was a fantastic urban fantasy, and Mercy totally kicked ass! *grinning* I know Christy annoyed a lot of you, but I didn't feel irritated by her at all. I actually met quite a few women like that, so I guess you just have to learn to totally ignore them. Very much recommended, this was pure adrenaline, and I wanted to jump and scream in Mercy and Adam's support, they were so great together. Coyote as always was a pleasure as well.
Читала я эту книгу, а на душе было очень радостно, мои дорогие! Ибо после двух посредственных книг, Патриция Бриггз нам всем показала кукиш, так как писать она ещё не разучилась. Шикарное городское фэнтези, держащееся на одном адреналине. Меня даже бывшая жена Адама не раздражала в отличие от многих читателей, что выразили свои претензии. Читать надо обязательно, особенно рекомендую всем разачарованным в прошлом фанатам.