Saturday, September 29, 2012 | Posted by kara-karina@Nocturnal Book Reviews
I've never done fan fiction, but I think it would be great fun if Rico was flying around in his space ship and bumped into a few of my favorite space heroes (Rico would love this as well as he was actually a big Star Trek fan back on Earth) and maybe even turned them into vampires.
The subject of this post is… "space captains we love who would improve from being a vampire."
Sounds a bit weird right?
So maybe first, just a little background to my book,
Break out
.
Break Out
, is book One in my Blood Hunter series, and it's sort of science fiction romance with a paranormal twist or, paranormal romance with a sci-fi twist (depending on whether I'm trying to sell it to a sci-fi fan or a paranormal fan). My editor actually refers to it as vamps in space, which I think sums it up fairly well.
It was after watching
Firefly
for the second time that I got the overwhelming urge to write
a space opera
. It was my second space opera. The first, Tiger of Talmare, had been so much fun to write that I didn't fight the urge very hard, if at all.
Break Out takes place in a future where man (and a whole load of other things including vampires) have fled to the stars and there they have found the secret of immortality.
I hadn't actually intended it to be paranormal as well as science fiction, but when my hero, Ricardo Sanchez—Rico to his friends—popped up almost fully formed, he just happened to be a vampire. I love vampire stories, so I didn't fight that very hard either.
But in fact, the more I thought about it, the more I liked the idea, and it seemed to fit in with the general theme for the series which is basically: man's search for immortality. So the notion of introducing another sort of immortality into the mix—namely vampires—appealed to me. And really, space seemed like an ideal environment for a vamp—none of that nasty sunlight to fry them.
So back to those space captains…
I've never done fan fiction, but I think it would be great fun if Rico was flying around in his space ship and bumped into a few of my favorite space heroes (Rico would love this as well as he was actually a big Star Trek fan back on Earth) and maybe even turned them into vampires.
As Firefly was my main source of inspiration for the Blood Hunter series it's only fair that
Captain Malcolm Reynolds
is the first to get chosen. Though to be perfectly honest, I'm not sure anything could improve Captain Mal. Sigh…
Ditto with my first love—
Han Solo
. Though actually, Han might already be a vampire, after all, he's so perfect.
Captain Kirk
– I never much liked Captain Kirk—he could definitely use a bit of improvement.
Kerr Avon
from Blake's 7. Avon wasn't strictly a captain, but I was in love with him from an early age. He ruined me for 'nice men' and he'd make a fabulous vampire.
Ellen Ripley
out of Aliens. I bet she could beat up a few more aliens if she had a decent set of fangs.
Doctor Who
, he's sort of a captain of the Tardis, and he'd make a great time-travelling vampire.
Zaphod Beeblebrox
on the Starship
Heart of Gold,
from Hitchhiker's guide to the Galaxy
.
If I remember rightly, Zaphod had two heads, which would be two sets of fangs – he'd
been an awesome vampire.
So that's my list. Do you have any space heroes to add?
Giveaway
Comment and let me know your suggestions of space captains for a chance to win an e-copy of Break Out.
Open to all and ends October 2nd 2012.
__________________________________________
I reviewed Break Out last year and had loads of fun! See my review here. As for suggestions? I think we should include my favorite from Red Dwarf's team, - Cat!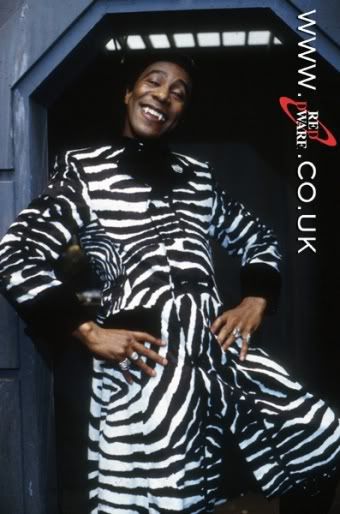 Summary
The year is 3048, Earth is no longer habitable, and man has fled to the stars where they've discovered the secret of immortality-Meridian.
Unfortunately, the radioactive mineral is exorbitantly expensive and only available to a select few. A new class comprised of the super rich and immortal soon evolves.
The Collective, as they're called, rule the universe.
Two-thousand-year-old Ricardo Sanchez, vampire and rogue pilot of the space cruiser, El Cazador, can't resist two things: gorgeous women and impossible jobs. When beautiful Skylar Rossaria approaches him to break a prisoner out of the Collective's maximum security prison on Trakis One, Rico jumps at the chance. Being hunted by the Collective has never been so dangerous-or so fun!
Nina Croft grew up in the north of England. After training as an accountant, she spent four years working as a volunteer in Zambia, which left her with a love of the sun and a dislike of 9-5 work. She then spent a number of years mixing travel (whenever possible) with work (whenever necessary) but has now settled down to a life of writing and picking almonds on a remote farm in the mountains of southern Spain.
Nina writes all types of romance often mixed with elements of the paranormal and science fiction.
Find her:
Tags:
giveaways
,
guest post
,
international
,
nina croft
,
space pirates
,
vampires
,
вампиры
,
космические пираты
,
международный контест
|
7 comments
Facebook Page

BLOG ARCHIVE

KARINA IS READING

In case of zombie apocalypse
Hey, guys! I feel like I should say this just in case :)
If you'd like to sponsor a fellow book addict who sometimes can't sleep at night worrying that she won't have enough books to read if internet goes down in the event of zombie apocalypse (I'm convinced it's one of the top five ways to go for human race) you can donate through Paypal to
olivesandacorns at gmail dot com
or buy a book through any of the links provided with my reviews which will send me a small percentage from the sale. All proceeds will go towards my enormous TBR. I will also shelter you on the remote farm in Portugal when zombie apocalypse starts provided you survive getting there. There will be books, yay?
Thank you! Love you all


Blog Stats since May 2011
Noteworthy Blogs